Through the Keyhole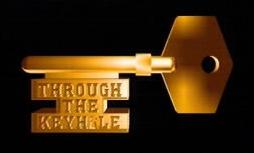 Host
Co-hosts
Loyd Grossman (1987-2003)
Catherine Gee (2004-6)
Lisa Snowdon and Stefanie Powers (2007)
Broadcast
TV-am (insert in Good Morning Britain), 1983-?
Yorkshire for ITV, 3 April 1987 to 1 May 1995 (108 episodes in 8 series + 1 special)
Paradine Productions for Sky One, 22 February to 23 December 1996 (1 series)
Paradine Productions for BBC1, 7 April 1997 to 9 May 2007 (344 episodes in 10 series)
Synopsis
Loyd Grossman has one of the most unique, yet most imitated voices on television. It's posh English/Bronx and it does have to be said, if it wasn't for Loyd the show wouldn't be nearly as popular as it was. (And to prove it, it wasn't.)
Loyd treks through famous people's houses looking for clues as to who's house it is. Then the three celebrity panellists (back in the day, you'd be guaranteed either Willie Rushton, Eve Pollard or that bloke from Call My Bluff) by making assumptions and asking questions have to guess who it is.
This is usually with help from David "Hello, good evening and welcome" Frost and the audience who go into spontaneous clapping fits when they say something that's correct. When they guess who it is or they can't guess we are told who it is and they come out through a giant keyhole and have a chat.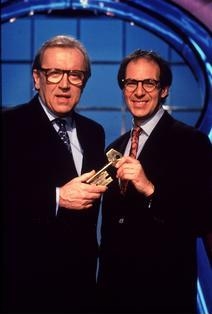 David Frost and Loyd Grossman
By the time of the 2004 series, Loyd had gone off to "concentrate" on his sauces, leaving Catherine Gee from BBC2's Looking For Houses In Picturesque Villages to follow in his footsteps, and she was alright, but she wasn't Loyd. Also she used to do an intro piece at the start of the show about what was coming up, which was really annoying.
So let's look at the evidence: The spontaneous clapping, the so-simple-it-hurts game element, my voice. Who'd watch a game show like this? "David, it's oeverr to yewww".
Catchphrases
"And now it's time to meet our panel... and what a panel they are."
"This should tell us something, maybe quite a bit, about the persons that live there..."
"Watch closely because, remember, the clues are there, as we go through... the keyhole."
"Who'd live in a house like this? David, it's over to you."
"And now for our studio audience, but not for our panel, here's whose house it is."
"You be Sherlock to their Ho(l)mes."
Theme music
Original music for YTV version by James Simpson and Philip Pope.
Trivia
The format began as a segment on TV-am in 1983 in which Loyd Grossman was given the keys to the home of a celebrity and Loyd himself had the guess the identity of that celebrity. A spoof edition once featured Peter Cook impersonating Loyd, and looking around Loyd's own home.
When ITV dropped Through the Keyhole Sky bought it. After a year on the satellite channel, it moved to BBC1, where it continued to be broadcast for a decade before disappearing from our screens altogether.
In 2007, Bad Girls actress Antonia Okonma pretended to live in a £1million flat. However, in fact she lived with her parents in a council flat in North End Road, Olympia. It is thought she borrowed a friend's apartment for the purposes of the programme. The Sun newspaper, who broke the story, also revealed that participants are paid £850, in addition to the famous gold key, to be on the show.
Currently, the show is filmed at the Riverside Studios, Hammersmith.
Web links
Apply for audience tickets from Standing Room Only
Feedback