Timekeepers
Line 47:
Line 47:

[http://www.action-time.com Action Time]

[http://www.action-time.com Action Time]

+

[[Category:General Knowledge Quiz]]

[[Category:General Knowledge Quiz]]
---
Revision as of 15:45, 11 June 2006

Host
Bill Dod
Broadcast
BBC 1, mid 1990s
Synopsis
Near-perfect lunchtime general knowledge quiz where the main gimmick was that the three Joe Bloggs contestants won or lost time, rather than points.
First round questions were based on the participant's own hobbies. A clever clock-based word game worked well, if rather over-taxed the brain straight after lunch. However, we'd seen the "dirty tricks" final round before in Runway (another Action Time show, incidentally).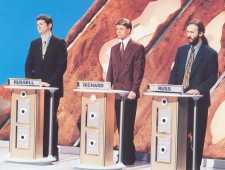 A game of Timekeepers in action
The end-game for a place on the leader board was extremely rapidfire, but completely failed to make use of the time the contestant had previously "won" in the game, which is possibly a poor decision.
Key moments
Dod's excellent firm-but-fair hosting - no ajudicators needed here, thank you very much. (And yes, it is Dod, not Dodd.)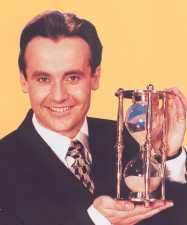 Master of time - Bill Dod
Inventor
Created by Toby Freeman and Stephen Leahy.
Trivia
The title graphics for the show won an award at the Houston Worldfest - whatever that is.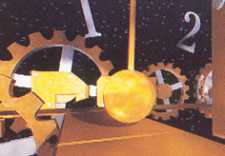 Screenshot from the opening titles
Web links
Feedback