Tipping Point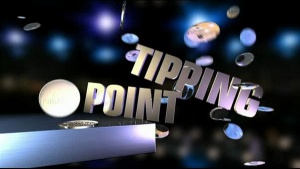 Host
Broadcast
RDF for ITV1, 2 July 2012 to present
Synopsis
Back in the day, seaside arcades were full of those mechanical contraptions that push 2p coins so that they fall, and push other coins down, and cascade to win as much as eight new pence. The press office blurb suggests this show has a similar contraption.
If you can help us to expand this entry, please provide as much information as possible, using the feedback form below.
Inventor
Hugh Rycroft for RDF
Theme music
Marc Sylvan
Catchphrases
'(contestant's name) we've found your tipping point'
Videos

The very first episode.
See also
Feedback