Tipping Point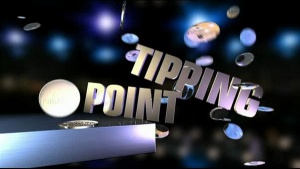 Host
Broadcast
RDF for ITV1, 2 July 2012 to present
as Tipping Point: Lucky Stars: ITV, 9 June 2013 to present
Synopsis
Back in the day, seaside arcades were full of those mechanical contraptions that push 2p coins so that they fall, and push other coins down, and cascade to win as much as eight new pence. The press office blurb suggests this show has a similar contraption.
If you can help us to expand this entry, please provide as much information as possible, using the feedback form below.
Catchphrases
'(contestant's name) we've found your tipping point'
Inventor
Hugh Rycroft for RDF
Theme music
Marc Sylvan
Trivia
The show was originally a 5:00pm summer replacement slot for The Chase during its first series.
Celebrity editions of the programme went out in summer 2013, under the somewhat clunky title Tipping Point: Lucky Stars. It contained stars hoping to be lucky, geddit!?
The record for the largest number of counters taken from the machine in a single drop is 23. This was achieved on 16 June 2013 by TV presenter Rav Wilding on an episode of the celebrity version of the programme. Unfortunately for his opponent, ex-snooker player Dennis Taylor, Wilding's scoring was strong throughout, so by Taylor's last go, he needed a mere 46 counters to draw level. Suffice it to say, it was Wilding who progressed to the final round.
Web links
See also
Feedback