Top Class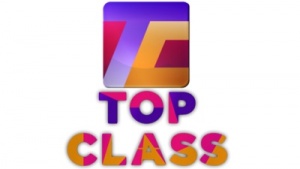 Host
Broadcast
ITV Studios for CBBC, 12 September 2016 to present
Synopsis
A knockout quiz tournament for primary schools.
Two teams of four students in their school uniforms play against each other. These students are aged 10 and 11, at the top of primary school. The captain always sits in one of the middle seats - for one team it's second from right, the seat occupied by the captain on University Challenge; for the other team, second from left.
They're asked "control" questions, individual questions on the buzzer, no conferring. A right answer wins control of a curriculum subject, and four bonus questions on a theme. Which of these things are electrical conductors, where are these European capitals? These bonus questions won't be passed to the other side. Definite shades of University Challenge there.
Also in the show is "Test the Teacher", Calman's self-confessed favourite round - classroom staff are asked about popular culture for one minute. "Pet subject" is questions for each team on a topic they've nominated. And the show finishes with a 90-second buzzer round.
The scoring is simple: one point per correct answer. Winners of each show go forward to the next round, losers go home.
Quite a lot of chat on the show, introducing the teams to viewers at home, and Susan joshes with the competitors after each round of questions. She can be a little shouty at times, if truth be told, but that's only a very minor point and certainly doesn't spoil our enjoyment of the show. Top Class isn't an intense quiz, it never forgets that it's an entertainment programme, and it meets the brief well - entertains while it's gently educating.
A few slight changes for series 3, shown in late autumn 2017. The show now begins with a wordsearch for each team, find eight colours or eight animals in a small grid. This gives both teams a score, neither is shown with zero points. In later rounds, this changes to crosswords - like with the wordsearches, Calman reads out the clues and the contestants have to buzz in to answer, with no conferring. Later, one of the rounds is a "mystery round", it could be about anything, school curriculum or not.
Key Moments
Watching the teachers attempt the 'Test the Teacher' round. The results have been variable; some have done very well, while others struggled: several teachers have only scored one point, and at least one failed to score. Calman did tease them a little if they didn't do well, but only in a good-humoured manner that was in keeping with the spirit of the show, and always taken in good part by the teachers.
The brief but amusing moments during the 'Test the Teacher' rounds, in which a piece of music is played and we see Calman jiving to it.
There was a rather bizarre moment during one of the semi-final matches in Series 1, in which one of the teams, who were wearing white shirts with red ties, suddenly appeared to have donned blue sweatshirts and the other team also appeared to have had a change of clothes (seemingly in keeping with the picture above). Presumably it was a piece of mistaken editing, dropped in from a different edition - or was it a 'spot the deliberate mistake' moment to test whether the viewers were awake? OK, most likely the former.
Catchphrases
"The next subject is (whatever) - here's your control question..."
"It's time to Test the Teacher".
(To the teacher, after he/she has been tested): "...But for now - you are dismissed!"
Title music
Craig Brown is credited as "composer".
Champions
2016: St Pius X Preparatory School from Preston, Lancashire
Spring 2017: Tilston Parochial Church of England Primary School, Cheshire
Web links
See also
Feedback