Under Offer
(→Co-hosts: Voiceover details added)

Line 8:
Line 8:

Captains: [[Fred Dinenage]] and [[Toyah Willcox]]

Captains: [[Fred Dinenage]] and [[Toyah Willcox]]

-

Voiceover: "Piers"

+

Voiceover: "Piers"

== Broadcast ==

== Broadcast ==
---
Revision as of 22:57, 26 February 2007
Host
Co-hosts
Captains: Fred Dinenage and Toyah Willcox
Voiceover: "Piers" (Phillip Banks, also the series' scriptwriter)
Broadcast
Meridian-HTV West for ITV, 1998-2000
Repeated: Challenge, 2001
Re-broadcast: ITV1, 2002
Synopsis
Either we've been sucking too many aluminium pans here at UKGameshow Towers and have forgotten, but we're sure we've written about this show in the past.
Ah, well, here we go again. Two teams of celebs are invited to value a house in either the Meridian or HTV West region, based on a video walkaround the property in question, with a witty verbal commentry by Piers the OOV (Out of Vision) estate agent. They get two stabs at making a valuation. The first valuation was only for fun, with appropriate boos/cheers from the opinionated audience. Then something else is revealed. It might be something good, like 30 acres of garden, or something horrific, like a motorway going past the back fence. This would send the teams into apoplexy and thus they had to revise their original guesses before the correct answer was revealed.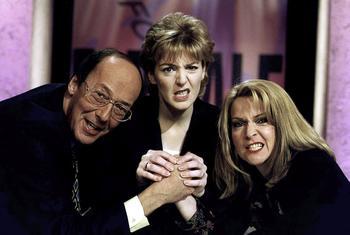 Doing battle - Fred, Yvette and Toyah
In later series, some of the "catches" were very ingenious. One of the best was a house which was later revealed to be sat on top of a bridge which turned out to be a major viaduct, with many trains passing right underneath many times an hour.
In memory serves, teams scored 2 points for being close to the real price, or 1 point if they were far away but nearer than their opponents. It would have been nice if there was a way to factor in the original guesses into the scoring mix, as they are essentially superfluous to the game. A chaotic memory round on the buzzer was the final round.
The banter between the regulars, particularly Dinenage and Fielding, was excellent and really made the show. If we have to make endless programmes about homes and property, we'd rather more of them were as funny as this one.
Trivia
Challenge bought the repeat rights to several local game shows from the HTV West and Meridian regions for their channel. ITV must have realised that they were missing out on a good show in Under Offer, so they too repeated it on their terrestrial network shortly afterwards.
Pictures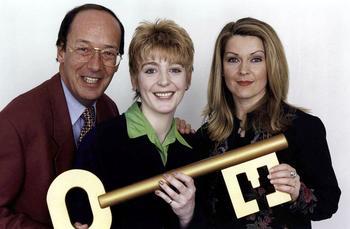 Picture 1
- I'm sure you have to be 21 for the key to the door...
Feedback