Was It Something I Said?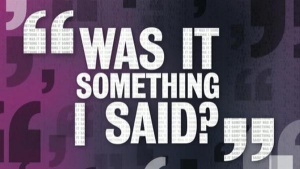 Host
Co-hosts
Team captains: Richard Ayoade and Micky Flanagan
Broadcast
Maverick Television in association with That Mitchell & Webb Company for Channel 4, 6 October to 24 November 2013 (8 episodes in 1 series)
Synopsis
Quote... Unquote updated for the second-screen age.
Two guest celebrities and an announcer join regular panelists Micky Flanagan and Richard Ayoade, and the host David Mitchell for three rounds of fun. Which of three people said something? Can the panel complete a quotation from key words? Which person in the studio tonight (or token person who would never be invited, like such as Jeremy Kyle) said this?
The programme is centred around its playalong aspect: viewers are commanded to submit their answers to the programme's social media account, and are able to see out-takes and deleted scenes afterwards. There's discussion around the topics, to fill in time while viewers at home compete.
A repeat on Friday includes a further round of questioning.
Theme music
Ephraim Greenland
Web links
Competition is centred around @somethingisaid (or @somethingplus1 for viewers on Channel 4 + 1), and #wisis gets flashed on screen. Each individual question gets one or more hashtags of its own.
See also
Feedback