Weaver's Week 2005-02-20
---
Revision as of 11:08, 19 February 2005
20 February 2005
'Iain Weaver reviews the latest happenings in UK Game Show Land.'
Iain Weaver is away. We're pleased to present a classic column from the Week's archives.
Light Of Your Life - Weaver's Week, 13 December 1970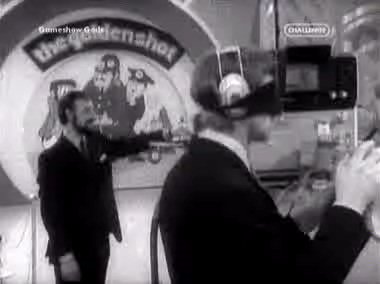 Hullo. It's very good to be back. As you will appreciate, the electrician's work-to-rule we experienced this week has resulted in many power cuts across the country, and we thought it safest to wait until power came back across the nation before distributing this news-sheet.
Confirmation that the blackouts were all over came at the start of this week's episode of The Golden Shot. Host Bob Monkhouse came onto the set in ATV's Birmingham studios carrying a lit candle. He's been in Darkest Africa for the past fortnight, and came back to Darkest Britain. For those of our readers who missed the episode, we're providing a full re-cap.
As you'll know, The Golden Shot is a show all about cross-bows and accurate shooting. This week, the targets are taken from The A-Z of Football, a new book by Michael Parkinson, for which Bob drew the pictures. Six apples are on the first drawing, numbered one to six. Our first contestant is Mrs Nora Harding of Radnor-shire. She's playing over the telephone - one of those new-fangled devices that twitter electronically rather than chime a mechanical bell - and guides our blind-folded cameraman using the famed words "Up," "Down," "Left," "Right," and "Fire."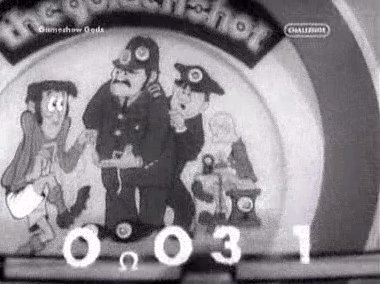 Philip Healy is from just down the road in Hall Green; he's been married for just ten weeks, so has surely been enjoying the power cuts. Hostess Yutte Stensbaard brings him onto the stage, and Anne Aston walks onto the target set to confirm that he's hit the apple. Harold Rivers, on the 'phone from Leamington Spa, picks the prize pippin - number four this week - and wins himself a £5 prize. The final contestant is Pamela Holloway from Leominster. Her brother's been doing missionary work in Africa, which allows Bob Monkhouse to tell the story of his brother who wore underwear made out of metal, so that the natives' spears glance off their nickel-arsed parsons. "It's a good job this show isn't recorded, you'd have to play back the show to believe how bad the jokes are," says Bob. Distracted by the joke, Mrs Holloway misses the target completely, and shoots her arrow into the arm of the policeman in the cartoon. The three successful contestants will join us again for next week's programme, along with an extra contestant picked from the studio audience. We can't help but remember back to the days, some years ago now, when Jackie Rae hosted the show; he'd always leave us confused as to how the progression of contestants from week to week worked. Under Bob's chairmanship, it really is a piece of cake. Cream scone, anyone?
After the commercial interlude, Bob talks about how he confused a £373,000 pools win with the latest union pay claim, a royal proclamation written by candle-light - it's still got the wax on it, and how his wife has been getting on his wick for years. He introduces the first of this week's guests, Clive Dunn, who regales us with a poem about Santa Claus.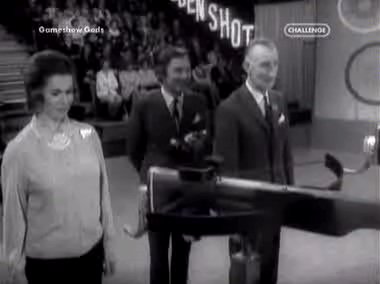 Shall we get on with the games? It must be all of two minutes since the ad. break finished. Our first two contestants from last week are Betty Bracker from Cheadle; and Leslie Humphries all the way from Aston. There are two footballs on the target, moving up and down. The contestants have 20 seconds to shoot, and must hit their own targets. Mr. Humphries has scored 96, but Mrs. Bracker just touched the trigger and it went off into the ceiling. Oh dear.
The other two contestants are Cathy Fulford from Salisbury; and Jim Tiernan from Rugby. Both of their shots hit the target; Mr. Tiernan has scored a cracking 99, and Mrs. Fulford a very good 94. This means that Mrs. Fulford and Mrs. Bracker must leave us at this stage. They go with the bronze prize - a contemporary tea-set, containing a barrel tea-pot, six cups, six saucers, and six bread-and-butter plates.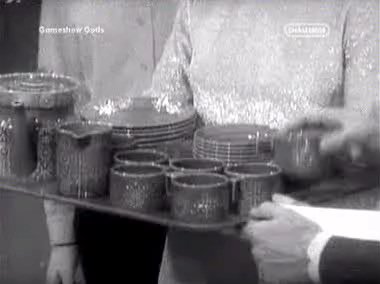 The Golden Shot's first musical guest this week is Jackie Lee; she's the voice of many commercials across ITV. Her clear-as-a-bell voice is singing the theme for ITV's new colour series Rupert The Bear, and we just know that her song will be remembered long after the series has been forgotten.
Jack Douglas is the third guest to appear this week. Just for a change, he's not in his usual character of Alf Ipipitimus with the flat cap, the glasses, the muffler, and the tremble. So bad is Alf's tremble that the Television Times says "If Alf gets anywhere near the crossbow, the audience are advised to head for the exits." On walks Clive Dunn, who is wearing the flat cap, the glasses, and the muffler, and - voila! - it's Alf Ipipitimus and more bad puns than one can ever think. "I hear you're an ardent supporter." "No, I'm a Spurs fan." If colour television is going to bring us relief from these wretched puns, this column cannot wait to see it.
So we come to the Golden Partner section, in which Mr. Douglas pilots a crossbow by remote control to the target. After a few seconds, it's there. He's hit just off-centre for 40 points, and that wins £40 in gift vouchers plus £20 in premium bonds. The carousel of one hundred rotating lights outside stops at letter number three, and reveals that the Golden Partner will go to a couple in Woodhall Spa, Lincolnshire, who recently celebrated their diamond wedding anniversary.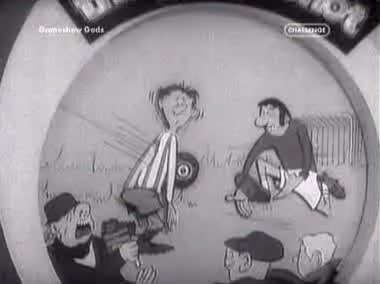 After that short interlude, it's back to the competition proper to decide the weekly winner. The target is on a football passing through a player, and there's a time bonus as well, so accuracy and speed are being measured here. They're again playing by remote control from the television set. As the show is live, and all the better for it, this remote control makes an easy way to use two targets in quick succession.
Mr. Tiernan goes first, moves into position while the target passes through the cartoon, zeroes in, and fires. He's scored 94 on the target, plus 20 on the time bonus, that's 114. Mr. Humphries takes the hot-seat, but while the target's being moved back, the floor manager gets chewing gum on his fingers and asks Bob to stretch, which he does by pointing out that the floor manager has got chewing gum on his fingers and is asking him to stretch. Such are the perils of live broadcasting. Mr. Humphries scores 74 plus a time bonus of 30, his 104 is not enough. Mr Humphries has won a Silver Prize, a week for two in Ireland. He'll sail from Swansea or Liverpool, take his car, and enjoy full board accommodation at some excellent hotels, perhaps in Dublin or in the wonderful countryside around Glendalough.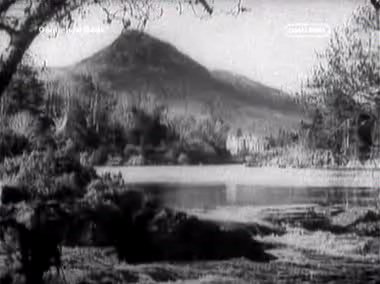 Part three, as always, begins with the charity appeal. Autumn 1970's appeal is for trading stamps to purchase kidney machines. Golden Shot viewers have now sent in enough stamps for a fourth kidney machine, and a cheque for £500 that will run the machine for six months. That machine will be going to Belfast, and viewers have already presented machines to hospitals in Glasgow, Exeter, and Birmingham. The appeal must close with the Christmas post next week, and Bob hopes to present machines for hospitals in Newcastle-upon-Tyne and Cardiff.
We know that Mr. Tiernan is this week's champion, but to take a shot at the jackpot he must yet defeat the reigning champion Wally Bradman, from Bournemouth. A lesser host than Mr Monkhouse - say, Pete Murray who was with us last week - would not quite be able to explain this well. The final target is on a player's flying boot, with a roll of lavatory paper indicating a growing time penalty. Mr. Bradman goes first, and shoots his bolt while on the move. He's scored 90 on the target, less a time penalty of 32, making a total of 58; that seems to be a very good score. Mr. Tiernan adopts the same strategy, scoring 88 less 24, giving 64 as his total. It's no surprise that Mr. Tiernan is the winner, he's been a strong player all week. Handshakes all round, and Mr. Bradman will go and take the cruise to the West Indies he won last week. Mr. Tiernan's Gold Prize is a 14-day holiday in Porec, Yugoslavia. He'll have full board at the hotel, where all sports are provided - and there are many.
Before the jackpot prize, we have to ramp up the tension to its logical climax, and introduce the star turn this week. Clive Dunn is performing with a vintage motor car and a whole host of children. His L.P., Permission to Sing, Sir! contains the melancholy nostalgic tune Grandad, and it's already climbing the hit parade. No doubt you're familiar with it already.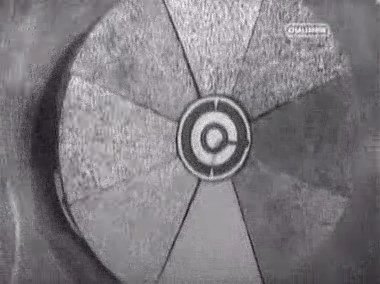 The big question this week: can Mr. Tiernan win the Grand Jackpot Prize, which hasn't been won for over a month, and has risen to £600; £500 in the sun, and £100 in the planets. Hit the jackpot and he'll win the lot. Mr. Tiernan is very close; about half an inch away and at four o'clock on the ring. He wins £20, and will be back to defend his title at "Four forty-four? That doesn't rhyme!" next Sunday.
While the power was out last week, we were wondering who could hold The Golden Shot together with quite the same wit and charm as Bob Monkhouse. Given that film and videotape are still too expensive to allow ephemera like Shot to be pre-recorded, the show needs someone to hold the programme to time, handle contestants and a complex format and live ammunition, and still be entertaining. Jackie Rae couldn't meet at least two requirements, and many of the stand-ins have been similarly deficient. We wonder if the old Crackerjack presenters Eamonn Andrews and Leslie Crowther might fit the bill.
Your Weekly Quiz And Game Show Guide
It appears that the message containing next week's transmissions has also fallen victim to the power problems we suffered last week. Though the first few days are now of historical interest only, we think it's worth while repeating the message here.
As always, the main ITV listings are for the ATV region. We incorporate regional variations for Granada, Yorkshire, HTV Wales and West, Anglia, London, and Southern. Viewers in Scotland, Ulster, Tyne-Tees, or Westward will need to consult their local publications.
Saturday 12 December, 1970
Sunday 13 December
Monday 14 December
Tuesday 15 December
Wednesday 16 December
Friday 18 December
Electricity supplies permitting, we shall be back with you on Thursday with the guide to the Christmas and New Year quiz and game shows. May all your nights be warm and bright.
To have Weaver's Week emailed to you on publication day, receive our exclusive TV roundup of the game shows in the week ahead, and chat to other ukgameshows.com readers sign up to our Yahoo! Group.