Weaver's Week 2005-04-17
---
Revision as of 19:14, 17 April 2005
Here's one we asked earlier - 17 April 2005
'Iain Weaver reviews the latest happenings in UK Game Show Land.'
There's been a bit of a broo-haa-haa about whether Jeremy "Thumper" Paxman should finish each episode of his evening current affairs show Newsnight with the weather forecast or with the stock market prices. His laconic delivery of such helpful forecasts as "In the east, it'll rain, except where it stays dry; in the west, it'll rain unless you're lucky and it doesn't," and "It's April. Take a brolly," has already gone down in television history.
(Target for ITV, 1331 weekdays)
Andrew Castle stands in front of a series of podiums. Podia. Whatever floats your boat. Behind each podium stands a contestant. It's not quite two-thirds of the Weakest Link set as much as six people standing on a really wide curve. The background colour is a rather irritating purple and blue, the sort of thing that was popular circa 1997.
The first round consists of 24 questions, each with four possible answers. Working left to right, like the first round of Fifteen-to-One, Andrew reads out the question and the four possible answers. The contestant scores two points if they get the answer right first time, one point if they get it wrong, but the correct answer isn't given if they still err. After four questions each, and some irritatingly plinky music, the two contestants with the lowest scores are eliminated. As the questions are of a decently difficult standard, we don't get contestants tying on six or seven.
Two down, four to go, and the contestants shuffle up to Andrew's end of the show. And here's where the central conceit of the show comes in. The four contestants are again asked questions, six each, four answers to each. But wait! That's 24 questions! Indeed, these are exactly the same questions, and exactly the same answers, as we've just seen in the first round. So a contestant who has a good knowledge and a good memory will do very well indeed. One point for a correct answer, the lowest score at the end of the round leaves.
Round three features three contestants and the same 24 questions we've already heard twice. This time, there are no multiple choices, it's on the buzzers, first to buzz in gets the chance to answer. One point for a correct answer, but an incorrect answer - to a question we've heard before and (with perfect play) we now have to know the answer - will reduce the score to zero. Harsh, but fair. Lowest score at the end of the round leaves. On the surface, this system encourages a contestant clearly in the lead to sit out the last few questions.
However, taking a back seat towards the end of the game could count against a player. The last two players fight over six subjects, and the winner of the previous round takes first choice. Four questions are in each subject, and they're asked in the order the player selected them. There are some tactical decisions here - subjects taken early might not count to the score, subjects left on the board might be stolen by the opponent.
In the final, there are 24 new questions, all with four options. Two points for a correct answer first time out, one for a correct answer on a second guess. A second wrong answer will, again, reduce the score to zero. Harsh, and not necessarily fair.
The winner of the final gets to play the cash quiz - 90 seconds with the same questions as in the last round, and the contestant chooses the order in which they pick their subjects. No options, a correct answer is worth £500, but a single incorrect answer reduces the score to nothing. The show advertises a top prize of £12,000, but rarely gives away the £3000 from a good episode of The Weakest Link.
There's a lot to like about this show. Andrew Castle is a good host - he can read clearly and at speed, and while he's no Nick Rowe, he's very good at what he does. The gimmick, asking the same questions but in a different order, is novel and pulled off rather well, and we're very impressed with the tension-building music in the final round.
However, we don't like the scoring system in the last couple of rounds, and the final in particular strikes us as particularly mean - losing thousands on a single answer doesn't strike us as the sort of thing ITV's "cuddly, friendly" daytime shows want to be associated with. Nor do we like the music behind the questions in the first half, it becomes decidedly annoying at times. The crowd is so obviously canned as to be an insult.
Overall, the format has some promise, but needs work. It's perhaps come to air a little too soon for its own good.
University Challenge
The Quarter-Final Draw
Balliol Oxford bt Edinburgh
Corpus Christi Oxford bt Lancaster
University College London bt Jesus Cambridge
Manchester v St Hilda's Oxford
Fourth Quarter-final - Manchester -v- St Hilda's Oxford
We don't need a Thumper weather forecast to know which way the wind's blowing here. Manchester has been blowing hot and hotter, blowing St Andrews out of the water, and reducing a strong Newcastle side into the mud of defeat. St Hilda's has been a zephyr on a summer's day, taking closer wins against Portsmouth and Leicester. The highly-rated UCL awaits the winners.
The show starts surprisingly, with Manchester making a missignal, and St Hilda's picking up a couple of starters. The phrase "Your bonuses are on dunces, St Hilda's," might have a ring, but that would be too cruel - we're laughing with Thumper this week. The first picture round is Name That Ice Hockey Foul, allowing Manchester to make a bit of a comeback. And no, the last picture (right) was not "Failure to perform Blockbusters dance between periods" - for that foul, the fingers on the higher hand should, of course, be pointed.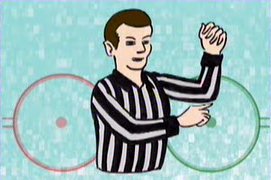 St Hilda's continue to ride their luck, guessing Ginger McCain as a horse-racing trainer, then syncline as a geological feature. Manchester takes the lead just before the audio round, Name That Producer, and it looks like it'll be all sunshine for the northern side from there.
We know from experience that "it's all sunshine from there" rarely is. St Hilda's gets another lucky starter to draw level, only for Manchester to take the lead straight away. Inspired work by captain Nick Mills, and some good deduction from Jonathan Stringer, help the team. St Hilda's get yet another lucky starter, and we're beginning to get a slight aroma of brine. But that could be a bit of spray being kicked up. The second picture round is Name That Composer / Conductor. Even we didn't recognise Leonard Bernstein from that picture, though we didn't confuse Gershwin with a woman.
Austin Chamberlain is the tipping point; the last Conservative leader not to fight a general election (before Tony Hawks) gives Manchester a 60 point lead with three minutes to play. That's roughly how it stays through the rest of the game, Manchester running out winners by 215-150. This was, perhaps, harder than we expected.
MAN 20 80 60 55 [215]
SHO 50 20 40 40 [150]

As ever, Nick Mills led Manchester from the front, scoring 119.4 himself; the team made 22/36 bonuses with three missignals. Samantha Warnakulasuriya was the best buzzer this week for St Hilda's, making 99.8 points. There were 12/27 bonuses and two missignals for the team.
St Hilda's bend before the perfect Manchester storm, and bow out on a bonus conversion rate of just 38.6%, and an overall success of 43.6%. We're crediting Ms Warnakulasuriya as the side's best buzzer, responsible for just under half the team's points.
A thunderclap for the Ceefax subtitlers this week. They reckon the trigonometric functions are "sign" and "co-sign"; that the 1950s drama Journey Into Space was written by Charles Chilston (Chilton); that the year 1452 was followed by 1543; "sixteen eighteen" is written as 1718; and that the comic-book star cat is Corky (Korky.) Such lack of attention to detail doesn't bode well.
We see that Manchester and CCO have both scored 780 points, and are almost evenly matched for percentages of questions answered. Univ London's 685 is not far behind Manchester, but Balliol's 600 accounts for less than 50% of the questions they've faced.
At the end of the quarter-finals, we can name the Dream Team, the four players whose buzzing was best, and who were backed up by strong bonus conversions. They are:
Birkwood (Jesus Cambridge)
Polancec (Univ London)
Mills (Manchester)
Mariani (Corpus Christi Oxford)
The next four: Warnakulasuriya (St Hilda's), Sharp (Corpus Christi), Anderson (Lancaster), Baker (Balliol Oxford)
First round, show 6
"The quizzing equivalent of climbing Everest," says John Humphrys. Not a claim to make lightly, nor to dispute hotly.
Ed Harris is talking about the Hornblower novels of C S Forrester. We're surprised to hear that John Simpson has been moonlighting in literary work - he's more usually to be found reporting for the BBC from a war zone. He scores a rocking 17 (1).
Jamie Lee has picked English International Rugby Since 1990. It's more difficult than it looks, this show. He finishes on 8 (4).
Joan Zunde tells us of the Life and Work of Stanley Spencer. He's an artist of the painting variety. She starts shakily, but picks up speed as she goes on, finishing on 8 (5).
Geoff Heal speaks on English Silver 1478-1837. Two very precise dates there, though the questions seem to be extracted from a fairly good general knowledge round. 15 (0) is a good score.
It's fair to say that Jamie, a student, doesn't yet have the life experience to know the piddly little stuff to help in the general knowledge round. He finishes on a perfectly creditable 19 (8), and will do well in the future.
Joan is clearly nervous in the hotseat, but gets the likes of Black Forest Gateau out of her pass trip. 17 (11) is the final score.
Geoff explains the dates - 1478 was the introduction of the hallmarking system, and 1837 was the start of Victoria's reign. His general knowledge round isn't a classic, but neither is it clear that he had particularly easy questions. He finishes on 21 (1).
Ed's task is just five questions, and he knocks them off with ease, finishing on 26 (1).
This Week And Next
Watching news coverage of the Labour party's manifesto launch, we reckon that they've clearly stolen the set from Perseverance already - lots of podia on a gentle curve, in front of a purple background.
Editorial balance means that we now have to make a joke about the other parties: Charles Kennedy has evidently been playing his own version of Shattered, thanks to his newborn son; and Michael Howard scrawling his name on a bit of paper reminds us of Jeopardy!
(If you can think of better game-show related jokes than the above, do keep them to yourself.)
Dick and Dom's Ask the Family has fallen through the ratings floor, attracting less than a million viewers during the week. This is a shame - the show introduced some new features this week, including I Love Random Stuff, featuring the likes of Stuart Maconie and Gina Yashere spouting on about how they love almost anything. There's a round called Dads Under Pressure, and the buzzers have started to shout out the family name. We're beginning to think that, had the gentlemen not invited the comparison with Robert Robinson's show, they would have had a small cult hit on their hands. As it is, they have a critical drubbing, and it's only slightly unfair.
Speaking to the rusty old Radio Times, Mr McCourt and Mr Wood said that they didn't want to be the new Antan Dec - "guys in suits with a big audience." They'd rather stay with more "underground BBC-2 type stuff."
And speaking of the old Dick Andom, we hear ITV has passed on Antan Dec's Celebrity Golf Challenge Event, in which Antan Dec challenges celebrities to play three days of golf in a Ryder Cup-style format. Instead, it looks like the show will air on a satellite channel to many fewer viewers.
But that's not the oldest idea currently in play. Even older is the format of Celebrity Charades, currently being hawked around networks over the pond by Hillary Swank. The format - and stop us if this rings any bells - involves celebrities, playing charades. Lionel Blair will, no doubt, be on hand to explain how to pull off "Three Men In a Boat" in under two minutes.
Next week includes the second series of Hell's Kitchen (ITV, from Monday), and the return of Come and Have a Go If You Think You're Smart Enough (BBC1 Saturday), albeit with Nicky Campbell replaced by Julian Clary. Not a pairing one would usually see anywhere.
Oh, and there will be no more Thumper weather forecasts - the viewer of Newsnight has decided that, yes, they prefer a few numbers to Mr Paxman's one-man comedy. Some people, eh.
To have Weaver's Week emailed to you on publication day, receive our exclusive TV roundup of the game shows in the week ahead, and chat to other ukgameshows.com readers sign up to our Yahoo! Group.