Weaver's Week 2005-07-10
'Iain Weaver reviews the latest happenings in UK Game Show Land.'
Countdown's finals week - 10 July 2005
Two weeks on, it's still difficult to think of Countdown without Richard Whiteley. Let us remember the final acts of a great man, in an article originally intended for last week. The first part was written on 23 June, before Mr Whiteley's untimely death.
We left the qualifiers with Rod Barry in the winner's seat. He made two wins before falling to Jon Pitt, who fell in turn to a rather promising youngster, Helen Mathieson. She made two wins before making way for the finals.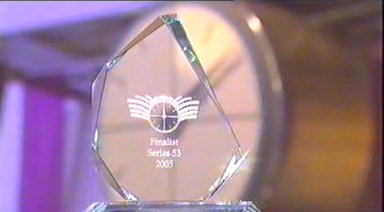 We left the qualifiers with Rod Barry in the winner's seat. He made two wins before falling to Jon Pitt, who fell in turn to a rather promising youngster, Helen Mathieson. She made two wins before making way for the finals.
Quarter-final 1: Fred Reynolds (8th seed, 6 wins, 599, +74) v John Brackstone (1st, 8 wins, 822pts, +27)
There is a law on Countdown that one must always offer LEOTARDS where it's available. Fred begins his game by offering the singular, only to be beaten by John's MODERATE eight. John wins round two with FATTEN, and sends Fred mad in the third with his wild FRONTIERS. Fred pulls back with a winner, HENNA, but still trails 32-5 at the first interval. There's life in the game yet, Fred offers the DODGIEST word in the sixth, offers both an invalid word and the winner LECTIONS later in the second period, allowing the gap to fall to 52-36 at the second intermission. John's winner OATMEAL, and Fred's selection of five vowels in the next round, ensures that the win is almost beyond doubt - even though he's won with UNSAID, the gap of 17 looks too big, and a simple numbers game ensures John has won the game, 75-58. In a low-scoring game - 97 was the Par score - John declared for 91, Fred for 84. He didn't look at all convincing in his win, suggesting an upset remains on the cards.
Quarter-final 2: Chris Hunt (7th, 6 wins, 715, -11) v John Mayhew (2nd, 813, -7)
John Mayhew beat Chris Hunt by 97 points to 73.
Bad weather on Friday meant that our video capture system failed to record the show on first transmission. We could talk you through the finer points of that day's edition of Bodger and Badger, but that would be too off-topic even for this column. There was no repeat on Monday morning.
Quarter-final 3: Judith Young (6th, 707, +34) v Jon O'Neill (3rd, 804, +2)
"Welcome to the final week of Countdown ... for this series," says a host wearing squares on his jacket and tie. Richard then launches into a joke about knowing one's time of death, thanks to a judge. No, that isn't pollen in our eye. Jon takes a lead in the second round with MIKADOS, and doubles his lead with one of the most useless words in the dictionary, POXIEST; he's 36-22 ahead at the first intermission. Judith pays her own tribute to the youngest contestant, Tanmay Dixit, offering the slightly rudey winner FANNIES, and the successful MEALIE, a form of maize. But Jon comes back with ENCODES, and pulls further ahead with a four-large numbers game. Carol says she was looking for 11x19, but "that's the wrong way." You need to do this: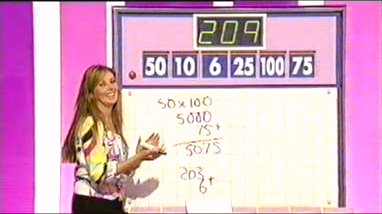 (((50 x 100) + 75) / 25) + 6
Obviously. 65-41 is Jon's lead at the second interval, but Judith comes back with SEARCHED in the penultimate letters. An easy final numbers game, and missed conundrum, seals Jon's win, 90-74. Par for the game was 105, and Jon declared for 103, proving he's on good form. Judith declared for 99, a cracking score on its own.
Quarter-final 4: Richard Heald (4th, 795, -1) v Ross Allatt (5th, 741, +30)
Our host points out that this is the only show in Finals Week without a John (or Jon) playing. "Hello Richard," "Hello Richard," goes the banter between host and contestant. If only they had had Richard Stilgoe in dictionary corner, and Richard Sampson in Susie's chair. Honours remain even through the first period, until Richard pips Ross on a probably impossible three-large numbers game; he's 35-28 ahead at the interval. The gap remains through a slew of sixes and sevens in the second period, and a more simple numbers game (as in, they can get it) takes the score to 72-65 at the second intermission. It looks as if a single round will decide the game, and Ross takes the seven points back in the final numbers game. We are tied at 90-90, and the most crucial of crucial conundrums. NOTCHAINS. Ross reaches for his paper on about five seconds, but it's Richard who rings his bell on sixteen seconds, and says, in a hesitant voice, "STANCHION"? "A firm support," says the other Richard, as he's correct. Richard Heald wins the cracking game, 100-90. Par was 101, Richard declared for 100, Ross for 97.
Semi-final 1: Richard Heald v John Brackstone
"We do have some new viewers, who don't know what it's all about," says Richard, reading from a viewer's letter. "Why is the clock-face so big? Why is the set so pink? Whatever is it that you do?" Very unusually, the quarter-finals have gone exactly to form, with the top four seeds all winning. Richard draws first blood, with the opening round winner RABBITS. John pulls back in round four with COMMA. The perfect place to watch Countdown is also available in this round, but TEA ROOM is two words. Neither contestant scores in a very tricky numbers game, and Richard Heald goes into the break 21-19 ahead.
ANDIRON is good for John, but while Richard's "ordinant" looks better, it's not in the Shorter Oxford. John has a five-point lead now, and he extends it with SICKENS later in the second act. John is 57-45 ahead at the second interlude. Richard needs to gain ground early in the third, and DEMERITS is just the ticket. Honours even in the next two rounds, and in the numbers game. It all hinges on another crucial conundrum. RIPEROOTS it is. Richard needs to get this, but it's John who buzzes on ten seconds. "POSTERIOR." "You'll be sat on yours on Friday..." It's right, and John has pulled off an 89-75 win. Par was 105, John declared for 101, Richard (thanks to two disallowed words) for 81.
Semi-final 2: John Mayhew v Jon O'Neill
It doesn't seem like five minutes since the last semi-final, but Richard has worked out that the winner will be called Jo(h)n. "Is it really 22 years," asks Philip Franks in dictionary corner. "Yes, the first in that chair was Ted Moult," remembers our host, with respect clearly in his voice as he presses on with the game. STUDENT is "Big John" Mayhew's first offering. "We love those," confirms Richard; Countdown has been a favoured pastime amongst students since it began, as it stretches the brain in different ways from lectures and essays. The scores remain dead level through the first period, finishing at 36-36.
Inevitably, there's a point where the wrong Jo(h)n declares, but both are offering the same word. "Young Jon" O'Neill gets to offer PARBOIL for the second game in a row. The deadlock is broken when Young Jon risks LIKABLE, an acceptable variant of the word "likeable." Young Jon goes four-large in his first numbers, and secures a further seven point advantage, 72-58. Young Jon's "hornies" is disallowed in round 11, halving his lead. Big John has some THEOREMS in the final letters round, and a fourteen-point deficit has turned into a one-point lead. It doesn't get better than this. A one-large selection adds ten to both scores, which means we have another crucial conundrum. EROGENICC Big John taps his fingers on the desk. Little Jon crouches and peers into the monitor, but the answer - CONCIERGE - eludes everyone. John Mayhew has won by a fraction of a whisker, 89-88. When Par was 101, Big John declared for 100, and Little Jon for 95. He's off to follow in Richard Whiteley's footsteps at Cambridge Uni, Big John is off to the grand final.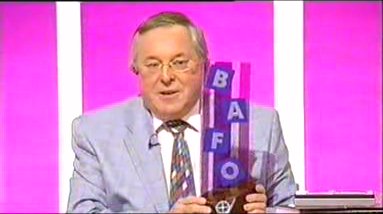 But before we go, Richard presents the BAFO award, for the best viewer's letter of the series. It goes to John Smith, who writes about fitting 48-inch Richard into a 21-inch screen. A piece of perspex may not be a gold-embossed clock, but we're sure it'll be just as valued by Mr Smith.
Final: John Mayhew v John Brackstone
In the audience are four of the six octochamps (the other two are up on the stage), and young Mr Tanmay Dixit, the eight-year-old who FARTED his way to two wins in March. BOGIES to him, for another six points. Philip Franks remembers that last time he was in dictionary corner for the final, it went to a crucial conundrum. He's got a good memory, that was Alan Sinclair's come-from-behind win in series 32, way back in September 1996. John Mayhew gets off to a TASTEFUL lead in the opening round, then offers Richard's favourite word, MOONSET. Dictionary Dell gets the first niner in a very long time just before the interval - MANDARINE is an unusual spelling of the orangey fruit. Though this eludes both Johns, standards are high - John Mayhew leads 40-32 at the interlude.
John Brackstone offers "renotes" in the sixth round, but it's not allowed, and he's now 15 behind. Richard wonders how "AIRDATES" has made the dictionary, when "Himoff" hasn't. (Kudos to Philip for correctly predicting that July 1 is this show's airdate.) Just when John Mayhew looks to be running away with it, John Brackstone pulls off the numbers game, and the gap is 68-63. Out of the intermission, and John Brackstone is running again - BRISKET is another winner, from a round where John Mayhew seemed stumped even while the letters were being pulled, and we've turned into a two-point lead for Mr B. In response, John Mayhew offers "primage," but it's not legal, and that lead's turned to eight. Just when he looks to be falling behind, John Brackstone offers UNSEATED, and we are tied at 76-76. The numbers game is an absolute stinker - neither contestant offers anything, but Carol earns her money by getting it.
76-all. We have the crucial Countdown Conundrum. Whoever gets this is the winner. ARTGENIUS. John M furrows his brow on about twenty seconds, but that's as much movement as we'll get. SIGNATURE was the one.
We have a tie. We. Have. A. Tie. Another, even more crucial, Countdown Conundrum appears. LIFEFAIDS. Three seconds in, John M rings the bell, blows out a sigh, and says FALSIFIED. We have our champion, by the narrowest possible margin. For what it's worth, Par was 103, and both players declared for 89.
"We shall be back again on Monday with a championship of champions," promises Richard. If only it were so.
First round, edition twelve (30 June)
Iain Stevenson is taking the Life and Career of Henry Fawcett, who seems to have been an MP and social campaigner of Victorian England. He scores 6 (5).
Mike Abbot will talk about Dinnerladies. It's a comedy about - well, ladies who make dinner. It's a small subject, and the contender scores 12 (0).
Tom Hutchings tells us about the Life and Work of T E Lawrence. This is a comfortably large subject, and after a slow start and increasingly confident finish, the score is 9 (3).
Diana Evans has offered Literary Associations of Yorkshire, Lancashire, and the Lake District. This is an absolutely massive subject, and there's an argument that fairness requires players offering such broad subjects might play in one heat, and those offering very small subjects (like Mr Abbot tonight) play in another. On the other hand, each contender offers their choice of subject, so if they pick something too big, it's their own fault. The final score is 6 (5).
In the general knowledge round, Mr Stevenson benefits from a late question, finishing on 15 (7). Mrs Evans advances to 12 (8).
After working with Lawrence of Arabia, Mr Hutchings guesses at each question, and is clearly enjoying himself. 21 (6) is his total.
Mr Abbot advocates a thesis that "Dinnerladies" is the new "Fawlty Towers," and looks like he'll knock off the questions very quickly, but then starts to falter a little. He still manages to knock off the required questions with time to spare, finishing on 23 (2).
Edition thirteen (5 July)
Nick Binns has The Harrier and Other Vertical Take Off and Landing Aircraft. It's impressive stuff, though quite how anyone is expected to remember Captain Ian "Soapy" Watkins is anyone's guess. 10 (2).
Marian Jago offers Chequers, the building. It's a slightly hesitant round, but one in which both the residence and the contender can shine. 8 (2).
Mike Palfrey talks about the Diskworld Novels of Terry Pratchett. The books sound completely barking, Mr Palfrey clearly enjoys them. 13 (1)
George Baxter has swotted up on The Who. Rather a lot of questions about B-sides here, the score is 11 (2).
Mrs Jago tells a story about M Pompidou, Mr Heath's entourage, and changing suits, and shamelessly uses her appearance to ask for a visit to Chequers. Her general knowledge round is full of good but inaccurate guesses, finishing on 16 (5).
Mr Binns points out that vertical take-off is an airshow trick, but vertical landing is quite common. Pass hell in the questions, sadly, we'll move to the score of 15 (10).
Mr Baxter tells how most of the people down the front during his last gig were young enough to be his students. His general knowledge round proceeds slowly but carefully, finishing on 20 (5).
Mr Palfrey has information that, in the late 90s, Terry Pratchett was selling one in ten paperback books. He's helped by a question about semaphore, which was also in one of his specialist questions, and finishes on 23 (4) to be the clear winner.
Big Brother 6
Three new players have been listed for the series, bringing the total number of contestants to seventeen.
17) Kinga 176.63 (nc)
16) Eugene 427.09 (nc)

15) Doctor 765.86 (-1)
14) Mary 918.47 (-1)
13) Lesley 1093.97 (-1)
12) Orlaith 1462.12 (+3)
11) Sam 3925.79 (-1)
10) Vanessa 4929.83 (+1)

9) Roberto 6435.96 (-4)
8) Derek 8659.63 (+1)
7) Kemal 15760.91 (+1)
6) Craig 25058.90 (-2)
5) Anthony 28216.32 (+2)
4) Science 47236.77 (+2)

3) Makosi 66651.35 (nc)
2) Saskia 71843.31 (nc)
1) Maxwell 92678.24 (nc)
Next Week
We've a whole raft of little items and a bit of a backlog of reviews to get through, beginning next week.
A couple of one-off specials on ITV, the Harry Potter fans come out this afternoon, while we've the second Celebrity Spelling Bee of the year. Listeners to Radio 4's I'm Sorry I Haven't a Clue will remember the difficulty Colin Sell had in playing the three letters "B-E-E" in tune and in time. ITV's version will be on Thursday.
To have Weaver's Week emailed to you on publication day, receive our exclusive TV roundup of the game shows in the week ahead, and chat to other ukgameshows.com readers sign up to our Yahoo! Group.