Weaver's Week 2007-08-19
You are in a twisty maze of television studios, all different
'Iain Weaver reviews the latest happenings in UK Game Show Land.'
Almost nine years after it began, Who Wants to be a Millionaire? has announced only the second major change in its gameplay. We'll have more details in a future Week, after we've seen the show that went out (er) last night. But what was the first major change? The answer is buried somewhere in this week's Week.
BBC1, 9.09 Saturday 21 June 1980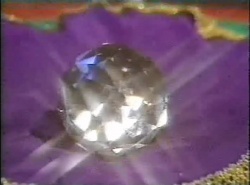 They might win a time crystal
In the first of an occasional series, we present a complete guide to the show that everyone half-remembers, but always gets confused about. We begin with the last episode of the first series.
In the late 1970s, Patrick Dowling stopped producing Vision On when the programme came to a natural end. While co-conspirator Clive Doig went on to Jigsaw, Mr. Dowling went on to Take Hart. Around this time, he came across the computer game "Adventure", and started playing Dungeons and Dragons. He also heard the Hitchhiker's Guide to the Galaxy, and discussed matters with Eamonn Bloomfield, a board game collector from Kingston-upon-Thames.
All of these ideas coalesced into one masterplan: set a group of people the task of solving a sequence of puzzles, film them while they're doing it, and make a television programme. Initially, they thought about cutting between two teams; that proved impossible in a studio setting, but possible for Now Get Out of That. Early discussions involved Hitchhiker writer Douglas Adams, but he was busy writing the television version of his radio show; and John Lloyd of Europe, too busy with The Burkiss Way. Ian Oliver (already producing Star Turn) became the project's director, and it was game on.
Players in this opening season followed a discernable format: perm any three from a person known to the young audience through children's television (Maggie Philbin from Swap Shop, Fred Harris from Play School); one known to the adults from light entertainment (Denise Coffey from End Of Part One, Liza Goddard from just about every light entertainment quiz going, Elizabeth Estensen from The Liver Birds), or television science (Michael Rodd and James Burke from Tomorrow's World, Dr Garry Hunt from The Sky At Night); and one from the world of games and lateral thinking - we've not been able to trace Mark Dugdale, Stephen Cox, or Pat Cater; and Toby Freeman appears to have contributed ideas to later series.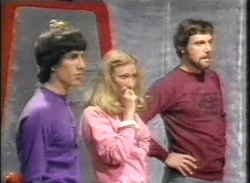 (l-r) Robert Malos, Lesley Judd, Paul Darrow
With us on the episode under review, the last in the present series, are Lesley Judd, whose seven years on Blue Peter had ended in 1979; Paul Darrow, best known in these parts for being the host of Hercules, but who was also starring as Avon in Blake's Seven; and Robert Malos, who would later go on to design special effects for films such as Saving Private Ryan and The Fifth Element.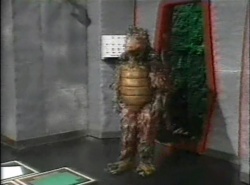 Darong
Host for the series is Moira Stuart (Darong). An actress by training, Darong has been a continuity announcer on Radio 4 UK for a few years, and will spend the next twenty-six years as a principal newsreader on BBC television before being dropped in controversial circumstances. She's joined by the youthful Charmian Gradwell (Gnoard) and Christopher Leaver (Gandor), the butler to His Highness the Rangdo. In the rest of the series, the Rangdo transformed himself into the character of Ian Messiter, but Mr. Messiter was unavailable for this recording, and is replaced by an anonymous grey salamander.
Each show has to have a back-story. Here, the Argonds - a polite race, with a regrettable sense of humour - are getting bored of the constant attention of time-travellers, and have nicked the crystal that powers their ship. The show falls into three independent elements - the entrance hall, a computer-generated maze, and the main game to retrieve the crystal. Then it's back out through the entrance hall, and home.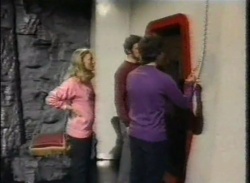 How do we get through a closed door?
We meet our travellers just outside Arg; they must enter through the front door. A key has been supplied, but it's on a chain, and the chain is too short to reach the lock. Our intrepid tourists knock on the door, and converse with Gandor:
Gandor: Knock, knock.
Lesley: Who's there.
Gandor: Doctor.
Lesley: Doctor who?
Gandor: Oh no, next studio down the corridor, madam.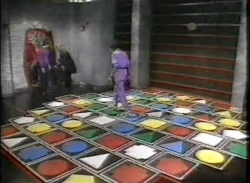 Squares in the entrance hall
We did warn of a regrettable sense of humour. Eventually, the team get through the door, by asking Gandor to open it. "No, the chain doesn't reach the lock, that's why we leave the door unlocked," he explains. Darong introduces the entrance hall problem - in the grid, knowing one colour and one shape will allow the team to pass safely from left to right. Just to perplex, this week's floor features a false tile that needs to be moved so that they can bridge a dead end.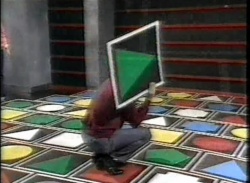 Cowboy builders, eh.
More by trial and error than judgement, the team reaches the far side, but it quickly becomes clear that they've misunderstood the problem. Robert has been the livewire of the team, and reckoned that they should avoid squares of one colour or one shape. This is so wrong as to be almost right: it's not the incorrect squares but the safe squares that are of one colour or one shape. In this case, the combination was green-square - all the cells coloured green, or showing a square shape, were safe, but (for instance) a red circle was not. Once you know the answer, it's a very simple game to solve. When you don't, and you're just trying combinations of colour and shape on the panel hoping to open the door, it's frustration.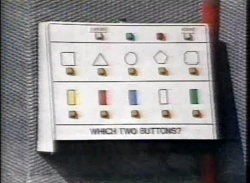 One shape, one colour
Next to be recorded was a little side-problem, irrelevant to the main game, involving a Hewlett-Packard computer and a small computerised dungeon. The episode we're reviewing didn't show this little section, which could be removed so that the show could fit into any given slot.
At this point in the show, the team is confronted with The Big Problem. As we're going to need to discuss this in some depth - it filled almost 30 minutes of screen time - and we can see a dragon earnestly tapping an alarm clock, we shall adjourn here. The Big Problem - and some Contemperania - shall be discussed in the next Week.
Heat 6
Back to the present day, and at the end of this week's show, we'll be a quarter of the way through the heats. Our learned friends at TV Cream missed this show, preferring to watch the build-up to Peterborough v Southampton. If you don't want to know who won, look away now. Peterborough.
David Clark kicks us off, with the Life and Career of Henry Ford. He passes on the first question, which isn't a brilliant beginning, but he makes good progress through the rest of the round. His final score is boosted by a lucky guess after the buzzer, finishing on 14 (2).
Tim Vick is up next, and he's been researching German Wines. He loses a little time through John's imperfect pronunciation, and a lot of time from asking for questions to be repeated. The final score is 9 (1).
Malcolm Crockett will have the Life and Works of Frida Kahlo. The round can go over our head all it likes, but we recognise a good performance when we see one. 14 (0), that's a good performance.
Stacey Mitchell will tell us about the Life and Career of Jennifer Aniston. She starts well, but falls regrettably quickly into Pass Hell, finishing on 9 (6).
Unusually, John gives the half-way scores with reference to the passes, calling Stacey Mitchell up first. Is there a chat? There's a chat, about the wages paid to the cast of Friends. The general knowledge round also falls into Pass Hell, and ends on 15 (13).
Mr. Crockett launches into a strong defence of German wines, a reputation ruined by the first imports back in the 1970s; and the loss of vineyards during the war. He has a very good general knowledge round, finishing on 22 (2).
Mr. Clark is caught in a discussion of the car being fundamentally unchanged for a century - four wheels, engine under the bonnet. There's a slightly obscure Hidden Transmission Indicator in this week's questions - one is about the short-lived county of Cleveland, which has been served by BBC Radio Cleveland, BBC Radio Teesside, and from the date of transmission, BBC Tees. Back in the game, Mr. Clark finishes on 28 (2).
Mr. Crockett confirms that Frida Kahlo was mostly a self-portrait painter. He answers slowly and securely, but fails to spot My Music from its description, and ends on 22 (5).
We should note a Press Association report this week, discussing claims from un-named sources that Mastermind had "dumbed down" by including such popular culture topics as Jennifer Aniston. Producer Jon Kelly said, "Mastermind has always had a balance of high-brow and populist subjects." He's correct, and the PA report of the show's structure - 12 heats, four quarter-finals, and the final - shows the organisation's commitment to the quality of its facts.
First round, 6/14: Central Lancashire v Sheffield
Central Lancashire is making its debut on this show, it was founded as an Institution for the Diffusion of Useful Knowledge, and used to be known as Preston Poly. Sheffield makes a musical from scratch in twenty-four hours; no danger of using a phone-in contest to find the leading couple there.
Sheffield gets the best of the early exchanges, but loses ground when the side fails to identify the brightest star in the night sky. It's a good job that John McEnroe wasn't on the side. The first visual round is Name That Country - it's landlocked countries this week, taking Sheffield's lead to 90-20.
In retrospect, it's obvious that the king of Colchester should be Old King Cole. Central Lancashire deduces that, manages to spell "conscientious" without writing it down, and suddenly it's not a one-team game, pulling within twenty points. Sheffield gets the audio round, on versions of Killing Me Softly With His Song sung in various languages, and has opened a lead of 125-65. An odd round, there.
Lancashire gets the next starter, and is rewarded with an even odder round, Name That Footballer From the Description of Their Injury. Sheffield suggests that Whit Sunday falls on a Monday, and receives a sneer that expresses its contempt in its brevity. Another bonus questions asks after the writer of Lost for Words, a bloke with a black chair not a zillion miles from here. The second visual round is on paintings of people smoking, and Sheffield has extended its lead to 180-80. That brings us to So Blatant It Was Obvious Swerve of the Week.
Q: The market and meeting place in towns and cities of ancient Rome was called the forum. What name was given to the equivalent type of open space...
Sheffield, Paul McKay: Agora.
Hidden Audience Indicator of the Week: No-one knows who hosts Never Mind the Full Stops. The teams have probably not seen it, and we suspect that they've missed little. Central Lancashire gets an even more brief sneer, suggesting that the town in Monmouthshire at the confluence of the Severn and Wye is called Doncaster. It's in Yorkshire. On the river Don. Never mind, they could always get a job checking the geography for The Sun, where employees have been confusing Cornwall with Cape Town. Sheffield isn't up on Duke of Wellington trivia, showing they didn't watch last week's Mastermind. The final score is a comprehensive victory for Sheffield, 265-90.
Repechage standings:
Lancaster 185
Liverpool 165
Magdalen Oxford 160
Birmingham 145
Paul McKay was the fastest finger with the correct answer on nine starters, enough to qualify him for nine trips to the centre circle in original Millionaire rules, as Sheffield made 23/48 bonuses and two missignals. Abigail Maher was best for Central Lancashire, but 7/18 bonuses and one missignal tells its own tale.
Next match: Lucy Cavendish Cambridge v Warwick
A result from University Challenge The Football Match: Cambridge 2, Oxford 1; Cambridge won with the last starter of the match. The return fixture will be played in March next year.
This Week And Next
After last year's series fell victim to an overcharging error during the voting, ITV has promised no trickery in the new series of The X Factor, which began last night, and will continue for the rest of the year. We were going to make a crack about Kate Thornton and being able to see the strings, then remembered that she'd been replaced by Dermot O'Leary.
We regret to report the death of Tim Garden, the RAF pilot, defence analyst, and adviser to the contestants on The Bunker - Crisis Command: Could You Run The Country? He was 63. Full obituary in the Independent.
The most viewed game show in the week to 5 August, according to BARB figures, was Tuesday's Big Brother, detailing the exit of Chanelle, seen by 4.15m. Baby Ballroom had 3.7m, just beating Millionaire on 3.6m. Dance X was seen by 3m, and nearly overtaken by the 2.65m viewers of University Challenge. Dragons' Den had 2.1m, Mock the Week 1.95m, Old News 1.75m, Mastermind 1.7m, Link 1.55m. Back on C4, BB On The Couch attracted 1.7m.
Chanelle powered E4 to record ratings on Tuesday night, with 700,000 tuning in for BBLB, and 1.49m seeing Big Mouth. Both were the highest audiences for the digital shows this year. America's Got Talent attracted 480,000, Come Dine With Me on More4 recorded a season-best 245,000, and CBBC's Get 100 had 150,000 scratching their heads. Challenge's top show was Wednesday night Millionaire, seen by 97,000.
Coming up next week, Dirty Cows (10pm Wednesday) is Living's attempt to match a farmer to a city girl. And a word to those interested in Test The Nation The National IQ Test, it goes out at 6.40 and 9pm on Bank Holiday Monday, eight days from now. And yes, that does mean it goes out opposite Mastermind.
To have Weaver's Week emailed to you on publication day, receive our exclusive TV roundup of the game shows in the week ahead, and chat to other ukgameshows.com readers sign up to our Yahoo! Group.