Weaver's Week 2010-10-03
Last week | Weaver's Week Index | Next week
Memo: Make sure all those stupid names with missing vowels are in your Spellcheckr®.

Fever Media/Nordisk Film TV for ITV and ITV-HD, 11 September, then Tuesdays from 14 September
Take, if you will, ten minor celebrities, Gethin Jones, and Kate Thornton. Leave them in Norway in the early spring. That's it, there is no more, ten celebrities, the indomitable Geth, and the Kate Thornton, left in Norway where it's very cold.
If only it were that simple. Rather than being on their own, there are cameras. Lots of them. So rather than leaving twelve people to the wilds of Norway on their own, they're going to be doing it inside our television sets. The basic conceit of the programme is of an expedition up through Norway, starting near the southern coast, and ending up near the northern coast, at a latitude of 71 degrees north. Hence the name.
Now, it swiftly becomes clear that each show follows a certain pattern. It begins with the competitors being divided into two teams, the captains choosing their compatriots alternately. When there's an odd number of competitors, the first captain has the option to take the last player, or to leave them for the other side. This may not always be the best tactic.
Once the teams have been formed, they set off on this week's reward challenge. It involves some sort of spectacular challenge, performing a physical task such as travelling across snow and a canyon with one of their number incapacitated, or sleeping in a tent pitched 50 feet down a cliff on the side of a mountain. The reward for victory is the same every week, spending the night in a log cabin, with a cooked meal, hot tub, and some treat like a massage. The losers don't get this, they spend another night in their tents, in the snow.
Following the reward challenge, there's an immunity challenge. This is usually played as individuals, and is generally some sort of time trial to (say) ascend a frozen waterfall. The winner of this challenge gains immunity from the following vote.
Ah, the vote. Everyone, including the immune players, has to cast a vote for someone they'd like to see eliminated from the challenge. We see a few of these votes being made, but most are only revealed at the end, when we learn the totals. The player receiving the most votes is off the show, and sets off in an all-terrain vehicle to the nearest airport, and thence to Blighty.
Readers with very long memories will doubtless find all of this a bit familiar. Indeed, if we swap snow and ice for sun and sand, and ensure the show remains in the same place each week rather than moving about one degree north each week, we find ourselves reviewing Survivor (ITV, 2001-2) once again. It's even got both hosts – Gethin Jones is the new Mark Nicholas, and Kate Thornton is remarkably close to Mark Austin.
Other little themes from Survivor come back to us – the importance of getting enough to eat, the messages from home about half-way through the contest, and the inevitable perils of isolation. But so does the sense that the challenges are adequate, not brilliant. Reindeer racing, as we saw this week, should be spectacular, but Kate Thornton's commentary isn't as good as Peter O'Sullevan's. Indeed, it's not as good as Penny O'Sullevan, someone we've completely made up. These should be television spectacles, but the action never quite kicks into gear.
The scenery is tremendously well-shot, and it's no surprise to find that this programme is available in high-definition supervision, for suitably-equipped televisions. The contents, however, is very much standard-definition adequatevision. It's just about good enough for prime-time, but we can't help but feel that there's something missing. The show's billed as a journey to the titular latitude, but there's very little travelling show. Sure, some of the reward challenges involve travelling a few miles, but we don't get the impression that the party is doing anything more than move to the next fjord. We've only got people's word for it getting colder, more northerly.
The scenery is awesome, but the sheer physical demands of the trek haven't quite come across on the telly. We'll have to see how this one plays out.
We aim to publish Countdown updates every six weeks or so, and tradition has dictated that there are usually about ten champions to get through. Such has been the quality of play recently that we've fewer names to record.
Tom Rowell was in the champion's chair for the summer break; he completed eight wins for a total of 774 points; three centuries and four scores in the 90s prove he's a solid player. Peter Godwin took over the hot seat, the first of seven wins (705 points), with a top score of 110. His octochamp status was lost in a remarkable slew of errors, allowing Lee Palmer (1 win, 115) a teapot.
Daniel Pati defeated Lee with a score of 112, then clocked up a total of 127 in his second game – it's believed to be just two adrift of the maximum possible for that selection. Four centuries and four scores in the nineties, and all eight conundrums correctly solved, contributed to a total of 840 and show that Daniel will be a threat in Finals Week. So will Eoin Monaghan, who notched up 898 points in his heats, and a lowest score of 100. We mentioned earlier in the year that it's about time Countdown had another young prodigy, and it looks like we've found one. Heather Driver had the impossible task of following that, but her four wins (361 pts) mustn't be knocked. Michael Chadwick unseated her on Friday.
The leaderboard currently stands at:
| | | |
| --- | --- | --- |
| Eoin Monaghan | 8 wins | 898 pts |
| Daniel Pati | 8 | 840 |
| Scott Gillies | 8 | 807 |
| Tom Rowell | 8 | 774 |
| Peter Godwin | 7 | 705 |
| Ryan Loughborough | 6 | 554 |
| Richard Harris | 5 | 535 |
| Heather Driver | 4 | 361 |
Heat 13: University of the Arts, London v Imperial College
It's science versus arts this week, and University of the Arts London kick us off with Colour of the Week, Green. University of the Arts London (UAL from here) became a university in 2004 and makes its television debut here. It was formerly the London Institute, and comprises such famous schools as St Martins and the Wimbledon College. Alexander McQueen, Ralph Feinnes, Charles Saatchi, and That Girl From "Common People" all studied at one of the constituent institutions.
Their bonuses are on the opening lines of classic children's literature, and the side doesn't know the story of Tracy Beaker. Have they not watched the CBBC channel, ever? They have some animated discussions about the history of social networking websites. Shall we take Work-It-Out of the week?
Q: The 3rd of March 2009 was a so-called square root day, because when expressed as 03/03/09, the last digits of the year form the square of both the month and the day. On what date was the last square root day of the 20th century?
Imperial College left the University of London in 2007, and is itself an amalgam of various other scientific institutions. Aldous Huxley and Alexander Fleming are the old boys named on air. Their bonuses are on contemporary photography, which is never going to be rich pickings. The first visual round is on a map of Europe, re-arranged to look a bit like a person. No-one can recognise Iceland at all, so UAL lead by 35-10. We have no idea how they got teeth from that description, but UAL managed it. Their bonuses? Questions on theoretical physics. Don't think we're going to see a score of 300 this week, somehow.
Imperial try their hand at literature on art, which isn't going to run up the scores either. People Born in 1910, that should be reasonably neutral. The audio round is a condensed version of an album, which was going to contain the intro to every track in order, but UAL get "London Calling" from the first second of the first track. That's given them a 60-55 lead.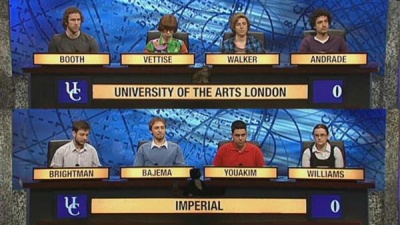 UAL: Nigel Booth, Mary Vettise, Adam Walker, Cliff Andrade
Imperial: Ed Brightman, Elliot Bajema, Nayer Youakim, Courtney Williams.
Play Tetris to recover from post-traumatic stress disorder? Just don't ask Andrew Lloyd Webber to write a song based on the theme music. Please. Both sides are taking a reasonable stab at the others' home subjects, but it's not until this third stanza that any side makes a complete set of bonuses. The Arts side go for a walk on melancholy hill, and Thumper takes umbridge when UAL gets bonuses right, saying that they're dismissing them with disdain.
"Your bonuses are on contemporary sculptors, Imperial." Not going to help them, really. Nor is conferring for an awfully long time, enough for the host to chivvy them along. The second visual round is very simple – name that bridge, with an art installation taking place on it. UAL has increased their lead to 155-70, possibly enough to make the repechage. Little Billy Shakespeare question of the week is on a character who "murders sleep", that'll be the Scottish king.
One hundred points the difference, 4-and-a-half minutes to go, and it's do-or-die for Imperial. Sun gods from various religions help, as do questions on metal alloys. But UAL get "primates" from the definition, and that's got to be Game Over. Imperial run into questions about choreographers, which surely isn't their specialist area. UAL ensure that everyone's answered a starter correctly, and that brings up the gong. UAL has won, 215-95.
Three back from the repechage board:
210 Cardiff
185 St Andrews
165 Exeter
155 Balliol Oxford
Adam Walker led UAL from the front, securing seven starters as the side converted 20/36 bonuses and had one missignal. Courtney Williams was best on the buzzers for Imperial, right four times, but 7/21 and two missignals didn't help their cause. Overall accuracy was 46/81. This week was an interesting little experiment, putting an avowedly Arts college up against a Science institution, and seeing who does better on the cross-over question. By our reckoning, the Arts emerged ever-so-slightly ahead, but there was far too little information to form a conclusion.
Next match: Merton Oxford v St John's Cambridge
Series 4, heat 4: Britpoppers v Geocachers
The questions are devlish, and the contestants so clever that they represent an evolutionary leap for mankind. Joining us this week are the Britpoppers, William Higham, Chris Roberts, and Andy Ross (he discovered Blur. And Jesus Jones). Their opponents are Sarah and Andy Bain and Lisa Grant, and they're all Geocachers, people who go around the country looking for things that have been buried in plain sight.
Round one is looming into plain sight, what's the connection here? Britpoppers won the toss and elected to bat, and they kick off with some foodstuffs and some weights. Recommended daily allowances? Have you had your 1.1g of strychnine today? Britpoppers are just too late to get in an answer, and Geocachers are just off the mark: these are lethal doses of the substances. Geocachers get the pictures: a gopher, a whale, a starfish, and a koala bear. The gopher is a prairie dog, and none of the animals is accurately named. Back to the Britpoppers, who try to connect the Channel Tunnel and the US space programme to the Loom and Badminton. "Things that were invented where they were named after: badminton in Badminton, the US space programme in, er, the US..." The question shuttles across for a bonus.
"They all mean the same thing in different countries," offer the Geocachers for question four. "This isn't Dick 'n' Dom's Question Funhouse", replies our host. True, it's Monday night on BBC4, not Thursday on BBC1, and we have no desire to see David Starkey and Diane Abbott covered in creamy muck-muck. Snap Crackle and Pop is a bonus. Opposites are the theme to the music question for the Britpoppers, earning a point. Finally, a set of former librarians gives another bonus to the Britpoppers, putting them ahead by 3-1.
What's next? Some numbers: 16 2/3, 33 1/3, 45, so it's record speeds, and 78 rpm, and two points for the Britpoppers. Geocachers have expansions of the USA, and reckon it's the Louisiana Purchase, on the grounds that they've heard of it. No, Alaska Purchase comes next, and a bonus for the Britpoppers. Novels by Ian McEwan is right up the Britpoppers' street, and On Chesil Beach is worth a pair.
Geocachers have the visual round – a man with binoculars, a girl, a tiger cub. It's an explorer, a scout, and a cub, so next level down in the UK Scout movement is a beaver. Hertford and Hereford and Hampshire form the next set, which should push us in the direction of Eliza Doolittle's elocution lessons, and Hurricanes. Women film directors form the final set, perhaps Oscar winners, so who comes next? Not Nara Ifron, but Catherine Bigalow. Another bonus goes across, so the Britpoppers take a 10-1 lead into the next round.
Bring on the wall, and who would have thought that we wouldn't be watching Dale's pool two years hence? Geocachers kick things off, looking for guitars, then ministries in the government. Are there types of gases? Keys on a computer keyboard? Ah, that'll be one set. Five possible ministries, so it's a case of excluding whichever until hitting. "John Peel" is a standout clue, as is "Pyramid". Are we talking Glastonbury stages? And would the last set be types of shock? We reckon they would, but sorting out the stages is a stage too far – they got three, but missed the "Other" stage. Close, but no cigar. Six points!
Britpoppers come back now, and "Aleksandr Orlov" is the obvious clue. But it's types of hats that starts their attention. Nipper was in a cartoon? We know there's a Gnipper in The Beano; the teams are discussing types of joint. Hats come out, and perhaps there's a set of cousins based on Vinnie. Water ___? They're just guessing at the end, and have only the one group when the time expires. Characters in adverts – a fox, a meerkat, a dog, and a man made out of tyres. There are woodworking joints, and things to put on a snowman. Five points!
So the Britpoppers lead by 16-7 going into the final round. Ten plus five is sixteen? Ah, that'll be the revenge of ε, introducing an error term. (C'mon folks, what other game show goes from the past and future of Saturday morning telly to conventions in scientific notation?) Not much time this week, even less after Vctra has finished explaining how Mssng Vls works. Flowers is the first set, ending 3-0 to the Britpoppers. "Companies founded during World War II" has the ever-so-helpful clue "K", and that's 1-(-2) in the Britpoppers' favour. Films featuring cross-dressing only gets two clues out, 1-(-1) to the Britpoppers, so they've won by 21-4.
It's not that the Geocachers were bad, they just had the worst run of luck since Jonah last visited Portsmouth. Two more teams of hopefuls next week: Fantasy Writers v Bridge Players.
Heat 7
We heard this week that allotment-holders in Leighton Buzzard are using recordings of John Humphrys to scare off deer, who they blame for eating fruit and veg. It's not the timbre of his voice, but the way he interrupts the deer before they've had a chance to even bite into the marrows.
Paul Hardy takes the Football World Cup Finals 1970-2006. The world championship of football split from the Olympic games in 1930, and this round covers the recent history of the competition. Argentina, Italy, and Brazil all win twice, Germany host twice, and England never fulfil the high hopes of their fans. "What was the mascot of the 2006 tournament?" runs one question. It says here that it's a lion, but it looks like Mr. Snuffleupagus from Sesame Street. Anyway, we do get Diana Ross's unforgettable contribution to the 1994 tournament, and the round ends on 8 (5).
Robin Seevill will discuss the television plays of Alan Bennett (b 1934). A morose Yorkshireman, Bennett wrote the seminal satire show "Beyond the Fringe", and pieces for theatre, and gave an early break to Paul Shane of "Hi-de-Hi" fame. "Six Plays by Alan Bennett" was made by LWT in 1979, and gathered critical interest, if not praise. "Talking Heads" (1988, 98) were full life stories told through half-hour monologues. "Where would these people be if their name were Trevor?" asks one question, but it's a quotation, mercifully. No mercy needed, 14 (1) is a very good score.
Chris Harrison has Bletchley Park (est. 1883). The park itself is an area of land next to the railway line in Bletchley. It was acquired by the government just before the 1939 war, and housed the Code and Cypher School, which went on to crack the Enigma code used by the Axis. The site now houses a museum dedicated to the code-breaking effort. The only error comes after the buzz, apart from a slightly premature answer to a long question, and 15 (0) is another fine score.
Steve Taylor is last up, with U2 (est 1976), a Dutch rock band. Well, they are for tax reasons; all four members originate in Ireland. They began as a post-punk band, had a stadium rock phase, a dancey phase with Trabants, and a vehicle for Bono's ego. Or charity work, depending on your point of view. It's a solid round, no clear pattern between the start and the finish, ending on 13 (0).
Mr. Hardy's general knowledge round has Hieronymous Bosch, the rugby league grand final (this year's takes place a day after transmission), and the athletic hammer. He's never going to win from that far behind, but the round progresses at a decent clip, ending on 17 (13).
Mr. Taylor (the Rev. Taylor? He's a youth vicar) begins with "au reviour". 'Bye, then. It's worth guessing who the first poet laureate was, but this is not the Little Billy Shakespeare question of the week. Mead, Jim Carrey, the Mounties, and the completely forgettable cabinet career of Ruth Kelly all crop up in this round, which finishes on 21 (2).
Mr. Seevil has Lord Peter Whimsey, the Hansard report, and Rod Stewart's hit single "Maggie May" in his round. He's already behind on the pass count, so he's absolutely right to pass on questions he can't answer instantly. He does get the LBS QotW, and the dimensions of Chile, finishing on 27 (7). Ooooooh! It's enough to get him on the repechage board, assuming he loses tonight, but in fourth place already. One more correct answer might just have done the trick.
But all this is contingent on Mr. Harrison not scoring the twelve he needs (even allowing for passes). His LBS QotW is on Juliet, he gets the geography of Northern Ireland, the amazing feats of Steve Cram, and the Model T Ford. He doesn't recall the career of M. Leotard, but does have the plot of "Little Shop of Horrors". It's right to guess at most questions, but when the answers aren't coming, they're not coming. The answers do come towards the end, but not the question ending on the buzzer. His final score is 26 (1).
So Mr. Seevil wins, and Mr. Harrison takes fourth place on the repechage board. We doubt that we'll see him again in this series.
This Week And Next
The revenge of ε struck down under this week, on the live final of Australia's Next Top Model. This particular programme is decided by a televote, and after lines had closed, the votes had been counted, and there had been a pause for tension so long that everyone thought the camera had stopped. Finally, host Sarah Murdoch announced that Clotheshorse A had won. Cue much cheering, sparklies descending from the roof, and a tearful acceptance speech began.
The speech was interrupted by Ms Murdoch, who had bad news. Though the votes had been counted, they hadn't been verified, and the actual winner was Clotheshorse B. Cue massive amounts of confusion, queries descending from the audience, no-one quite knew what the blue blazes was going on, and they'll have to have a replay at the Melbourne Cricket Ground next Saturday.
As anyone who has ever watched Big Brother will tell you, the answer is very simple. Close the lines, count and verify the votes. Then go to a commercial break, or the bit with the guinea-pigs, or some other filler, and hand the presenter a card giving the name of the winner. Or put it up on a huge cue board. Or something completely foolproof like that. The thing not to do is whisper the winner down the presenter's talkback: the crowd will be baying, the production suite will be noisy, there's a chance of an error.
It's refreshing to see that Ms Murdoch's father-in-law is able to promote programmes of such consistent editorial quality right around the world.
Two questions left hanging from earlier – the square root date was 09/09/81, and the company indicated by "K" was Ikea.
Ratings for the week to 19 September are in, compiled as ever by BARB. The X Factor had its best week of the year, 12.15m saw Sunday's episode, and 5m of those had tuned in for The Cube immediately beforehand. All New Celebrity Total Wipeout had ten New Celebrities tackle the same old course, and 4.85m people found that fun. 4.5m preferred the stimulation of QI. The Great British Bake Off led on BBC2, with 3.05m, ahead of Dragons' Den (2.8m). Come Dine With Me was Channel 4's biggest game show, 2 million viewers isn't bad for the 5pm slot – the primetime edition finished 0.1m behind.
What was Xtra Factor's winning score on ITV2? 1.415m, with 1.04m for Celebrity Juice, and 715,000 for X Factor on ITV-HD. Come Dine With Me had 530,000, then came Only Connect's 430,000, beating QI on Dave (400,000) and the final of Escape From Scorpion Island – 385,000 is CBBC's biggest game show audience of the year. New Masterchef Australia on Watch is doing well, 185,000 there.
Coming up: the return of Strictly Come Dancing heralds the return of Strictly Come Dancing It Takes Two (BBC2, 6.30 weekdays). Fans of rubbish television will welcome The Apprentice (BBC1 and BBC-HD, 9pm Wednesday), fans of derivative shows will cheer A League of Their Own, (The Satellite Channel, 10pm Thursday) and fans of gimmicks will want to snigger at Are You Smarter Than Little Noely, Now In Pop-Out-o-Vision (The Satellite Channel 3D, 8pm Tuesday). Next weekend's talent shows are Strictly Come Dancing (5.45-7.40 Saturday and 7.30-8 Sunday) and Simon Cowell Annoys (7.40-10.10 Saturday and 8-9 Sunday). In the latter show, Denny Minogue mentors gentlemen of 28 and under, Cheryl Cole has the ladies of 28 and under, Simon Cowell is looking after the groups and Louis Walsh is responsible for people who remember Boyzone from first time around. As ever, schedules are subject to change, including the BBC's scheduled strike, which has itself been struck. Or stricken.
To have Weaver's Week emailed to you on publication day, receive our exclusive TV roundup of the game shows in the week ahead, and chat to other ukgameshows.com readers, sign up to our Yahoo! Group.