Weaver's Week 2012-01-29
Last week | Weaver's Week Index | Next week
"chick chick chick chick chick cheeeew"
Channel 5, 5-27 January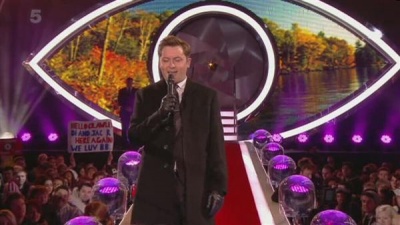 If Big Brother is a lock, Brian Dowling is the key.
Day 4192, and more rats entered the laboratory. The unflappable Alice Arnold noted, "Oh this bodes well...I have actually heard of the first contestant." We reckoned we knew of six of the twelve already, which instantly disqualified them from winning. In the modern history of Celebrity Big Brother (ie since 2005), only one series has been won by someone well-known to the wider public, Ulrika Jonsson.
At least four contenders were being examined to become Desmond Empire regulars. Would Frankie Cocozza offend against a golden rule of this show, by signing a deal with Hello! magazine? Could Kirk Norcross become the new Amy Childs, and get his own series wrapping around the summer series? Which of Nicola McLean and Georgia Salpa would offer the most bang for people who purchase the Daily Star? Would anyone do something suitable for broadcast on Television X, Desmond's very own parade of smut? Will we be able to explain why Natasha Giggs is sufficiently famous for Celebrity Big Brother without discussing a sports personality who we cannot name in the context of Big Brother for legal reasons? (No.)
In addition to the regular round of introductions, the first episode featured a test of Natalie Cassidy's acting skills: she wore a whisper clip and was slipped lines by The Party. All of this did break up the monotonous VT-interview-entry cycle, but it also meant proceedings dragged terribly. We watched Big Brother on one screen, The Bank Job on another, and BBLB's Useless Bloke did at least keep going at a fair clip.
The traditional storyline is that someone will attempt a romance for the cameras, or will at least do something that could be interpreted – however loosely – as a romance for the cameras. Not this series: the best they could come up with was Kirk Norcross and Georgia Salpa being spectacularly foolish around each other, in a way that might possibly have passed for slightly romantic if you squint at it for a really long time and strain your eyes. Even when Georgia was up for eviction, she remained quiet and didn't press anything against her co-contestant.
Instead, we got Denise Welsh and Michael Masden sniping at each other, bickering like a middle-aged couple who both know their relationship is over, but so dislike the other that they'd rather remain unhappy themself than grant their sparring partner the minor victory of knowing they want out. We could almost watch the dust fall out of the creases in their faces. Denise loved to hate Michael, Michael loved to hate Denise, and both let their petty jealousies cloud their chances of winning.
Andrew Stone was present at the start of the series, but managed to be first out, having annoyed almost all of the other contestants, and proven less popular than Georgia in a head-to-head vote. If we're to believe the edit, Stone thought he was a big star on a huge show that everyone remembers. Stone was the second-biggest star of Pineapple Dance Studios, which aired on an obscure local channel in west London to almost some viewers. He was followed to the exit by Natasha Giggs and Georgia Salpa, two people who both knew they were going to be out quickly, and went about their business like corpses wanting nothing more than to be sent back to the grave.
The turning point came on the final Sunday. A playful evening of fun came to a halt when Denise Welsh pulled down the pyjama bottoms of This Year's Twins. Apparently, they'd had a photo-shoot for the middle of Playbeing magazine, wearing nothing more than a large paycheque. We'll gloss over the incongruity of someone who has done a photo-shoot for a nudie magazine repeating, "I'm a very modest person," over and over, like it was a mantra and if she said it often enough it would become true.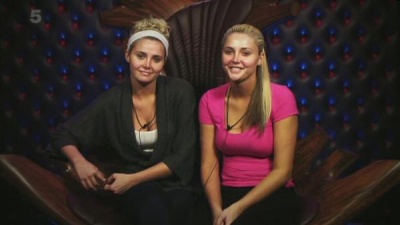 This year's twins. Not Jedward, not even Samanda.
No, whichever one of This Year's Twins it was, was a little upset about being de-bagged. She was significantly more upset about being de-bagged on national television, in front of literally some viewers. "I'm not happy about you showing my backside on national television," she expounded to The Party's representative on earth. "Our contract said blah blah blah blah fishcakes," she continued. At great length. While One Of This Year's Twins was busy wittering in the diary room, The Party was unable to intervene in another shouting match, which mostly seemed to be all the remaining women shouting at each other at great length. So long as they were fighting, they could keep each other going, like a pile of twigs supported by its own density.
Remaining aloof from the fray were Romeo Dunn and Gareth Thomas. Gareth, the former rugby player, said that he hadn't heard what went on, and it would be wrong of him to take sides. Romeo was no stranger to fast escapes, having won all the sprint races on The Games some years ago, and proving the fastest at recovering a ticket from a pile of flour. He also left the set two days before the final, to be greeted by many of the other members of the So Solid Crew. Present were such hip-hop luminaries as Lisa Maffia, Neutrino, Oxide, AC Burell, Naomi Notorious, Ms Money-Sterling, Mr C, Yorkshire T, Harvey Toothpaste, The Notorious BLT, Mrs Gogginz, DJ Supa Sokah, Ivor T Engine, Mediocre Dave, and Asher D. Well, that's what that other wiki says.
The smoking area moved from under a canopy to benches in the middle of the garden, for reasons never made clear. The Party found that it could holler for Frankie to attend the Ministry of Chairs until it was blue in the face, but it had to rely on the contender's goodwill; The Party didn't have the Thought Police to force him there.
No, these were not the main stories of Celebrity Big Brother. The main story was the surrounding shows. There was less Big Brother elsewhere in the schedules – OK TV has been cancelled, the only remaining spin-off is late-night show Bit on the Side, which now went out on Channel 5 most weekdays. Channel 5 heard the bleatings of fans who missed the live feed – they were so monotonous on the subject as to be unmissable – and gave a few token hours of live coverage on 5*. But Channel 5's priorities are obvious, they're not going to stop broadcasting the teleshopping on Channel 5, or the pornography on 5*'s frequencies.
The rest of Channel 5 primetime? It almost turned into a Celebrity Big Brother Spin-off channel. Celebrity Wedding Planner, starring celebrity haircuts Jedward, and defending runner-up Kerry Katona. When Paddy Met Sally, starring last time's winner Paddy Doherty and last time's loser Sally Bercow. It's All About Amy, a fly-on-the-wall show starring Amy Childs. From this time's crop, Cocozza, McLean, Thomas, perhaps Dunn might all have the certain something to bring viewers back to various parts of the Desmond empire. And that's the reason why this show still exists.
Group phase, match 5: UCL v Worcester Oxford
How did we get here? UCL beat Manchester just before Christmas, Worcester accounted for Newcastle two weeks ago. Fashion watch: one Naturo headband, check; one "Math is delicious" t-shirt, check; one oversized whale mascot, check; one guest appearance by Rex from Victorious, check; one dinosaur t-shirt from the same place as the other one, check. But that one's sold out. Boo.
Low scores after the first couple of starters, and doesn't improve much. "A starling's a bird", which we rather know, but we didn't know that Thumper would go "chick chick chick chick chick cheeeew" in a remarkable impression of a chaffinch. If only Harry Hill were in season: he would be showing this every week, probably with a giant bird running around the Newsnight studio. The first visual round is on riddles in foreign languages, to which Jamie Karran's answer is "Je ne comprends pas." Worcester's lead is 30-20.
"Your bonuses are on jumps in figure skating," says our host. "Does anyone know anything other than 'triple axle'?" asks UCL's captain. Axle is, actually, correct, which rather ruins their strategy for the rest of the round. Can we have this lot on every week? They are so spectacularly entertaining. Worcester are only slightly less wonderful value, and both sides are more than capable of actually knuckling down and getting some questions right. The audio round is an extract from Liszt's "Hamlet", but no one knows the plot, and UCL's lead is 75-55.
"Hamlet" is, apparently, a symphonic poem, in which a musical work is complete in one act. "Copeland, he was American," is about the length of one discussion, and the team don't know any famous composers from one country. "Belgium!" shouts our host, clearly needing to wash his mouth out with soap and water for such foul language. He'll be arrested and, before we know it, doing bird ... oh.
The sides draw level just before the second visual round, Name That Prince, and with no-one spotting Prince Arthur, the first of some heirs apparent who never succeeded to the throne, it's 100-100 and everything to play for. "There's nothing outside the text", the rather rubbish catchphrase of Jacques Derrida. Worcester prove to know their Chinese dynasties, but always answer the question before the one Thumper's asking, which doesn't score well. Just when they're needing to get something, UCL score with WB Yeats, but prove to know precious little about the history of football.
Worcester chime in with knowledge that the 1890s gave the world the Krypton factor, the Argons, and some other chemical elements. That feels like game over, even before they prove knowledge of the divisions of English courts. UCL get struck out during some questions on rhyming pairs of words, but the result is known. Worcester Oxford win by 170-120.
A slow beginning, and lots of dropped starters, but Worcester came good in the end, getting 26/53 right. UCL let themselves down with 17/42 correct, 8/26 bonuses, and only once more than one in a bonus set.
Next match: Manchester v Newcastle
Heat 10
Geoffrey Snape begins this week's show, with the History of New York City. The estuary of the Hudson River was settled by indigenous peoples from time immemorial. The first European settlers were Dutch, moving to the New Netherlands and building a township they called New Amsterdam. The British took the settlement in 1664, and re-named it after the Duke of York. The Hitchhikers' Guide to the Galaxy notes, "New Yorkers are sometimes very hard-working, busy people. They often can't stand being delayed and will become quite irritable if unduly detained." No irritation for this contender, who finishes on 11 (1). Visit more: "Rough Guide" guidebook*.
Sally Mabey follows in the chair, and she's taking the Women's Institute (est 1897, UK establishment 1915). The organisation aims to improve and develop conditions of rural life, respond to public questions both national and international, work in music, drama and other cultural subjects and in all branches of agriculture, handicrafts, home economics, health and social welfare. Well, that's what the website says. The contender starts strongly, has a wobbly bit in the middle, but recovers to finish on 10 (3). Bake more: a cake recipe book*.
Gareth Kingston will now spend two minutes telling us about the Life and Work of Augustus Pugin (1812-52). His memorial website describes him as "Great Britain's foremost architect and designer of the nineteenth century, a man with extraordinary talent, verve and perspicacity. A man who believed in himself, and harboured a passion for Gothic and the Roman Catholic Church." His works include the Houses of Parliament, St George's in Southwark, Alton Towers, and fine arts for the Great Exhibition of 1851. It's clear that the contender has been swotting up, and produces a round as impressive as most of Pugin's work: 14 (0). Read more: "God's Architecht"*.
Chris Wills is our final contender, taking Wimbledon Singles since 1990. This is the era of Pete Sampras, Steffi Graf, the Williams sisters, Roger Federer, Rafael Nadal, and all the British players leaving the tournament before teatime on the first Wednesday, except for one man who will be feted as the greatest person in the entire country. Then he loses. The question-setters are allowed to slot in a little in-joke, the round ends with a long question about the longest match ever. The final score isn't quite a tennis score, being 13 (0). Gawp more: the remarkable 2008 final*.
Sally Mabey rejoins us first of all, with questions about Anne Frank and Dr Finlay's Casebook, and she answers crisply and clearly. Chatsworth House and quail's eggs provide points, as does the former setter of questions for Brain of Britain, Mycroft. There are a few errors in the round, which finishes on a very creditable 20 (8).
Is the inclusion of a question on haggis this week's Hidden Transmission Indicator? Geoffrey Snape pots that for a point, as he does a question on yodelling. A question describes Pam Ayres as a "popular poet", and we can hear the complaints unit readying themselves for disputes about both parts of that description. Rather a pass spiral early in the round, and 19 (7) is the final score.
The exploits of researchers at Manchester University give Chris Wills a point, and it's clear that he's going to take a shot at the questions even if he's not sure he knows the answers. After a slightly rocky start, he fires away with questions on the Baltic Sea and the Cones Hotline, and even the stick artists use to steady their hand. The final score shows his tactics, 27 (1).
Eleven for Gareth Kingston to be sure of a place on the repechage board, fourteen to win. He gets off to a good start – autumn being the season of mists and fruitfulness, the song "Barcelona", and the concept of the hashtag. Smashbags! Then things go a little bit more slowly, not quite getting the story of the Hellespont, but he remembers Andy Coulson's involvement in phone hacking. Someone has to! Papa as the callsign for P lifts his score to 27 points ... and no passes!
The repechage board:
John Marshall 31 (5)
John Snedden 30 (4)
Paul Smith 28 (3)
Chris Wills 27 (1)
Chris Forse 26 (8)
Jeff Grimshaw 25 (4)
It's that close: the one pass Chris Wills picked up has cost him the victory. It's possible that, as Mr. Humphrys says, Mr. Wills might make the high-scoring runner-up list, but he's already down in fourth place, and we're not optimistic. At this stage, we're not convinced that Paul Smith's 28 (3) will bring him back.
Double-bills of episodes for the next two weeks. That's except for viewers in Wales, who have rugby with a side order of Raymond Blanc; and in NI on the 10th, where it's more rugby.
This Week And Next
Incidental music watch, and we spotted a trailer for a Raymond Blanc in France series. Its incidental music, the most French tune they could imagine? By Sébastien Tellier, it's "Divine"*, the French entry to the Eurovision Song Contest a few years back. Can we seriously imagine France 2 plugging its new series with the dulcet tones of Josh Dubovie?
More television from neighbouring countries, and Irish station TV3 has announced its spring line-up. Viewers are promised The Great Irish Bake Off, new runs of Come Dine with Me and Take Me Out Ireland, Alan Hughes (a new name to us) hosting Family Fortunes, and Nora Owen inviting contenders to take the chair on Mastermind. Apparently, it's the first time Ireland's had a version of this venerable show.
Winners in the National Television Awards were announced this week. Celebrity Juice was the Most Popular Comedy Panel Show, and I'm a Celeb the Most Popular Reality Show. The Most Popular Talent Show was The X Factor, and the Antan Dec Memorial Award for Most Popular Entertainment Presenter went to Antan Dec. There was a Special Recognition Award for Jonathan Ross, now that he's established himself on ITV. David Walliams was given a Landmark Award. We presume this is because he's signed to ITV, and not because he intends to stand his ego on top of a tall hill so it can be seen for miles.
Another week, another OFCOM complaints bulletin. Channel 5 have been shouted at for running a competition at 8pm, one that closed at 12 noon that day. The prize, we assume, was a fully-working TARDIS. ITV has been slapped down for gratuitously promoting Olly Murs' single on The Xtra Factor – a combination of scripted and unscripted references led to undue prominence for the tune. "Dance With Me Tonight"* is available from all good record stores.
They've also had a good look at Tulisa's perfume*: the arm across her chest displaying catchphrase "The Female Boss" was fine, but an extended discussion of the fragrance on The Xtra Factor was unduly prominent. An investigation into product placement on the 26 November edition was closed as not in breach.
The week to 15 January saw Dancing on Ice slip to 7.6m, still ahead of Who Dares Wins (5.85m) and Take Me Out (4.95m). The Great Sport Relief Bake Off rose nicely, 3.55m saw Tuesday's opening show, compared to 3.1m for University Challenge, 2.65m for Celebrity Big Brother, and 1.95m for The Million Pound Drop Live. Got to Dance was the biggest digital game show, a mere 960,000 viewers. Take Me Out The Gossip had 680,000, Only Connect finished on 650,000. QI on Dave took 535,000, slightly more than a fifth of episodes on BBC2. Copycats on CBBC had 420,000 viewers. An unexpected ratings welcome to Hi TV, which recorded 35,000 viewers for Pop Idol Nigeria.
The coming week: Young Talent of the Year is back (BBC3, 8pm Sunday), commencing with Bakers. Only Connect has another Wall Night (BBC4, from 8.30 Monday), and Love in the Wild travels the world on an ITV2 import budget (9pm Wednesday). Challenge pays tribute to Bob Holness with Blockbusters Weekend (to 10pm today). The final part of The Talent Show Story (ITV, Saturday) goes out in the somewhat later slot of 10pm.
Links marked with a * help support the UKGameshows servers.
To have Weaver's Week emailed to you on publication day, receive our exclusive TV roundup of the game shows in the week ahead, and chat to other ukgameshows.com readers, sign up to our Yahoo! Group.