Weaver's Week 2013-09-01
Last week | Weaver's Week Index | Next week
If BBC1 were to arrange its Saturday night schedule so the most intellectually difficult programmes were last, it would end with Casualty, obviously. Before that, Pointless Celebrities, where they will happily ask people to remember the name of Bruce Forsyth's current wife. They could wrap the lottery draws around this: have the Thunderball after finding the finalists, and the main draw after they've given the answers for the final game. But they'd probably bung it in Break the Safe. Less intellectual still is That Puppet Game Show, a programme with more brains than I Love My Country, and going further back we get Final Score and whatever other sport they've got.
The only problem with BBC1 arranged by increasing difficulty as Saturday wears on is that, before Football Focus and the lunchtime repeat of Bargain Hunt, we have Match of the Day. Not only do Gary and Alan get out while it's still daylight, but they would be talking about the games before they even happen. Which is a blimmin' clever thing to do, and so it's got to go at the end of the list, but there's no way it's more taxing than Casualty.

BBC and The Jim Henson Company for BBC1, from 10 August
This week's contributors to The Fifty:50 Show were saying how anyone British on American television was automatically assumed to be posh. Even Vernon Kay? Even Vernon Kay's puppet from the Henson company, the one sounding just like Next Door's Cat from Dick and Dom in Da Bungalow? Very possibly.
Dougie Colon (he likes to say it as "Dougie Cologne", as in the perfume) is our tri-fingered host, joined by two celebrities every week. We've had the dream team of Jonathan Ross and Katherine Jenkins. We've seen beauty and the beast, in the form of Alex Jones and Jack Dee. Freddie Flintoff has appeared, but so has Gary Lineker. It's a bit variable. Each week, the celebs are going to be given some silly things to do, and whoever proves to be better will get £10,000 to donate to charity.
Joining Dougie are six experts: Dr. Strabismus, the science expert, clearly modelled on Vince Cable. Amber O'Neill is the showbiz correspondent, might just have stepped from Entertainment Telly. Miss Taptackle does sport, resembles everyone's PE teacher and scores 11 on the Möhs Scale. Eddie Watts is an eager music correspondent, earnest and fast-talking and we can't quite place which DJ he is. Jake Hamilton-Jones covers wildlife, an homage to Australian naturalist Steve Irwin. And mental agility is hosted by an armadillo called Ian. He describes himself as "The Amazing Ian", but this is tautology.
Through the course of the show, four of these experts will put forward games. These aren't micro-games, done in two minutes, like on The Crystal Maze. But nor are these huge challenges. In the annals of Saturday night telly, they're closest to the events in Gladiators: they take a bit of time to play, but it's clear what needs to be done.
For instance, in "Saussisong", a familiar tune is chopped up into six bits, and each bit is given to a singing sausage. (There are a lot of animated sausages in this programme. Deal with it.) The aim for the contestants is to squeeze the sausages in the right order so that they reassemble the song. At heart, it's a simple task (order six things), dressed up in a fun and entertaining way.
An early favourite amongst these challenges is "Life's a Speech". The celebrity is given the pretext to say something (such as, they've been voted Britain's Best Moss Collector), and they've been given the text for a speech on an autocue. The only trouble is, some of the facts are missing. "I'm as high as the highest mountain in Wales, which is ____." We thought Katherine Jenkins would know that. Subjects change quickly, and it's a round of swift wits. (Though, for contractual reasons, not a round of Swift Wits. No cute furry animals were harmed in the making of That Puppet Game Show. And no Muppets were used, those critters are now owned by The Disney Corporation.)
Some of the games are a little less interesting than the others. Just as Fort Boyard had The Mud Wrestler every single week, so no episode of That Puppet Game Show is complete without a round of "Punch Your Lights Out". The premise is interesting: contestants are fitted into a jumpsuit festooned with a hundred lights, and they must punch their own lights to turn them off. The execution is somewhat more tedious. The producers correctly figured that they could cut away from the action, have a one-line joke, get back to the main event, and it would make a better show. (Why don't they try something similar on Match of the Day? They do: it's the comic interlude to the Girl Versus Clown game of noughts-and-crosses.)
And, as is the Jim Henson Company's trademark, the front-of-house games interchange with shots from backstage, where there's some sort of running plot going through the programme. The Tautological Ian not realising that he's been invited to a party because the letter is in his armour plating. Eddie trying to pluck up the courage to ask Amber for a date. That kind of thing. There's going to be a resolution somewhere between bittersweet and feelgood, that's the Jim Henson Company way, and they do that sort of thing tremendously well.
There are probably too many minor characters – the experts, the host, the producer and his assistant, all fine. But there's also Franklin the technician, a couple of simians who work downstairs, a rotating cast of talking sausages, and a few others who have wandered on for a single joke and then not been seen again. We've been watching (and enjoying) DNN, the spoof news programme. That also had a cast of about ten regulars, but was able to provide a little development for each character from week to week, culminating in a massive pay-off in the final episode. To the best of our knowledge, That Puppet Game Show isn't airing in production order, the characters aren't able to grow and build an audience.
Scores! Yes, it is a competition, they do keep score, and that task is undertaken by a talking crab. Yet another character, though this one is well-rounded, always having some sort of personal disaster and being – well, crabby. Two points for each round, somewhat dwarfed by the one point for every question available in the Final Round, when the experts get to sit on the set of Blankety Blank and ask general knowledge posers on the buzzer. And, as we mentioned, the winner gets £10,000 for their charity. The loser gets to make a donation in a somewhat smaller amount: we guess approximately their show fee.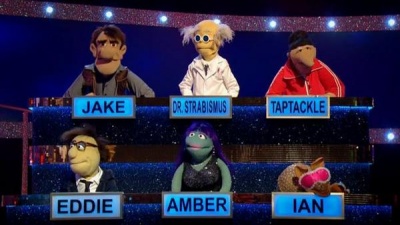 Not quite conforming to the panel rules: character actor, character actress, bland celeb, bit of fluff, wacky comedian, ditz.
For our money, the biggest weakness of That Puppet Game Show is how most of the experts only have one game. In the first three episodes, whenever Miss Taptackle has appeared, it's always been "Punch Your Lights Out". Whenever Dr. Strabismus has turned up, it's been for "Paddlestar Galactica", a game of target practice with ping-pong balls. It was good to see Eddie Watts have a different game, of identifying slowed-down recordings and writing them on the other player's backside while dancing closely.
Being well-versed in the history of game shows, we remember a programme that had many flaws in its original series. The same games every week – indeed, the same games played in the same order. Characters that had potential but weren't quite being used to the best of their ability. A show in search of identity, and possibly a catchphrase, but that was loved by the very young, and could be tolerated by parent and grandparent. Yes, we remember the Gladiators of 1992.
Could That Puppet Game Show be as fondly remembered? Or is it going to be another in the long line of one-series wonders from the Jim Henson Company? Shows like The Secret Life of Toys and Muppets Tonight! – superbly made, well-scripted, but one that hasn't caught the British public's attention and quietly doesn't get renewed.
This Week And Next
Heat seven of University Challenge saw the return of Brasenose Oxford. They were up against Manchester, going for an unprecedented hat-trick of wins after which they'll keep the trophy, and (we hope) let someone else win. Win or lose, Manchester are playing the final game on home turf: from the repèchage, matches will have been filmed at Granada's new studios in New Trafford. And looking back one year, Manchester appeared on the bottom in heat seven.
All of this went for a burton when Brasenose got the first starter. Manchester got the next few, but Brasenose came back, and took the Only Connect Memorial Bonuses of the week: placenames beginning with a Greek letter. Manchester had the chance to retake the lead on questions about a leading feminist, but didn't. Manchester's captain did recognise the singing of Colin Firth when she hears it, but fifteen points and the lead might be worth it.
Manchester raced away to pass 150 points, and Thumper audibly picked up the pace for the closing minutes. The win was secured by their next starter, and all that was required was to run down the clock (by correct starters and delayed bonuses) to ensure that Brasenose wouldn't return. 215 to 105 the final score, and Manchester marches on to yet another title. Can no-one beat these eggheads?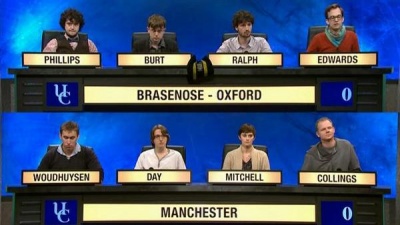 Brasenose: Joshua Phillips, James Burt, Ben Ralph, Turner Edwards.
Manchester: Ed Woudhuysen, Joe Day, Elizabeth Mitchell, Jonathan Collins.
A strong set of specialist subjects on this week's Mastermind heat.
Barry Humphrey (Six Feet Under) had the usual run of minor plot points in the sitcom, scoring 10 (2). In his general knowledge round, he's asked for the current England men's cricket captain – a question easier now than when the contest was recorded. A good guess at the end takes him to 24 (7).
Philip Price (City of London parish churches of Christopher Wren) recovered from a slightly shaky opening to 11 (1). He never gets going in his second round, closing on 17 (8).
Hamish Cameron (Life and Times of James Ramsay MacDonald) covered the Labour politician and prime minister, to 12 (1). Second time around, he scores on almost every question, reaching 29 (4). We'll be seeing him again, surely.
Isabel Morgan (Life and Work of Alun Lewis) took the Welsh poet, and made it to 13 (1). Her second round is not quite so brilliant, though she does manage to confuse Ed Miller Band with George "Jeffrey" Osbourne. And she remembers The Wombles, which will please the Channel 5 commissioners. 23 (6) the final.
So Hamish Cameron wins the night, and is likely to be the only one of tonight's contenders continuing in the contest.
Radio news, and we were rather surprised to hear that Halifax (Nova Scotia) has a new radio station; Radio 96.5 has stopped playing classic hits and started playing alternative modern rock tunes. We were somewhat more surprised to hear the breakfast deejay: it's only Dominik Diamond off of Gamesmaster, everyone!
Still on the wireless, the BBC has announced that Colin Murray cannot be replaced by one person. The broadcaster and singer, who left the Beeb earlier this year, is succeeded in the Fighting Talk chair by Matt Stephens from S4C's Hwb, Jonathan Pearce from The French Premier League Show, and Christian O'Connell from Fighting Talk before Colin Murray took the chair.
Also in the news this week, we hear that Brian Conley has finally finished burying the tapes of Judgement Day (2003, two episodes), and can now make new programmes. His first is The Timeline, a commission for The Challenge Channel. Participants will need to put things in chronological order, and live in the south-east of England.
Ratings for the week to 18 August were a win for BBC1, with Break the Safe (4.3m) finishing ahead of Celebrity Masterchef (4.25m) and Pointless Celebrities (3.85m). The other channel winners were Dragons' Den (3.35m), Tipping Point Lucky Stars (3m), 8 Out of 10 Cats Does Countdown (1.7m) and Big Brother on Thursday (1.85m). The Deal or No Deal big prize attracted 880,000 viewers, a prize of about 28-and-a-half pence per viewer. Hell's Kitchen US is now the most-seen digital show (610,000 on ITV2), followed by QI XL on Dave (465,000) and Come Dine on More4 (355,000).
Your period of waiting is over: The Chase is back on Monday. There are also new episodes of Come Dine with Me and new Pointless. And there's more! Big Star's Little Star (ITV, 8pm Wed) embarrasses famous people, and QI (BBC2, 10pm Fri) moves into series K. No I Love My Country next Saturday, because it's the Strictly Come Dancing launch show (BBC1, 6.50 Sat); at the moment, Vanessa Feltz is favourite because she's the only competitor we know. Next week's Week will mostly be a delve back into history, always assuming we can find a pair of scissors.
To have Weaver's Week emailed to you on publication day, receive our exclusive TV roundup of the game shows in the week ahead, and chat to other ukgameshows.com readers, sign up to our Yahoo! Group.