Weaver's Week 2015-03-22
Last week | Weaver's Week Index | Next week
Three, two, one, paint!

BBC Arts for BBC1, 22 February — 29 March
Ten amateur painters are shoved from pillar to post, sneered at by defensive gatekeepers, told that their work is poor, and still manage to appear on teatime BBC1. Can you tell we really don't rate this programme?
The basic setup is familiar. Ten artists, all amateurs, are set tasks by the show's retained experts. The artists' work is critiqued, and one or more will be eliminated from the competition. The person judged the best in the final will win a prize.
The show is a transparent copy of The Great British Bake Off, particularly the travelling first series. Even the judges are Mary and Paul redux. The young, dashing, impetuous Lachlan Goudie is paired with the older, wiser, calmer Daphne Todd Obe.
Each episode contains three linked challenges, such as landscapes, the human body, or bread. Mary and Lachlan set an open challenge, where the players can use whatever equipment they like to draw their image. Then comes a "quick draw", they're given just a limited time to sketch something. And finally comes the "technical bake", er, the "forced media" – the artists are told to use charcoal, or watercolours, or whatever Daphne and Paul think will make good telly.
The show needs a pair of presenters to be the Mel and Sue of our arts. They got Richard Bacon (gold Blue Peter badge pending) and Una Stubbs (dame of coffee adverts). Richard hides his considerable intelligence beneath a veneer of foolishness. His style is to ask the obvious question, and only then follow up with something more incisive. Dame Una is employed as a reference point for the older viewers, a cross-generation pairing.
The presenters are talented, but they're too similar to the critics. Richard and Lachlan are men of early middle age, Daphne and Una are ladies with more years. At times, especially when we're only half-watching the show, there's a battle to distinguish presenter from judge.
Other elements from Bake Off are also present. Young Lachlan explains what he expects to see from the artworks, and gives tips to help viewers can improve their painting and drawing at home. It's a bit like the Paul Hollywood master class, but he's only able to give a little guidance in the moments allowed.
According to the producers, the key element of Bake Off is the hypnotic power of a drawn-out process. Watching people follow a recipe is compelling television, whether shown in full over three hours or slimmed down to ten minutes of television. However well it copies other shows, The Big Painting Challenge fails because painting is not a process. It's a response to a stimulus. It says as much about the person producing it as anything.
Painting is not a process. Except when BBC Arts says it is. The judges go into each challenge with a clear idea of what they're looking for. They don't explain it well to the viewers – "we're looking for believable body proportions" is just words. Show us what you're after. Give examples.
For instance, do they seek pictures that could be mistaken for a photograph? And if they do, what are they expecting an artist do that a television camera does not? Is it in the things left out, the detail omitted, the shadows changed? We don't know, the judges utterly fail to communicate their criteria. They don't even try to explain what they're looking for.
The net result: their critiques come across as value judgements from a hidden book of ritual, one that only True Artists know. The judges are presented as True Artists, those who know the secret life of Art, something not available to us mere amateurs and dabblers. But "True Art" presupposes the existence of "False Art", it implies that some responses to stimuli are dishonest, manufactured, fake. We have a nagging suspicion: "True Art" is a myth, and The Big Painting Challenge perpetuates a falsehood.
At best, the judges' opinions are idiosyncratic and constructive. At worst, they're peevish, high-handed, actually hurt some of the contestants. Yes, their judgements are foreshadowed before the challenge, and by the presenters' annoying interruptions during the challenge. We're sure that the judges honestly hold their views, but we cannot say that their reviews are based in any objective criteria.
Almost in spite of ourselves, we find ourselves drawn into the world of Bake Off, tempted to wash the dust from the mixing bowl and try to make some more fairy cakes. Maybe this time they'll weigh less than Mavis Cruet. We find ourselves actively repelled from the world of drawing and painting. It's ruled by judgemental unsympathetic snobs, and our efforts are not going to meet their exacting standards, and that way lies rejection. So we get our retaliation in first, and decline to take part.
As hard as it tries to be the next Bake Off, we find The Big Painting Challenge to be more like another show: The Apprentice. Eliminations are done on subjective opinions, the whim of Alan Sugar or Lachlan and Daphne, and not on hard evidence. It is possible for the series to be a farce, for Alan Sugar to have chosen his winner at the beginning. The show begs its central question, it assumes a certain world view (there is a "True Art", Calvanist pre-destination) and presumes it to be true.
To be frank, we never want to see another episode of either show again. Not because it's incompetent television, but because we find the show's basic idea to be wrong.
It's Debateable
A series of short pieces somewhere between game shows and British politics.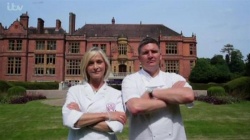 8) The Great Biased Cake Off
For this week's technical challenge, Paul O'Combe sets the bakers a precision task: make a perfectly level cake from a provided rectangular tin. The bakers have been issued with special heat-resistant strips, but they'll also have to contend with a rightward slant in the tins.
Can any of our bakers make a level playing field? Has O'Combe forced them to lean in one particular direction? And, when he whips out his spirit level to measure them, will he castigate the bakers for making a slanted cake?
Semi-final 6
Seven days to go. Five players have already booked their seat in the final. One will join them. Who's taking the mystery final subject?
Mike Foden studied the Life and Work of Will Hay, an English comedian best known for Oh Mr Porter!. Mike won on 5 September with The Prisoner. 6 (1) tonight isn't the best start, but doesn't eliminate him. A few incorrect guesses will. Knowing that Podgorica was once Titograd, and the pop song "19", help to lift him to a very credible 17 (2).
Iwan Thomas took The Bodyline Series. This was a cricket series where England went all out to beat Australia. These days, of course, England are just all out in Australia. 8 (0) keeps Iwan in touch – he won with Gram Parsons on 9 January. A good general knowledge befits the reigning Going for Gold champion, though he doesn't get the tie-in question for ITV's BBC The Voice of UK. 19 (3) doesn't feel like a winning score.
Peter Russell had the Life and Work of Elizabeth David, she introduced Mediterranean food to the UK. 8 (0) his score here; Peter's win came with Portsmouth FC on 10 October. Here, he knows his Handel and the greatest hit of Grace Jones (the chat show host Russell Harty). Softly, softly, the score creeps up. Too softly: 17 (0) won't win.
Hazel Humphreys was answering on the Life and Work of Mary Shelly. Answer quickly, pass quickly, reach 8 (2). It did well on 26 September, when she won with Les Dawson. The book Catch 22, Jason Donovan's "Any dream will do", and George Bush's promise to the black cab driver: "no new taxis". A few errors hurt her chances, 17 (2) the final.
David Greenwood told us about the British Admirals of the Napoleonic Wars, Nelson and some others. 10 (0) put him in the lead, as he was on 21 November with Theodore Roosevelt. Ten will win it. Calmly, he ticks them off: Hove, the early career of Elizabeth Taylor, the hymns of Charles Wesley, songs from Evita. David passes the finish line with Bulgarian tennis successes, a suitably short list. In a short round, a three-point win is big: 22 (0).
So the final line-up is set. As are the times. 9pm next Friday in England, 7.05 next Saturday in Scotland and Northern Ireland, and 8.35 in Wales.
Semi-series final M: Chessmen v History Boys
"I had dinner with Una Stubbs once." "Henry has worn the same shirt to every Only Connect show." "Nick is in the tenth year of a long-distance relationship." "Craig barged into Sophie Ellis-Bextor on live television." "Rob abseiled down a police building."
Both teams have won three games to reach the semi-series final. The Chessmen get a bonus from recursive acronyms – "GNU's Not Unix" and so on. Pictures of things taking their names from first-person singular Latin verbs beats both teams. BBC2 viewers, welcome to Only Connect.
Sets of 15 give two points to the History Boys, and it's three for the Chessmen on the expansion of supermarket names, like T E Stockwell & Cohen. Things represented by ____ (such as the year in Treasure Island) – a hidden name – just evades the Chessmen, but they're stumped by the music until the final moments – it's battles. One there, and a 5-2 lead.
Definitions of "nascent", "ascent", "scent", "cent" given by the length of the words is a bonus for the Chessmen. Recycled plastics, ending with 1: PET, is worth two – they couldn't quite remember what 1 was and had to work it out by elimination. 9-2.
String concerti are the music sequence – for violin, viola, 'cello, so ending with Concerto and Variation on Theme from 1000 Heartbeats. Bonus for the Chessmen, who get a once in a lifetime opportunity with the next set. A shotgun shack, another part of the world, behind the wheel of a large automobile, so it's "a beautiful house". Locations in the Talking Heads song "Once in a lifetime". 11-2.
Who was Roman emperor in the "year zero"? Augustus, and three much-needed points to the History Boys. Largest settlements on each of the Channel Islands ends with St Helier on Jersey, home to The Mole. 11-5 to the Chessmen.
On the walls, the Chessmen start with sons of Jacob, cycling through the five possibilities. There seem to be mountains, and cycling through five possibilities reveal them. Irish winners of the Eurovision Song Contest (Johnny Logan, Linda Martin, Dana Domestic, and Eimier Quinn. She won in 1996, you remember. You don't remember.) Words that sound like descriptions for animals is the fourth link. And the mountains? Second-highest on their continent. Ten points! Ten, well-earned, semi-final wall points!
Lots of Brazilian footballers for the History Boys, and they avoid Pele – he's in a group of fire gods. The other groups are artists who painted the Last Supper, and types of chicken. Victoria pays tribute to Bill and Ted with a mention of "So crates." Most excellent! The team missed the Last Supper part. Seven points!
After two lovely walls, it's 21-12 to the Chessmen into Missing Vowels. Twin towns goes to the History Boys by 2-1, and words using the top row of a QWERTY keyboard ends 2-1 to the Chessmen. They win vowels 3-1, but the Historys take Antarctic geography 3-0.
The comeback is a bit late, the Chessmen have won it by 27-18.
Actual Viertelfinalrund, match 3: Bristol v Magdalen Oxford
The third quarter-final match pits the winners from the bottom half's elimination match against the losers from the top half's championship match. Assuming (as seems very likely) the side from the top half wins, they're likely to face bottom half champions St Peter's Oxford, the easy winners of the first quarter-final four weeks ago.
The match starts, as is traditional, at 0-0. After three starters, Magdalen has a 75-0 lead, and we're already writing "Game over". With the score at 120-20, Thumper sparks some interest from them next door by saying "Your bonuses are on Harry, Hermione, and Ron." Ducking the picnic tables flying his way from VCM, it becomes clear the bonuses are this week's appearance by Little Billy Shakespeare.
The music round goes to Bristol, and the side mounts a comeback, closing the gap to 140-105 at one point. Is an upset on the cards? No: Magdalen go on to win by 250-115.
This Week and Next
They're ordering hard hats in Borehamwood, because there's going to be the party to end all parties. Big Brother will turn 18 on Saturday 14 July 2018, and now that it's of legal drinking age, it's promised to drink at every pub, bar, and club from Elstree to Watford. The programme says it will then "get off" with Primrose Everdeen, before spending Sunday nursing the big brother of hangovers.
Or, to put it another way, Channel 5 has renewed Big Brother for three more years. The celebrity series will return each January and August until summer 2018. There will be an obligatory "civilian" series as well, but no-one cares about that.
Democracy season continued with the RTS Programme Awards. Two game shows won: Claudia Winkleman took the Entertainment Performance for Strictly Come Dancing. And the RTS Daytime Programme of the Year is Couples Come Dine with Me. We'll adjust our billings.
We were sorry to hear about the death of Shaw Taylor this week. The host of Police 5, and Rob Newman's favourite impression on The Mary Whitehouse Experience, Shaw Taylor also hosted some game shows. Tell the Truth, Pencil and Paper, Password, Dotto all gained from his style.
The BBC has confirmed the new residents on Dragons' Den. They're Nick Jenkins from an insecure internet card retailer. Touker Suleyman is from an expensive fashion label, and Sarah Willingham runs restaurants. They'll be snarking at aspiring businesspeople later in the year.
BARB ratings in the week to 8 March.
Call the Midwife finished with 10.2m viewers. Top game was The Great Comic Relief Bake Off, pulling 8.2m.
The Voice had its battle rounds, and fell to 8.15m. Saturday Night Takeaway brought 5.65m to ITV. The People's Strictly and The Big Painting Challenge both secured 4.2m viewers.
The Great British Sewing Bee attracted 3.45m to BBC2, beating Mission Survive (3.3m), University Challenge (3.2m) and Take Me Out (3.05m). Only Connect and Big Star's Little Star recorded 2.85m, and the final of Let's Play Darts for Comic Relief attracted 2.66m viewers.
950,000 for Catsdown repeats, 750,000 for Take Me Out The Gossip, and 590,000 for the imported Hell's Kitchen. Good week for Fort Boyard, 150,000 saw the weekend lunchtime repeats on CITV.
Saturday's song contest clash only ever had one likely winner. While 28,000 snored in front of Can i Gymru, 118,000 were shocked by Yes We're Sending This to Eurovision.
More Eurovision next week: Pointless Eurovision Celebrities next Saturday, and Good Friday has the contest's greatest hits. Before then, a new run of Killer Magic (BBC3, 10pm Tue), Griff Rhys Jones opens The Quizeum (BBC4, 8.30 Wednesday), and it's the Mastermind final (BBC2 England, 9pm Friday; Saturday in the "nations").
Photo credits: BBC Arts / ITV Studios / Hungry Bear Media / Presentable.
To have Weaver's Week emailed to you on publication day, receive our exclusive TV roundup of the game shows in the week ahead, and chat to other ukgameshows.com readers, sign up to our Yahoo! Group.