Weaver's Week 2015-10-18
Last week | Weaver's Week Index | Next week
We were going to look this week at Eternal Glory, the sports show from ITV. However, it's clear that we'll need to watch most of the series before we can work out what they're doing. In its place, a couple of comedy shows that have a game element.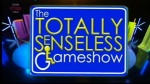 Roughcut Television for BBC3, 11 August
Back in the summer, BBC3 had "Defying the Label", a season of programmes on the theme of disability. One of them was a game show.
And therein lies a tale. In spring 2013, we heard about "Totally Senseless", a Cube-esque idea where people would do simple things without the sense that most helped, and a cash prize for success. Steve Jones (2) and Brian Dowling hosted pilot editions for ITV Studios, but the project went no further.
A few months later, Roughcut had an idea commissioned by BBC3. It had superficial similarities, being a celebrity panel show where BBC3 celebrities (Casey Batchelor, Amelle Berrabah, Rick Edwards, Greg Rutherford) would do simple things without the sense that most helped, and no prize beyond a slight smug glow. The episode was filmed on 21 February 2014.
And then – nothing. Scott Mills and Ana Mantronic went to Copenhagen. The Totally Senseless Gameshow remained on a BBC3 shelf.
The BBC Trust began considering the future of BBC3. The Totally Senseless Gameshow remained on a BBC3 shelf.
The zombie apocalypse happened. The Totally Senseless Gameshow remained on a BBC3 shelf.
Scott Mills and Mel Giedroyc went to Vienna. The Totally Senseless Gameshow remained on a BBC3 shelf.
Almost eighteen months later, The Totally Senseless Gameshow fell off a BBC3 shelf and made it to air.
The actual show was short, it ran for just under 25 minutes. Of this, about ten minutes was taken up by "behind-the-scenes" sketches. We'll get to these later.
On the show, players took part in games that demonstrated life without a sense. "Paraoke" was the show opener, and we thought the strongest event. One player sings, another wears noise-cancelling headphones. Read my lips: what am I singing?
"The Drunk Grand National" wasn't as much fun as planned. The celebs are given special glasses to distort their vision, and then race over some low hurdles. The problem: everyone adapted quickly. There were a couple of pratfalls early on, but the event completed in moments.
"Smell It, Flick It, Lick It" was exactly what we'd expect from the name. Players are blinded, and invited to identify something from smell, touch, or taste. Comedy here came from the choices of thing to identify, chocolate mousse has the consistency of something fouler.
Backstage sketches bulked out the show. There were sketches at the beginning, between all of these events, and sometimes interrupting them. The basic premise was that Martin Dougan wanted a cup of coffee before the show. In any normal show, the runner would slip off and get a cup of coffee. So simple anyone could do it.
But the production staff are hung up on the fact that Martin uses a wheelchair. They faffed about, got special t-shirts, and were hugely embarrassing.
These sketches were not subtle. They were obvious and painful, and we felt they made their point as grotesque caricatures of over-sensitive people. But there were too many sketches – they'd have helped to pad 50 minutes of game into a one-hour show. At almost half the programme, the sketches overbalanced the production as a whole.
Martin's regular job is on Newsround, the news programme for children. In publicity for the programme, he posed the question, "How does a newsreader become a comedy host? Has that ever been done before?" Foster Brooks is the canonical example – thirty years reading the news on radio and television, then a move to California where he became Miles Sternhagen on Mork and Mindy.
With the best will in the world, we are glad that Martin hasn't given up the day job. The studio games were familiar, we would only wish to see Paraoke again, and then as one round amongst many. There was more sketch than we like for a game show, and they weren't funny enough to sell this show as comedy-around-a-quiz, like Annualy Retentive.
The show could be better, but we're glad it went out. The Totally Senseless Gameshow filled its public service remit, by demonstrating what life is like without one or more senses. And it got its message across with humour and honesty, not by portraying disabled people as pity cases.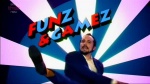 BBC Comedy for BBC3, 22 September
Some comedy characters take forever to develop. Alan Partridge began life as an earnest and out-of-his-depth sports reporter. Over a couple of years, he evolved into a sports reporter who had delusions of adequacy, a chat-show host with the least, a radio DJ who still thinks in stereo.
Other comedy characters seem to come into the world already formed. Phil Ellis had a family of his own, and then his wife left him. Not in the Alan Partridge way, she's not been decapitated in a terrible road accident, nor risen from the dead a week later. No, Phil's wife and kids have just left him. Not that he's bitter. Not that he mentions it every five minutes.
Anyway, Phil is joined by Bonzo, a man in a dog suit (Will Duggan); Jim The Elf, an elf who seems a bit suspicious (James Meehan); and smelly old Uncle Mick (Mick Ferry).
Between them, they'll invite some families out of the audience to play games. Arm-wrestle your dad. Pour gunge over one of your parents. Identify your own possessions as they revolve on a turntable.
The games are pitched at just the right level. Children can get something out of them. OK, nine-year-old, so you couldn't beat your dad at arm-wrestling. But your dad couldn't beat a champion arm-wrestler, and you got an X-box for taking part.
For older viewers, there's a lot of comedy. Phil conceals his sadness behind a mask of jokes, but lets the mask slip often enough. There are life lessons interspersed through the show: never ask for a puppy when you're seven, it'll die during your A-levels.
There are little nods to entertainment history: Phil starts the show by walking down the steps through the aisle in the audience, giving high-fives as he goes. Replace "high-fives" with "handshakes", and we describe Ted Rogers on 3-2-1. And we mean that as a compliment: this programme was tight entertainment, every moment had meaning, barely a hair out of place.
Funz & Gamez was a hit at the Edinburgh Festival in 2014, where it was described as "the antihero of kids' shows". This television version was filmed on 25 March, and released to I-player in the Comedy Feeds strand. It's a darker version of Ant and Dec's Saturday Night Takeaway: family entertainment, and not at all spiteful, but with a certain edge.
We'd like to see more. Funz & Gamez – the telly show – is absolutely what BBC3 should be doing.
This Week and Next
There's to be a new host on QI. Stephen Fry will regenerate at the end of the current M-series, and turn into Sandi Toksvig. "Who knows what lies ahead? It should all be quite interesting", said the BBC press office on Toksvig's behalf. We think we know what lies ahead: the letter N, probably followed by the letter O, and we expect R, T, and S to turn up fairly shortly. Alan Davies will remain on hand to make sure they take things in the right order.
The new owners of BBC The Voice of Holland of UK have started the bidding war already. Someone let slip a suggestion that the BBC had "axed" the popular singing show, in spite of the fact that next year's series is already under way. ITV, which took over Talpa Media earlier in the year, is "reported" to want more than £55 million for the show. The Beeb said that no "decision" has been taken, it's contracted to show a fifth series next year and is "negotiating" for things after that.
Over in Bristol, Deal or No Deal is still trying to buy viewers. The Light Lunch replacement pushed such notes as: "Will The Banker have to pay £500k because someone bought Box 23? Keep watching Channel 4 weekdays to find out!"
In the end, "No" was the answer. Contestant Ann took the £250,000 box to the final, opened it, and got herself flustered in one of the myriad sub-clauses within the main game. Does "Deal" mean "I want to buy Box 23", or does it mean "I want to reject it"? Ann wanted to reject the offer, and became the eighth person to take the quarter-mill. Because of Box 23, we can argue that she's only the seventh jackpot winner. But we'd be irritating and out on a limb, so we won't.
We'll have more on the red boxes in two weeks, to mark the show's tin anniversary.
Quiz update
St John's Oxford (Alex Harries, Charlie Clegg, Angus Russell, Dan Sowood) and Bristol (Vanessa Lynn, Robert Hayman, Andy Saxon, Benjamin Crawshaw) completed the University Challenge first round for this year. Bristol got off the mark with an answer that had us rooting around in the UKGameshows.com picture archive.
St John's had got the first two starters, and at one point opened a six-starter lead. 255-125 was the final score, St John's put up a strong performance against a decent side. Bristol are unlucky not to come back in the repêchage, against any other team they'd have scored the extra five points to be in contention.
As has been the case for a few years, the contest lacks standout teams. St John's join York and Imperial as winners by big margins. Liverpool and Peterhouse Cambridge were run hard by decent opponents, and Warwick were great in the second half of their match.
There's one improvement over last year: we've spotted fewer tight decisions on "interruptions" after the host has finished speaking. The reason for that may be with the viewer: we're treating UC as background telly, not giving it our full attention.
The regular Only Connect question-setters were busy devising the Best Third Place rule for the UEFA gentleman's football qualification tournament. Hungary go through, unless Ukraine beat Spain and Slovenia beat Luxembourg or Macedonia beat Belarus, and unless Turkey beat Iceland by a greater margin while Kazakhstan secure victory in Latvia.
All of which proved far more complex than the opening round, where two lovely sets – things that happened in coffeehouses, and names on the Eiffel Tower – went completely over both sides' heads. In five minutes, the show went from Albert Camus to Blue Peter to football to caviar. Welcome to Only Connect. The Railwaymen ran away with the sequences, lost ground on the wall, but secured their win in the missing vowels round. 21-16 over the Spaghetti Westerners.
But with the regulars playing in Europe, who wrote this week's walls? One came from Richard Osman, a duck owner and sometime contestant on this show. Mr. Osman has since become the first Only Connect question-writer, and second Pointless host, to star on CBBC's Danger Mouse.
No danger, no jeopardy on this week's Mastermind, won by Mark Livesey. He put up a perfect round on the Albigensian Crusade, and knocked off the 9 to win without breaking sweat. Mike Wiles, Lewis Newburn, and Liz Macinally also took part.
BARB ratings in the week to 4 October.
Semi-finals week brought 12.65m to The Great British Bake Off.
Strictly Come Dancing recorded 9.25m, The X Factor took 6.65m viewers, and 5.45m tuned in for Have I Got News for You.
All Star Mr and Mrs was hurt by going out against Bake Off – 2.85m is only just ahead of University Challenge. Bake Off An Extra Slice stalls on 2.5m.
1.24m for Celebrity Juice on ITV2, but Channel 4's top game was a Celebrity Deal or No Deal repeat which got 740,000 on Friday. CBBC's Danger Mouse had an audience of 455,000 at 7.15am, which we think makes it more popular than Good Morning Britain.
Of actual game shows, 495,000 for Xtra Factor, 365,000 for Release the Hounds. Duck Quack's Don't Echo (sic) is getting too close to Masterchef Australia: it was Ducks 295,000, Aussies 230,000.
ITV daytimes shout Pick Me! (weekdays) with Stephen Mulhern. Hollyoaks marks 20 years on air, including a Come Dine with Me special (E4, weeknights). More intellectual pursuits on Round Britain Quiz (Radio 4, Monday), the show Only Connect wants to be when it grows old. Trope namers on Pointless Celebrities (BBC1, Saturday), with Sinitta and H from Steps. The Chase With Celebrities also returns (ITV, Saturday), but they've embargoed the players until next Tuesday.
Photo credits: Roughcut TV, BBC, Initial (an Endemol company), TalkbackThames.
To have Weaver's Week emailed to you on publication day, receive our exclusive TV roundup of the game shows in the week ahead, and chat to other ukgameshows.com readers, sign up to our Yahoo! Group.