Weaver's Week 2017-03-26
Last week | Weaver's Week Index | Next week
Be glad this isn't an Alan Partridge show.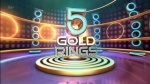 Possessed for ITV, from 5 March
Sunday nights on ITV have a problem. Countryfile on BBC1 scoops up viewers. The outdoors show crosses age divides, hits all social groups, works in town and country. ITV hasn't had a big hit at 7pm all decade, though it's not for want of trying.
The latest effort is 5 Gold Rings, a show that takes its name from a popular Christmas carol. Some viewers might have preferred "Holly and Ivy", but that's bagged by Celebrity Juice. 5 Gold Rings has the other host from This Morning, Phillip Schofield.
Schofe has a habit of being upstaged by other acts on his own show. The Cube starred a giant perspex box. Talking Telephone Numbers starred a telephone, and sometimes a video machine. Going Live starred a squeaky-voiced prairie gopher. And 5 Gold Rings stars an interactive video floor.
Two couples have joined Phillip and the video floor. Over the course of an hour, they'll each play a series of questions against the floor. The aim is simple: locate a particular object.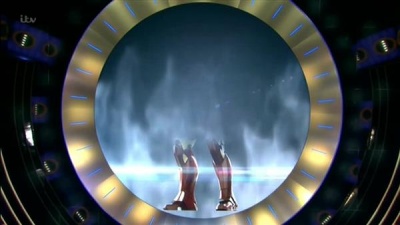 For instance, here is a picture of Iron Man from the movies. All we're going to show is the character's legs up to the knees. Where is the power pack on his chest?
The team have a large golden ring: glows yellow on one side, has some sort of capacitive touch thingummy on the other. (The tech confuses us, and it's not explained. It doesn't need to be explained, it just works.) One of them enters the video floor, and has 30 seconds to place the ring on the floor, in the place they think is right.
What is a correct answer? Any part of the object is inside the inner perimeter of the ring. "You just need one pixel inside," says Phillip from time to time. This is accurate, but says less than he might think: a "picture element" can be quite large, like a tile in a mosaic.
Get the answer right, and the team banks money, and moves on to the next question. "As the money goes up, the rings get smaller," says Schofe. It's almost a catchphrase, perhaps a little too clunky. The first question is for £1000, then for £2500, £5000, £10,000 and a top prize of £25,000.
Get the answer wrong, and the team loses one of their lives. The other member will take the controls, and move the ring around the video floor.
We all know that the earlier position is wrong, and the inside turns black to show that it's not where the answer is. Players are savvy enough to know that they don't need to overlap with a wrong answer. Few teams are smart enough to know that they can leave a margin around the error, perhaps half the width of the thing they want to find.
Five errors across the game will end the team's turn, though they'll take through the money they've banked already. But before that, there are lifelines. "Flip the board" will replace the current question with another one of similar difficulty. The couple is allowed to choose – do they play this new question, or continue with the one they've already got?
They also have an "ask the panel" lifeline. Five members of the audience have been loaned Generic ITV Tablets, and will attempt to answer this question. They're allowed to confer, and their possible answers are only shown for a short time – and they never go back to compare against the right answer.
The questions are more varied than we expect. Sure, there's a lot of "locate this place on a map", and "find this thing in the human body". But there are also observation questions, like "where do these paths cross", and tests of memory. Deduction questions, following instructions on a treasure map. Knowledge questions like "what's missing from this flag". Given that everything has to be a visual question, each show is pleasingly varied.
And there is tension. Thirty seconds is long enough to place the ring, and have a bit of a discussion, but not to drag on too long. Before each answer is checked, there's a radar effect with bass-heavy music. This gets used every couple of minutes, and gets annoying towards the end of the show.
Indeed, the second team's game feels like skiing uphill for a bit. We already know how much the first side has, and then we reset for the second team, and we wonder if we can be bothered. There's very little interaction between the teams, just a few "Did you know that, Jim?" questions.
Would it be better if one team played their £1000 question, then the other team played their £1000 and £2500 questions, then back to the first team for £2500 and £5000, and so on? We might like to see that variation.
We might also like to trial a "Free go" lifeline, where the player at the desk can press the button to ignore their partner's effort, and take over to move the ring themselves. But for all we know, the producers tried both of these out in development, and rejected them.
These are little changes, because 5 Gold Rings is very decent already. There's barely a moment wasted, and while the show never moves quickly, it never feels like it's dawdling. It's very difficult to get the pace right, and we'll praise a show that gets the pace right.
They also get the final right: someone is guaranteed a win. Both teams see an "where did element X finish", or "where will element Y be later"? The team that did better in the main game chooses whether to play with a large ring, or force their opponents to play with a smaller ring.
Obviously, a right answer wins that couple their money. A wrong answer means the other team wins their money. We cannot have a no-score draw. The final is done in one question, perhaps five minutes in total.
There's plenty of app-a-long potential, and a play-at-home version is available for suitable computers. Brig Bother, our app correspondent, reckons that about 20,000 people play the game. That's maybe 1% of the audience: not huge, but it's building extreme loyalty amongst these people. The best scorer is named on telly, in a segment that mildly annoys us – partly because Schofe's platitudes were recorded months ago, but mostly because those aren't the ITV regions they show.
Overall, much more hit than miss. There are far worse ways to spend a Sunday evening, such as watching The Jump, or grown men kick a pig's bladder around a grassy field. And the show is made better by Phillip Schofield: not since the days of Gilmore Girls have we been so engrossed in a hunt for Paris.
This Week and Next
Nationalism reared its ugly head again this week, as Julia Samoylova was barred from Eurovision Song Contest host city Kyiv. The rulers of Kyiv claim rights over the Crimea, but control on the ground since 2014 is with forces loyal to a regime in Moscow. Samoylova performed in the Crimea in 2015, entering from the Moscow side, thus making her persona non grata in Kyiv.
Representatives of both regimes made emotive statements they'll regret in the cold light of day. In Kyiv, a suggestion that NTU will disqualify itself rather than show C1R's entry. In Moscow, a suggestion that barring a singer is "inhumane". Surely burning entire villages and shooting down planes and keeping thousands of people hostage is inhumane?
The EBU said it was "deeply disappointed in this decision... we feel it goes against both the spirit of the Contest, and the notion of inclusivity that lies at the heart of its values." They offered to let the C1R competitor perform by satellite link-up, an offer rejected in moments. There is likely to be more on this tale.
We must challenge the EBU's claim that "the Eurovision Song Contest is not a political competition." Nonsense: competing songs are referred to by their nation and not by their sponsoring broadcaster. To the casual viewer, it appears to be a competition between nation states and not between songs or broadcasters. The simple solution: refer to the broadcasters. Make it #RTVSLO, and whether it could beat #BRTC in a sing-off.
The death of American game show hero Chuck Barris. He created hit shows The Dating Game, The Newlywed Game, and The Gong Show (known here as Blind Date, Newlyweds, and one-off pilot The Gong Show). All three hits had a barbed sense of humour, berating their contestants for not being perfect.
Barris was responsible for The $1.98 Beauty Show, which spoofed Miss Universe; and 3's a Crowd, asking whether a wife or a secretary knows a man better. Near the end of his career, Barris tried to bring Countdown to the Yankees. Chuck Barris died of natural causes at home on Tuesday, aged 87. Buzzerblog has a fuller obituary, and we enjoyed the recollections on Metafilter.
The RTS Programme Awards took place. Just one game show winner, Saturday Night Takeaway for Entertainment. The coveted RTS Daytime Programme of the Year was Find It, Fix It, Flog It, which is neither a game show nor a close approximation of one.
Very many of the University Challenge group matches have been of two halves: equal until about halfway, then one side pulls away. For the tenth and final match, Corpus Christi and Balliol tried something different. Balliol opened a massive lead in the opening minutes, then Corpus Christi had a good comeback. From 85 adrift, the 2009 champs cut the lead down to 40.
Balliol had the better buzzers, and it showed on the next two questions – a toughie on glottal stops, a sitter on Clara Schumann. From a close-run match, the gap was again pushing three figures, and there it stayed – 240-160 to Balliol.
A few notes: that's the much closer 185-160 if we remove points from "foreign" students as the xenophobes would like. And good to see a question asking about the size of Scotland (it's about 4 Waleses, and a Wales is about 20,000 square kilometres).
Only Connect (2) hit the semi-finals, with the Surrealists and Verbivores renewing their acquaintance. These sides met nine weeks ago, the Surrealists winning from a perfect wall. They get off to the better start, picking up bonuses on the picture question (famous people with the same birth name) and music question (tunes about clocks). It's 6-2 after the first round.
No-one knew the fast bit of the Radio 4 Theme. This is what happens when you sleep in past 5.30. Verbivores strike in Sequences by spelling DART on a dartboard, and the Audi rings. Surrealists hit with events of 1981 (such as the assassination in Godric's Hollow). Somehow, the Surrealists manage to guess three letters of the alphabet, and they're the same three to answer the question. That's two very, very lucky points, and a 10-7 lead.
Unlike last time, the Verbivores have the better of the walls, and cut the gap to one point. Being the better side on Missing Vowels carries its own advantages, the Surrealists will have to guess, and guess wrongly. The Verbivores win the round 4-1, and take the show 17-15.
BARB ratings in the week to 12 March.
Call the Midwife (10.55m BBC Sun) and Broadchurch (10.25m ITV Mon) remain the most popular shows. Saturday Night Takeaway (7.4m ITV) remains the top game show.
BBC The Voice continued its group phase (ITV: 5m Sat, 3.75m Sun). The Big Painting Challenge was BBC1's top game (3.95m Sun).
On BBC2, it's 2.8m for University Challenge (Mon), 2.6m for The Great Pottery Throw Down (Thu), a mere 1.8m for Only Connect (Fri), and 1.7m for Robot Wars (Sun).
The Jump finished (1.6m C4 Sun). Top digital show was Release the Hounds (460,000 ITV2 Thu), ahead of Dave's Sunday night pair QI XL (295,000) and HIGNFY (260,000). We don't have ratings for Artsworld.
Some singing show scores. 29,000 celebrated Welsh song on Cân i Gymru Saturday. The Voice India on &TV pulls 37,000 late on Saturday night. Rising Star India brings 46,000 to Colors earlier in the evening. Got What It Takes? topped them all, 130,000 on CBBC Tuesday.
The return of Masterchef (BBC1, Wed) is the big noise this week. We've also Ffasiwn Mecanic (S4C, Fri), finding a car repairer who knows about couture. New Pointless Celebrities (BBC1, Sat). And it's the final of BBC The Voice of This Territory (ITV and TV3, Sat and Sun).
Photo credits: Possessed, Sony Pictures Television.
To have Weaver's Week emailed to you on publication day, receive our exclusive TV roundup of the game shows in the week ahead, and chat to other ukgameshows.com readers, sign up to our Yahoo! Group.