What's My Line?
Host
Eamonn Andrews (original full-time host)
Gilbert Harding (host of second show only, then regular panelist)
Ron Randall (substitute)
Jerry Desmonde (substitute)
Elizabeth Allen (substitute)
David Jacobs (1973-4)
Eamonn Andrews (again, 1984-7)
Penelope Keith (1988)
Angela Rippon (1989-90)
Emma Forbes (1994-6)
Hugh Dennis (2005 special)
Stephen K. Amos (2011 special)
Co-hosts
Panellists included: David Nixon, Lady Isobel Barnett, Barbara Kelly, Gilbert Harding, Ted Moult, Bob Monkhouse, Elizabeth Allen, Marghanita Laski, Jerry Desmonde, Dawn Addams, Cyril Fletcher, Alan Melville, Kenneth Williams, William Franklyn, Jilly Cooper, George Gale, Ernie Wise, Roy Hudd, June Whitfield, Peter Smith, Kate Robbins, Jeffrey Archer.
Voiceover: John Benson (80s version)
Broadcast
BBC Television Service, 16 July 1951 to 13 May 1963
BBC2, 23 August 1973 to 25 May 1974 (22 episodes in 2 series + 1 special)
Thames for ITV, 26 March 1984 to 28 August 1990
HTV West and Meridian (regional), 20 September 1994 to 19 December 1995 (28 episodes in 2 series)
HTV West and Meridian (regional), 17 September to 17 December 1996 (14 episodes in 1 series)
BBC Four, 2005 (one-off)
bbc.co.uk webcast, 5 to 6 March 2011 (24 Hour Panel People)
Synopsis
Classic panel game. Contestants with unusual occupations sign in, perform a mime of the job that they do, then field yes-or-no questions from four celebrities aiming to work out the contestant's job.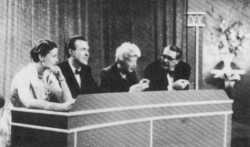 A typical panel - Lady Isobel Barnett, unidentified (possibly actor Michael Dennison), actress luvvie Barbara Kelly, and grump-in-chief Gilbert Harding.
Questions answered with a "no" cause the next celeb to pick up the inquisition; ten such "no" answers meant the panel lost and the contestant won - a certificate, in fact. There was very little skill involved on the contestant's part apart from recognising when they had an unusual enough job to stand a good chance at stumping the four wise men (and women).
Three-quarters of the way through the show, a celebrity guest would appear with the trade of being, er, a celebrity guest; the panel would be wearing blindfolds and have to identify the celebrity by name from the Yes/No answers alone - often they would put on a funny accent to disguise their voice.
Originally, Eamonn Andrews and Gilbert Harding were to host the show in rotation, but after a mix-up on Harding's first show (see Trivia below), Andrews took over as full-time host. However, Harding soon returned to the show as a regular panelist and stayed with the programme until his death in November 1960.
The programme had various incarnations on ITV whenever the daytime commissioner had run out of ideas.
The programme was brought back for a one-off by BBC Four in 2005 as part of a season on British culture of the 1940s/50s. Hugh "The Grin" Dennis hosted, with a faux posh panel of Brian "Yeeees...." Sewell, Amanda "Think of the children" Platell, Amy "Cake" Lamé and Dave "Dave" Gorman.
Key moments
Inadvertent innuendo aplenty: "Does your job involve animals?" to someone who runs a dating agency, that sort of thing.
They once held a one-off version of this on Children In Need with one guest celebrity, a Margaret Thatcher PM (as she then was). No reason why this happened apart from "just because they could".
On the original series, a 'frogman' who appeared on the show was recognised to be a fraudster. The manager of the bank had seen the programme, called the police and the contestant was sentenced to 15 months in prison.
Lady Isobel Barnett had a "lucky streak" at getting many of the answers right. When Bob Monkhouse sat in her chair one week, he realised that he could see a reflection of the answer (shown on a card for the audience) in the window.
Catchphrases
"And will our next guest sign in please..."
"That's one gone!"
Inventor
Bob Bach, Mark Goodson and Bill Todman. WML? was the first US import of a Goodson and Todman show, and was Britain's first successful game show (as opposed to quiz show). Further Goodson/Todman imports included The Price is Right and Blockbusters.
Theme music
A music clip from one of the older series is available from the Vintage TV themes site.
Trivia
On one edition, they played a trick on the panel by making Eamonn the mystery guest. This was a fallback plan that had been devised for the original US show in case a guest had to drop out at short notice, and had to be used on 7 December 1952, when the celebrity pulled out due to the Great Smog which engulfed London that week. The studio audience was also much smaller than usual and Gilbert Harding, having been made very ill by the smog himself, but persuaded to appear because no replacement was available in the circumstances, nearly collapsed under the heat of the studio lights.
The weirdest occupation on the programme is widely believed to be a "saggar maker's bottom knocker". Saggars are used to hold and protect pottery during kiln-firing, and by placing various substances in a saggar it is possible to produce dramatic visual effects on the finished pottery. Don't go away, this is highly educational and nearly interesting. Producing saggars to the precise specifications required is a skilled job and needs a master craftsman - the saggar maker. However, making the bases of the saggars is a less skilled job which can be left to a lesser craftsman, namely the saggar maker's bottom knocker, who makes the bottom of the saggar by placing clay in a metal hoop and literally knocking it into shape. So now you know. Why not amaze your friends with this fascinating fact?
Interestingly, the show that featured the Saggar Maker's Bottom Knocker was actually hosted by Gilbert Harding. He was originally signed up to host the programme in rotation with Andrews, but on his first show as host, someone behind the scenes sent out the guests in a different order to the cards that Gilbert had on his desk. This led to all sorts of confusion when the challenger, a panel beater (the pun was fully intended), was saying YES to answers that Gilbert - expecting a male nurse - swore the answer was NO. Harding became frustrated at the mixup and afterwards declared that he'd never host the show again. This was the cue for boxing commentator Eamonn Andrews to take up the chairman's role full-time. It seems this had been the original plan in any case, and the (very) short-lived rotation of hosts came about only because Harding expressed an interest in the job not knowing it had already been offered to Andrews.
An enjoyable children's quiz, Secret's Out, was shown on the BBC around the mid-1980's. It was clearly a take on What's My Line, even giving certificates to successful contestants, although it focussed on the unusual hobbies, rather than jobs, of kids and celebrities alike.
Web links
Pictures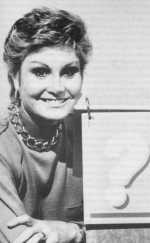 One of the show's more recent hosts, Angela Rippon.
Videos

A full episode from 1957.
Feedback