Win Your Wish List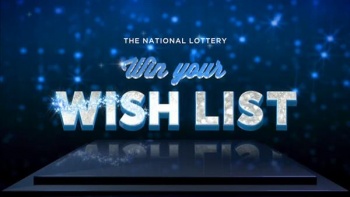 Host
Shane Richie (2014-6)
Gino D'Acampo (2018-)
Co-hosts
Voiceover:
Natalie Casey (2018)
Clara Amfo (2019-)
Broadcast
Victory Television Scotland and BBC Scotland for BBC One, 27 December 2014 to 7 May 2016 (18 episodes in 2 series)
Stellify Media for Channel 5, 28 July 2018 to present
Synopsis
A quiz for couples, with prizes they've chosen themselves.
Shane Richie is the nominal host, but he doesn't have all that much to do. All of the questions are asked by the contestants - one asks, the other answers.
Each round of the main game begins with a category. From this, the couple decides Who's asking the questions (and hence who's answering), and which of six prizes they will risk in that round.
During the round, the question-master asks questions. As time passes, a score marker moves to the right, towards the player answering questions. With each correct answer, the marker jumps to the left. Then it resumes the inexorable slide to the right.
When time expires for the round, if the score is to the left of the start position, in a green zone, then the couple has taken that prize to the final. From time to time, the couple will find a subject they're good at, and the score marker will reach the left-hand edge.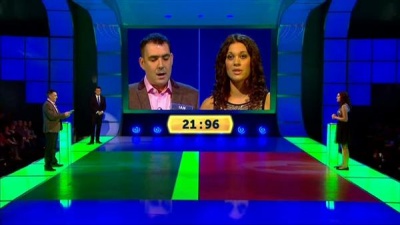 A good position — but there's a long time to go.
But if the score is on the right-hand side when time expires, or the marker hits the right-hand edge at any time, the prize is lost. To help prevent this, each player is allowed one "reset" - when answering questions, this will send the score back to zero. The wrong answers appear as captions on screen.
Repeat this for all six prizes. And add in some adverts for the lottery, and we eventually reach the final.
During the final, the couple is playing for all the prizes they've carried forward - but not those won on an Instant Win, because they've won those prizes already. The top prize, a holiday to somewhere exotic, goes straight to the final round. This time, right answers advance the score up the board. For the top prize, the couple will need to be right on just about every question in the whole minute.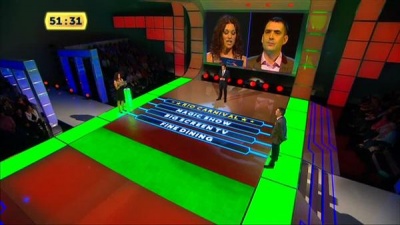 Fine dining is the first prize to be won, with the Rio Carnival still available.
We'll remember this show for the big video floor, and contestants asking questions of each other.
Inventor
Stuart Shawcross
Theme music
Ken Bolam and Nick Foster were credited for "music".
Web links
See also
Feedback