Winner Takes All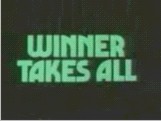 Host
Jimmy Tarbuck (1975-87)
Geoffrey Wheeler (1988)
Bobby Davro (1997)
Co-hosts
Voiceover: Geoffrey Wheeler
Gaynor Barnes (1997)
Broadcast
Yorkshire Television (regional), 20 April to 13 July 1975 (13 episodes in 1 series)
Yorkshire Television for ITV, 14 May 1976 to 28 June 1988 (235 episodes in 13 series + 3 specials)
Challenge TV, 1997
Synopsis
Contestants start with fifty points and answer a series of five questions, wagering between five and fifty of their accumulated total on their ability to select the correct answer from the five displayed.
Each answer was associated with a set of odds, between 2-1 and 5-1 and the outsider at 10-1. Correct answers paid off at the illustrated odds.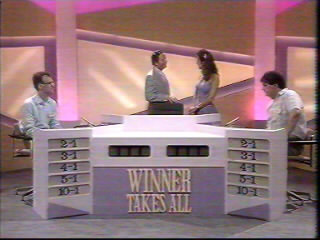 The set of winner takes all. The contestants indicated their "bet" via the lights in front of their desks.
This takes place twice before the break, and once afterwards, but for pounds instead of points. There was a returning-champion complication somewhere along the line, too.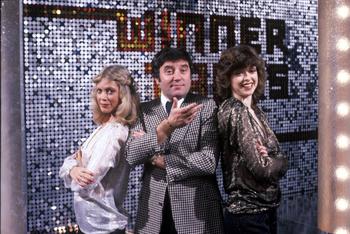 I want my bathroom tiled like that
"Ho-ho!" Tarbuck hosted in the early days, accompanied by the disembodied voice of Geoffrey Wheeler to read out the questions, answers and commentate upon the outcomes. Later shows dispensed with Tarbuck and Wheeler performed both jobs.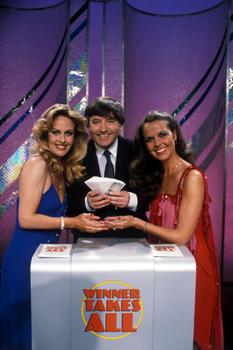 Jimmy Tarbuck and hostesses
A modern version starring Bobby Davro was made for cable station Challenge TV and two things strike you about the show. Firstly, Davro's actually a very quick witted host, and secondly how inconsequential the betting procedure is. If you'd just count how many questions each contestant got right, most of the time you'd reach exactly the same outcome. The Davro revival also saw the return of the disembodied voiceover reading the questions, in the form of YTV newsreader Gaynor Barnes.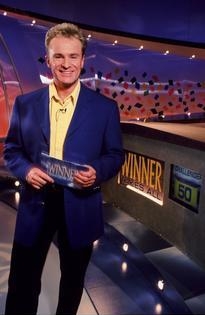 Bobby Davro hosted the most recent version
For this reason, we can't praise this show to the heights, but nevertheless it's a quiz that was popular in its day.
Key moments
In 1981, redundant sausage cook John Smith won £6620, the highest prize awarded on a British game show at the time. This was bettered in 1986, when Michael Dixon's winnings totalled £7455. It remained the record cash prize for over a decade.
In the Wheeler version, one outtake concerned a hostess introducing one contestant as "Tony Gold from Haughton-le-Spring" when his nametag actually said Chris.
Catchphrases
Classic early-'80s quiz show dialogue. Jim: "Press your buttons and gamble away!" Geoffrey: "Wide difference of opinion here, Jim!"
Inventor
The show was actually invented by Geoffrey Wheeler, who originally was the voiceover and later the host.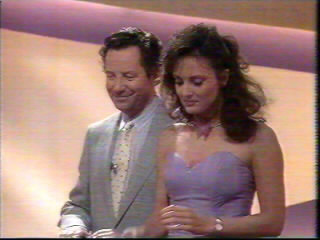 Host, Geoffrey Wheeler (he's the one on the left) with hostess.
Theme music
The original theme was an instrumental piece of library music called Joy Ride by Jim Lawless.
Trivia
The grand prize was £1,000 in the form of one thousand one-pound notes (remember them?) in a display case - much like Who Wants to be a Millionaire?'s £1,000,000-worth of thick wads of fifties (albeit fake), but not nearly as impressive. We were all hard up in those days, y'see.
Pictures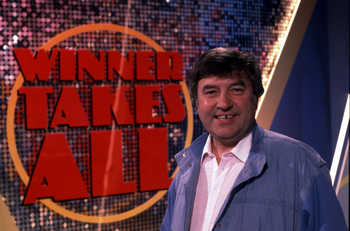 Jimmy's just got in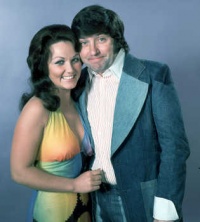 The 1970s truly were the decade that taste forgot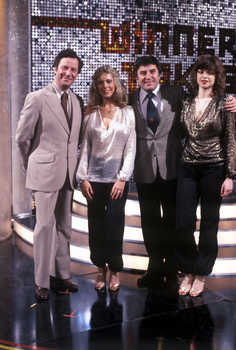 Geoffrey and Jimmy together
Feedback