Wipeout
(Co-host: Announcer added)

Line 7:
Line 7:

[[Bob Monkhouse]] (1998-2002)

[[Bob Monkhouse]] (1998-2002)

+
+
+
+

== Broadcast ==

== Broadcast ==
---
Revision as of 15:27, 27 February 2007

Host
Paul Daniels (1994-1997)
Bob Monkhouse (1998-2002)
Co-Host
Announcer - Tom Edwards (1998-2002)
Broadcast
Action Time for BBC 1, 25 May 1994 to 3 December 2002 (495 episodes)
Synopsis
It's on the BBC, it's a light-hearted quiz game involving three teams, ergo it must be presented by P. Daniels esquire.
Actually, our Paul is a canny lad and knows a thing or two about trivia. So he was well-suited to this engaging format that offered something to the general audience and pub quiz bores alike.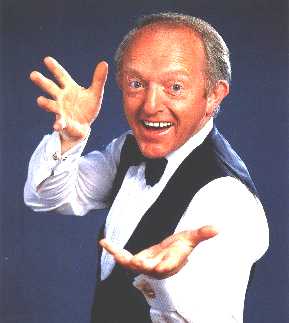 Host Paul Daniels, in his more usual magician's attire
Get on with the game
A screen of sixteen possible answers (to a question such as "Which of these inventions were discovered by accident?") were shown - eleven were correct, the first awarding £10, then £20, etc. up to £110 for the last answer. The other five answers were incorrect, and hitting one of these so-called "Wipeouts" lost all your money from the whole game. Ouch. On their turn, a player must have at least one go at picking an answer from the board. If they manage to avoid a Wipeout, they can continue picking answers for as long as they wish, until they either hit a Wipeout and lose their entire score, or pass control to the next player, thereby protecting their loot (at least until their next turn). Play continues until only Wipeouts or only correct answers remain on the board. Three boards are played in round 1.
During the Paul Daniels-era, there were also prizes to be won - these could either be decent prizes hidden behind correct answers, or booby-prizes hidden behind the "Wipeouts". Every booby-prize was relevant in some way to the incorrect answer. (For example, a contestant who thought that The Grand Canal was a part of the body was given a Cornetto, and a contestant who thought that Noel Edmonds was born on Christmas Day was given an inflatable Mr Blobby!)
The two contestants with the most money at the end of round 1 went on to play in the Wipeout Auction. From 12 options, players bid on how many correct answers they could pick out (up to the maximum of 8). Hitting a wipeout allowed your opponent to steal the frame if they could find just one correct answer. Winning two frames got you through to the final.
In a pleasantly active end game, the finalist had to select 6 correct answers from the 12 options offered within 60 seconds. Like one of the famous games in the The Price is Right (the 'Race Game') the contestant could hit a button to make the computer reveal how many correct answers they had until either they ran out of time or found all six. Paul Daniels did the running on the contestant's behalf on several occasions, such as once, when they had a wheelchair-bound winner, and another, when the winner was pregnant and therefore preferred not to risk running.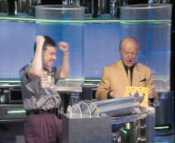 A contestant (left) celebrates finding all six correct answers. Paul Daniels looks on.
Aaaaaaaaaargh!
In an act of pure television terrorism, the show was given a quite dreadful "new look" in 1998 to make sure that it looked cheap enough to justify its presence on afternoon telly. Gone was the boogie-woogie music, and in came a non-specific synth-fest which sounded like someone had added just one too many beats into the percussion machine. Gone was the lovely blue and yellow logo, to be replaced by bog-standard ticks and crosses for the correct and wrong answers. Gone was part of the first round (and, with it, the quick pace of the format), only to be replaced with inane, time-wasting chat.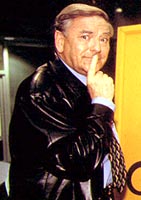 "What have I done?" - Bob Monkhouse on Wipeout
If further evidence of the cheapening of the show were needed, this was the first time Bob Monkhouse in his 2-zillion year career had done a daytime show. His presence here was as slick as ever, but far too often he annoyingly gave the answers away before the computer screen revealed them. Some celebrity shows were later shown, but these were not enough to excuse a messed-up revamp on this grand a scale.
Catchphrases
Bob Monkhouse used to end every show with a 'Monkhouse Motto' (a witty quotation), finishing with: "That just wipes me out! 'Til next time!"
Paul Daniels (talking about the holiday): "You've got a minute to win it!"
Bob Monkhouse (during the Wipeout Auction): "Away with the wipeouts!"
Bob Monkhouse (just before the end game): "Would you please join me at the game control? Thank you, ladies and gentlemen, on behalf of (whoever)"
Inventor
Based on an American show of the same name.
Trivia
Bob Monkhouse, who was not in the best of health at the time, found the five-a-day recording schedule somewhat hectic. At the end of the first day of recording, in his diary he wrote: I am wiped out.'
The daytime version of the programme was not filmed in front of a live studio audience. In fact, as well as canned laughter they once added a digital audience to the opening shots. The effect was rumbled when someone wrote in to Points of View to say how remarkably similar the audience was on every show...
The poor quality but interesting clip below comes from the US original. This contestant has a hack for the end game which won't work perfectly in all circumstances but it's certainly a very clear and straightforward way of trying all the necessary combinations:
US bonus game hack
Web links
Pictures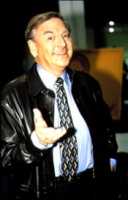 Picture 1
-
Bob Monkhouse
Feedback