Would I Lie to You? (2)
Synopsis
Essentially, a straightforward true-or-false quiz but done in the banter-heavy Have I Got Buzzcocks All Over style. In the first and last rounds, the questions take the form of facts and anecdotes provided by the guests themselves, while in between there are a number of other variations: celebrity "quotations", TV-related "facts" (heralded by shoehorned-in clips) and one game wherein a person is brought out from backstage and each panellist on a team claims to know them in one capacity or another. Typical Comedy Panel Game editing, i.e. the scores make no sense.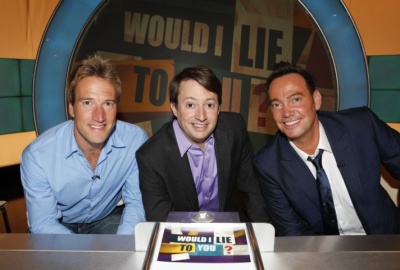 The deeply mendacious Ben Fogle, David Mitchell and Craig Revel Horwood
The show debuted in the Saturday 10pm slot, which looked suspiciously like a burial (we remember The Murder Game, even if no-one else does), but it has to be admitted, the years in development hell actually paid off. Somehow the format seems to bring out the best in the guests as well as the regulars, and unlike the earlier show of the same name, it's proper funny, like. And while Angus Deayton's presence has certainly lifted a few otherwise unremarkable formats in recent years (Hell's Kitchen, Bognor or Bust, Only Fools On Horses), this is arguably the first show where he's really looked at home since, well, the big one. Which makes it all the more puzzling that he stopped doing it after two series. Rob Brydon is perfectly acceptable as a replacement, though perhaps not quite as natural a fit for the format as Angus was. The main thing is that the format is strong enough to take the change, and remains as funny as ever.
Trivia
Before settling on the final title, the show had previously been announced as Unbelievable and Pants on Fire. Alan Carr was also announced as a team captain before being replaced by Lee Mack.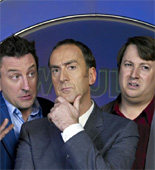 Mack, Deayton, Mitchell.
One of Claudia Winkleman's "true" stories was that she once wrote to Jim'll Fix It asking to meet Abba, but was offered a visit to a stilton factory instead, which she turned down. This was rebuffed in a letter to Radio Times by Fix It producer Roger Ordish, who said that "no-one who wrote in was ever offered an unrelated alternative... [we once] fixed it for someone to see how blue cheese was made, but that was in response to a request to see how blue cheese was made".
Web links
The show publicised the hashtag #wilty.
Feedback