Weaver's Week 2006-02-05
'Iain Weaver reviews the latest happenings in UK Game Show Land.'
Great shows - 5 February 2006
We're currently waiting for Mayor Gates, in his capacity as the acting returning officer, to step up to the microphone and give the results. These will demonstrate which game show has been voted the most popular amongst UKGS.com readers. Has Bruce Forsyth held on to his crown as most popular entertainer? What will finish second in the Best New Show poll? And what will these results do to Peter Snow's Game-Show-O-Meter?
The Greatest Game Shows
(In this column's opinion)
While we're waiting, here's the results of our exit poll, taken from the Weaver's Week contributor. Remember, this is just an indication of what might happen, and is not the definitive result. Indeed, if it's anything like the usual election exit polls, it's certain to be wrong. The thought experiment here - all of these shows are to be repeated on a channel at the same time; which do we watch first?
Positions 12 to 20 are filled by, in alphabetical order: Bob's Full House, Cash Cab, Family Fortunes, Fifteen-to-One, Mastermind, Scrapheap Challenge, Winning Lines, Wipeout, Without Prejudice?
In eleventh place, and just outside the points, Interceptor. If there were a revival now, might we have a male presenter in the Annabel Croft role, and the black-clad Interceptor played by a female? Suzi Perry on Treasure Hunt is the sort of image, but she's far too nice.
10th place - University Challenge. Now in its thirty-mumbleth series, the venerable student quiz has become a landmark event, and remains must-see television. For some, the ability to answer a single question correctly is a source of pride; for others, it's discussion on whether host Jeremy "Thumper" Paxman was right to allow a particular answer. After a lean period earlier in the decade, UC has bounced back with vigour, and this column would be much less without it.
9th - Have I Got News for You Another veteran of the schedules, HIGNFY has now had fifteen years dissecting the news. Inevitably, there are cries of "It was better in the olden days", and in many ways it was. The show has migrated from a straight-up news quiz, through a mildly campaigning show, to a light entertainment laugh-fest. Getting rid of Angus Deayton has made the show maddeningly unstable - some weeks are brilliant, others are dull. Still, we always look forward to the prospect of a new series, so they must be doing something right.
8th - Countdown. This is turning into a long-service award, isn't it? Actually, Countdown has always been amongst our favourite games, not least because it's completely impossible to watch and not play along at home. The show began as half-an-hour a day for half the year, then expanded to half-an-hour right through the year, then three-quarters of an hour though the year. It took time for this latest extension to bed in, and the last poll took place during this transition. The loss of Richard Whiteley, and his replacement by Des Lynam, has brought out the fun in the format once more. Countdown has a long heritage, and isn't afraid to exploit it - Carol Thatcher will be in Dictionary Corner next week, for the first time since the opening days of January 1990. Not only was Mrs Thatcher's mother in a more famous residence at the time, but current number one seed Conor Travers wasn't even born!
7th - The Mole. The greatest new game show of 2001, bar none. You just have to look down the Weaver's Week page to find some of the other programmes doing the rounds that year. (It's Not the Answer? Exactly. The Biggest Game in Town? Wasn't.) Towering above them was a game of skill, cunning, deduction, and intrigue. Once you'd worked out who the mole was came the thrill of guessing how they would spoil the next challenge. Sadly, Channel 5 declined to make a third series, and the rest is history. It feels like The Mole will go down as a lost classic, filed along with Interceptor.
6th - The Adventure Game. Another game of skill, cunning, intrigue, and deduction. Though it's the shape-shifting dragons that win it for us. Researching this article, we were pleased to find that Ian Messiter was the original model for HH The Rangdo, latterly the most famous pot-plant on the hyper-galactic relay circuits; and that Ganord (Charmain Gradwell) has become quite the handy canoeist. It's not clear whether Angord ever got her washing dry, though.
5th - Eurovision Song Contest. Now, this appeals on so many levels. Reduced to bare bones, it's a technical marvel, being able to co-ordinate 40 satellite feeds, and relax in the knowledge that everyone on the continent - indeed, a sizable proportion of the people of the world - are watching the same show as you. It's the biggest load of light entertainment fluff on the planet, and because the Eurovision season stretches from January to May, with a junior version popping up in the autumn, there's always something to talk about. Thanks to the legendary insularity of British broadcasters, Eurovision is the only opportunity that mainstream audiences get to appreciate cultures other than the Anglo-Saxon, or hear songs in languages other than English. Terry Wogan's commentary is a legend, as annoying as it is entertaining.
4th - Jungle Run. Edging The Crystal Maze out of consideration comes a show that has made great strides in recent years. After starting as a very soft show, Jungle Run gained an edge recently. A win in any game is not guaranteed any more, the children can and do suffer lock-ins, and the penalty is high enough to make leaving their comrades in a viable option. Jungle Run is tucked away on Children's ITV; this column reckons that an adult version would be a viable experiment and would make for decent prime-time viewing. More than can be said for most other ITV shows these days.
3rd - The Golden Shot. Back to the 60s and 70s for the live entertainment extravaganza starring Bob Monkhouse, and a thoroughly complex game format. Callers from home try to get their eye on an apple, then people in the studio fire real crossbows at real targets with real ammunition and a real chance of real injury. Antan Dec tried to revive the format last year, but made one change too many and managed to lose a little of the charm. The show could still come back as a Saturday evening attraction.
2nd - The Krypton Factor. "Television's toughest quiz" said the label, and though William G Stewart claimed the title for his own, there was always something slightly more dangerous about coming down the aerial slide, or facing one of those impossible plastic construction puzzles. Gordon Burns hosted all the shows, and set the benchmark for the suave and enthusiastic host. It is absolutely amazing that no-one has tried to revive the show in the ten years it's been off air.
1st - Raven. This should come as no surprise to either of this column's regular readers. The show features a very clever scoring system and arrangement of games that appears fair and is simple to understand. We were faced with a decision last year - should we tape Raven to watch after coming back from work, or should it be Deal or No Deal? It was a very simple decision, Raven is far more challenging, asking its competitors to test themselves to their very limit, and for little reward other than the honour of competing well. Oh, and rather than Noel Edmonds' histrionics, there's a deliberately understated performance from James Mackenzie in the title role - and, yes, he really should have featured in the Best Hosts lists. Though the most recent series wasn't as good as some of the last, it was still amongst the best things on television all year.
Looking back over the list, we missed Qd, we forgot about The Crystal Maze, and both 19 Keys and Beg, Borrow or Steal slipped behind the sofa of our memory. What we can conclude is that Colin Nobbs, who has worked on Raven and Jungle Run, is a director worth following.
That, then, is this column's top ten for the purposes of the poll. Remember, this is not the final result, and we're expecting a declaration from the counting hall any day now. But back to the studio, where Jeremy Paxman is about to fire off another barrage of questions.
University Challenge
Second Round, Match 2: London Business School v Nottingham.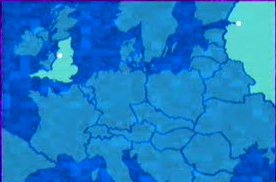 Name those cities.
The winners of matches 13 and 14 come back very quickly for their second round match. LBS narrowly defeated Trinity Oxford in a very strange game; Nottingham overpowered a decent Imperial College Medicine side by a good distance. Curiously, the two losers met in the repechage two weeks ago, ICM won clearly. Team captains Anthony Lerman and Alex Jolly were the lead buzzers last time out, and remember that LBS are all reading for MBAs.
We'll start with one of the most deducible bonuses ever, in a round on Malapropisms:
Q: Vera Duckworth in "Coronation Street" uttered the name of which tropical hardwood in a malapropism asserting her disinclination for extra-marital liaisons?
This helps Nottingham to get 50 points in two rounds, before the Business students have even got off the mark. Is it, we wonder, entirely fair for consecutive starters to ask about tides of North America and the "Hands Across America" event when only one of the players comes from New York? And is it entirely fair to ask people to deduce which UK city is represented by the dot on this map (right)? It does, after all, cover at least a quarter of the teams in England's top football division. LBS get Manchester on the second guess, and trail 50-40 after the first visual round - it's on twin cities.
LBS draw level at 65-all, but it's taken them five starters to have reach the score, Nottingham had it in three. Pulling further ahead, LBS's charge is stopped because only Nottingham have read our Brain of Britain page. The audio round is on popular music with horror fiction characters in the title - the in-vision subtitles cause much merriment around the office, and the picture's right. The LBS are ahead, 130-75.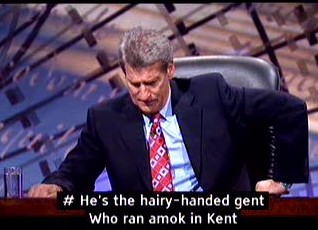 Thumper can't believe the captions. Neither can we.
An enjoyable set of bonuses on Rio is followed by a quick piece of mental arithmetic - two-thirds of three-sixteenths. Nottingham has pulled back to within fifteen points going into the second visual round - on freshwater tropical fishes - after which LBS is ahead, but only 160-130.
Slowly but surely, Nottingham grind their way up to parity, thanks in part to a good guess on the daughters of George III. But they don't get any bonuses, and LBS take theirs to move ahead. And that proves to be enough - the London Business School has won a fantastic match, 185-160.
Where did it go wrong? London Business were just that bit quicker on the buzzers, taking 12 starters to Nottingham's 10. LBS made 18/36 bonuses and three missignals; Nottingham had 13/30 and just one missignal. Jonathan Hall was best on the buzzer for the LBS, making 58 points; Alex Jolly's 71 again led for Nottingham.
Next match: the repechage final, St John's Oxford v Imperial College Medicine.
Junior Mastermind
Heat 2 of 5
Now, there's been a bit of a storm in an egg-cup recently. Listeners to the Home Service's Today programme were able to order ceramic egg holders, modelled on the show's regular presenters - James Naughtie, Anna Ford, and John Humphrys. Listeners have been queuing up outside the Feedback studio to harrumph at the long delays between placing their order and receiving the egg-cups - some had to wait over two months. Even worse, when the cups did arrive, they turned out to hold only a small egg, and not the more popular medium egg.
John Humphrys, a man whose head is so small it doesn't hold an egg, will now host a heat of Junior Mastermind. And we'll try to avoid making many rotten puns.
Daniel from Manchester gets the ball rolling this week, he's talking about volcanoes. Including the inevitable question about sulphurous odours. It's a good performance from someone who looked relaxed in the chair, he finishes on 13 (0).
Barney from West Yorkshire sits forward, looking primed and ready for action. He's studied the American Civil War, and does tremendously well. 17 - seventeen - correct answers, and not a pass in sight, never mind an incorrect answer.
Catie from London has a daunting task; she'll tell us about show-jumper Pippa Funnell. It's daunting to realise that Pippa's career began some years before Catie was born. 15 (1) is a tremendous score.
Emiliano from Berkshire speaks about the Lord of the Rings books. We have a tremendous standard this week, he finishes on 16 (0).
Daniel reckons that the end of the world is coming, thanks to a huge volcanic explosion, presumably caused by a Radio 4 listener incensed at the mere thought of moving the morning sports report from before the 7.30 news to after it. Daniel increases his score to 27 (4), a challenging total.
Catie has a good go at her general knowledge round, but never really shows the confidence from her first round - indeed, she looks very delicate in the chair. 26 (6) will not be a winning score.
Emiliano tells of the difference between Mexico and the UK - the Brits respect personal space a lot more. He leans back in the chair, and takes his score to 26 (4).
Barney needs eleven to win. In spite of taking a pass on his first question, he reaches the winning post by remembering Dick and Dom's Ask the Family. He finishes on 29 (2).
This Week And Next
If it's the week after a Big Brother run, there must be a puff-piece by one of the Endemol employees. This time, it's company head Peter Bazalgette writing in A Demi Grauniad. He can spout statistics until he's blue in the face - third on the BBC-1 running order, front page of seven national dailies, a Channel 4 website page impression for everyone over the age of 10 in the UK. None of this changes the basic fact that Big Brother is over. Finished. Kaput. Seen it all before. Enough of freaks, geeks, wannabes, hasbeens, neverweres. This is not reality television, it's a soap opera where the cast is busily improvising.
In its second week on More4, Deal or No Deal put three episodes in the channel's top ten, including a six-figure audience on Monday. The best C4 rating was also on Monday, at 3.7 million; moving Saturday's edition to a later slot has boosted its ratings by nearly a million. All seven episodes of Celeb BB beat Noel, though, with 5.2 million tuning in on Tuesday. Weakest Link also peaked on Tuesday with 3.5 million; UC had 2.8 million, and Mock the Week returned to 2 million on Friday night. On BBC1, Millionaire Manor had 5.5 million, Question of Sport 4.5 million, and the celeb Link missed the top 30, beaten out by Noel. 9.1 million saw ITV's Dancing on Ice, and 7 million stayed on for Millionaire. Channel 5 failed to put a game show amongst its top 30 programmes, so no change there.
Martin Flood, who won a quarter of a million on Aussie Millionaire last year, has been in touch regarding the 13 November edition of this column. We're glad to set the record straight, so over to Mr Flood.
"I was never coughing in the hotseat and I was never asked to 'ease up'. It was one or two people in the audience that were coughing and they were told to ease up. I knew no one in the audience as they are all from Melbourne whereas I'm from Sydney. I find it totally offensive that you use my name in the same paragraph as Charles Ingram. No I wasn't cheating. I was cleared after the show. In fact I find the word "cleared" (which Channel 9 used) offensive as I did nothing to be cleared of. Channel 9 milked as much publicity from the controversy as they could to promote their show. Please get your facts straight."
Next week: It's Carol Thatcher returning to her seat on Countdown, it's the University Challenge repechage final, and it's the start of E4's Beauty and the Geek. And in next week's column, we can't put it off any longer, it'll have to be the Dancing on Ice review.
To have Weaver's Week emailed to you on publication day, receive our exclusive TV roundup of the game shows in the week ahead, and chat to other ukgameshows.com readers sign up to our Yahoo! Group.