All Mixed Up
Host
Co-hosts
Team captains including:
Adrian Logan
Frank Mitchell
Julian Simmons
Lynda Byrans
Pamela Ballantine
Broadcast
Wild Rover for UTV (regional), 1998 to 2002
Synopsis
Word game involving three teams made up of members of the public and UTV personalities as such, matching some mixed-up answers.
There were three rounds in all - the first being a category round and the second to do with a local pop culture list of some sort (£10 per correct answer). The winner got the chance to win up to £5,000 by matching up nine pictures to words that Mr. Holmes calls out.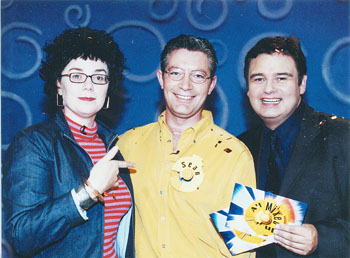 Something tells us this contestant's name is Sean. Are we good or what?
The second series (as this point, relegated from prime time) saw round 2 become round 1 with the exception being that contestants needed to find 3 top answers instead of all 6. Round 2 (previously Round 1) involved 6 items to match as opposed to the original 9. Another round (on the buzzers) was inserted in which six potential answers to all the questions were shown on the game board. The final round dispensed with the £5,000 jackpot prize (indeed, the pounds were replaced by points in the other three rounds) which was replaced by electrical goods.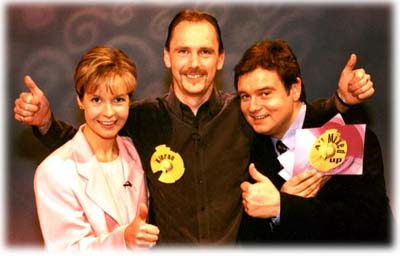 ...and we really wanna see those, er, thumbs
As the late Charles Wheeler would have said of the changes, this is pure Monty Python.
Key moments
From an unseen outtake: Eamonn Holmes trying to pronounce the word "Anemone".
Inventor
Noel Henry, developed by the Chatterbox Partnership
Trivia
The show was broadcast in many a timeslot, such as during primetime at 7:30pm, teatime at 5:30pm or even in a late night slot of 10:30pm! Guess the scheduling was all mixed up too...
Feedback