Beat the Chasers
Line 1:
Line 1:
+
+

<div class="box">

<div class="box">

== Host ==

== Host ==

Line 16:
Line 18:

An excursion into primetime for [[The Chase|ITV's biggest quiz]].

An excursion into primetime for [[The Chase|ITV's biggest quiz]].

+
+
+
+
+

Our civilian contestant takes on an abbreviated "cashbuilder" round: each question's worth £1000, but they stop after they've got one wrong, or they've got five right. Get the first question wrong, and it's been a bit of a wasted journey.

Our civilian contestant takes on an abbreviated "cashbuilder" round: each question's worth £1000, but they stop after they've got one wrong, or they've got five right. Get the first question wrong, and it's been a bit of a wasted journey.

Line 21:
Line 28:

But these are just the stakes. To win the money, the player will need to have to beat two or more Chasers in a head-to-heads contest.

But these are just the stakes. To win the money, the player will need to have to beat two or more Chasers in a head-to-heads contest.

-

Initially, the contestant is offered the money they earned from the cashbuilder, and can play against two Chasers. The Chasers will offer a certain head-start: the contestant always has 60 seconds, the Chasers might start at 50 seconds.

+
+

the the Chasers

+

The .

+
-

The choices come later: a third Chaser will offer more money, a different head-start, but it's an extra brain for the final. A fourth Chaser offers even more money, and the biggest reward comes from beating all five of 'em. Our player makes a decision, and the big-money chase is on.

+
+

 

+

The choices come later: a third Chaser will offer more money, a different head-start, but it's an extra brain for the final. A fourth Chaser offers even more money, and the biggest reward comes from beating all five of 'em.

+

 

+
+
+
+
+

 

+

Our player makes a decision, and the big-money chase is on.

In a nifty reversal of the usual format, while the solo contestant doesn't need a buzzer, the Chasers all need to ring in. Jenny Ryan told ''TV Times'', "It's quite a learning curve. We thought it might be a bit easier than it actually was!"

In a nifty reversal of the usual format, while the solo contestant doesn't need a buzzer, the Chasers all need to ring in. Jenny Ryan told ''TV Times'', "It's quite a learning curve. We thought it might be a bit easier than it actually was!"

Line 29:
Line 48:

Our player will answer questions while their clock ticks, and the clock will stop when they get a question right. Play then passes to the Chasers, whose clock will stop when they get a question right. The first team to run out of time loses.

Our player will answer questions while their clock ticks, and the clock will stop when they get a question right. Play then passes to the Chasers, whose clock will stop when they get a question right. The first team to run out of time loses.

-

Expect more than one game in each show.

+
+
+
+
+

 

+
+

 

+

than

+

 

+

show .

== See also ==

== See also ==

[[The Chase]]

[[The Chase]]

+
+

[[Category:General Knowledge Quiz]]

[[Category:General Knowledge Quiz]]

Line 40:
Line 70:

[[Category:ITV Studios Productions]]

[[Category:ITV Studios Productions]]

[[Category:Current]]

[[Category:Current]]

-

[[Category:Awaiting Review]]
---
Revision as of 10:31, 3 May 2020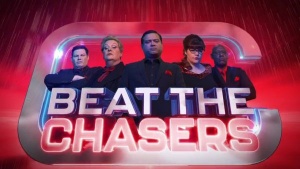 Host
Co-hosts
Anne Hegerty, Mark Labbett, Jenny Ryan, Paul Sinha, Shaun Wallace (as The Chasers)
Broadcast
Potato (an ITV Studios company) for ITV, 27 April - 1 May 2020
Synopsis
An excursion into primetime for ITV's biggest quiz.
Our civilian contestant takes on an abbreviated "cashbuilder" round: each question's worth £1000, but they stop after they've got one wrong, or they've got five right. Get the first question wrong, and it's been a bit of a wasted journey.
But these are just the stakes. To win the money, the player will need to have to beat two or more Chasers in a head-to-heads contest.
Initially, the contestant is offered the money they earned from the cashbuilder, and can play against two Chasers. The Chasers will offer a certain head-start: the contestant always has 60 seconds, the Chasers might start at 40 seconds.
The choices come later: a third Chaser will offer more money, a different head-start, but it's an extra brain for the final. A fourth Chaser offers even more money, and the biggest reward comes from beating all five of 'em. The time the Chasers offer always rises: more time, more money.
Our player makes a decision, and the big-money chase is on.
In a nifty reversal of the usual format, while the solo contestant doesn't need a buzzer, the Chasers all need to ring in. Jenny Ryan told TV Times, "It's quite a learning curve. We thought it might be a bit easier than it actually was!"
Our player will answer questions while their clock ticks, and the clock will stop when they get a question right. Play then passes to the Chasers, whose clock will stop when they get a question right. The first team to run out of time loses.
Each show contained five or six games; rinse and repeat until the hour is complete.
Beat the Chasers was louder, bolder, and brasher than its daytime counterpart. They'd chosen contestants with big personalities to match the Chasers, and with plenty of anecdotes for Bradley to bounce off.
Viewer reaction was positive, the show hooked 5 million viewers live on its first night, and kept them through the week.
See also
Feedback