Beat the Chef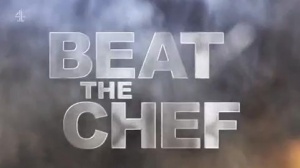 Host
Andi Oliver
Co-hosts
Resident chefs: Mark Sargeant, Clodagh McKenna, James Tanner, Frederick Forster
Broadcast
TwoFour and Motion Content Group for Channel 4, 27 May 2019 to present
Synopsis
Skilful amateur cooks take on professionals, cooking the same dish under the same conditions. A jury of gastronomes chooses which version they prefer, and there's cash for the amateur when they come out on top.
Each match runs under strict conditions. The same 45 minutes to cook and plate up, the same basic ingredients, cooked in identical studios. Andi Oliver talks with the contestant and the house chef, and delivers the result.
Once the dishes have been cooked, the "food jury" of five people sample each, and vote for their favourite. Only one of the jury needs to back the player for them to win cash and progress in the contest; should all the jury prefer the chef's dish, our contender loses all the money they've accumulated so far.
Each round is played against the same chef, it's always contestant versus the same chef.
As the player advances in the contest, so they get less choice of what to make. The rounds are:
A dish entirely of the contestant's choice
Contestant chooses one of three main ingredients to make something savoury
Contestant chooses one of two main ingredients for a sweet dish
Contestant and chef are lumbered with one main ingredient
House chef's signature dish
First round earns £100 per vote, then £200, £300, and £400. If the majority prefer the contender's interpretation to the chef's signature dish, they win £10,000.
Beat the Chef proved popular, and viewership went up through its first series.
Beat the Chef pitched itself between game shows and cookery shows. We think it falls between these two stools: there isn't enough information to have a go at these dishes yourself, and the show is perhaps a little too fast to create tension. They put two rounds in a half-hour show - three rounds in a one-hour show might give all a bit more room to breathe.
See also
Feedback