Beat the Internet
Line 57:
Line 57:

Graphics and gameplay systems were by Earth London.

Graphics and gameplay systems were by Earth London.

+
+
+
+
+
+

== See also ==

== See also ==
---
Revision as of 19:30, 13 January 2019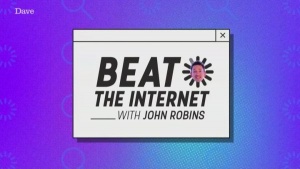 Host
John Robins
Co-hosts
Fact-master: Sunil Patel
Broadcast
Vice Studios for UKTV, shown on Dave, 15 November 2018 to present
Synopsis
A combination of quiz, comedy, topical elements, and the internet.
Beat the Internet challenges five players to think like a search engine. When asked "How to throw a...", what will they suggest to complete the search? A dart, a party, a cuddly toy...
Later rounds look for the link between sets of pictures, and ask the contestants to work out the search term that led to this list of responses.
The worst player leaves after each round, leaving two for the final. They'll try to associate famous people with the same first name - ten famous Debbies from sharp clues like "Paul Daniels' wife".
Much of Beat the Internet is looking at a plain white screen, so the host has his work cut out to make the show entertaining. The good news: John Robins is swift-witted, able to make a wisecrack from almost any answer. Visuals and sound appeal to those who remember the internet from the 1990s, and are functional for younger viewers.
There are recurring jokes, most of them embodied by Sunil Patel's character. The "know-it-all" sidekick knows very little, and might never have heard of the internet before he entered this studio. His "fun facts" are facts, though not "fun".
There's plenty of play-at-home potential, we can't watch the show without shouting an answer at the screen. For all that, Beat the Internet is a light and airy show, perhaps not suited for Dave at 8pm on Thursday, and certainly isn't at its best with two shows airing back-to-back. We'd have stripped the show around 6pm for some weeks.
Inventor
Dan Louw
Title music
Nicholas Shelton, credited for "Music".
Trivia
Graphics and gameplay systems were by Earth London.
Web links
See also
Feedback