Brain of Britain
Line 53:
Line 53:

|'''1958''' ||David Keys || '''1976''' ||Thomas Dyer ||'''1994''' || Ian Wynn-Mackenzie || '''2012-13''' || Barry Simmons

|'''1958''' ||David Keys || '''1976''' ||Thomas Dyer ||'''1994''' || Ian Wynn-Mackenzie || '''2012-13''' || Barry Simmons

|-

|-

-

|'''1959''' ||Dr Reginald Webster || '''1977''' ||Martin Gostelow ||'''1995''' || Ian Kinloch

+

|'''1959''' ||Dr Reginald Webster || '''1977''' ||Martin Gostelow ||'''1995''' || Ian Kinloch

|-

|-

|'''1960''' ||Patrick Bowing || '''1978''' ||James Nesbitt ||'''1996''' || [[Kevin Ashman]]

|'''1960''' ||Patrick Bowing || '''1978''' ||James Nesbitt ||'''1996''' || [[Kevin Ashman]]
---
Revision as of 23:28, 1 April 2014
Host
Franklin Engelmann (1968-72)
Robert Robinson (1973-2008)
Russell Davies (stand-in, 2004, 2009, host 2010-)
Peter Snow (2007)
Co-hosts
Adjudicators (usually silent): "Mycroft" (Ian Gillies, 1973-2001), "Jorkins" (Kevin Ashman, 2002-7)
Broadcast
BBC Radio 4, 16 January 1968 to present
Synopsis
Radio's premier clever-clogs quiz show, originally spun-off from a segment in What Do You Know?.
Four contenders gather from a selected region of the UK, and the presenter asks a question of each, continuing until they get one wrong - that's open to the other contestants on (silent) buzzers. There's a point for a correct answer, five in a row gains a bonus mark, and ten seconds are allowed for thought. In the event of a tie, bonus questions count double; a five question play-off is available if required.
Half-way through each episode is a "Beat The Brains" section, where a listener sets two questions, hoping to stump the panel on one, and win a book token. Like the main quiz, this interlude was also carried over from What Do You Know?.
According to Ian Gillies' book from the 1980s, each programme was carefully structured, with relatively easy questions to begin with, difficult posers in the middle, and relaxing with more simple questions to end the programme on a high. This structure appears to have been relaxed over time, and almost forgotten by the twenty-first century. One thing that never changed was that two questions would be accompanied by a musical clue - except this changed to three music questions in 2012.
The contest features 48 competitors - eight each from London, the Home Counties, the Midlands and East Anglia, the North of England, four from the South-West, and four drawn from Scotland, Wales and Northern Ireland. Until 2006, each heat featured people from the same geographic region. The twelve heat winners, and four highest-scoring runners-up, compete in semi-finals, with the winner of each advancing to the final.
Every three years, the annual winners return for a Brain of Brains competition. Every nine years, the triennial champions compete in the Top Brain contest, possibly eight years after their original triumph. The Brain of Brains and Top Brain scheduled for 2007 were delayed until September 2008, allowing Robert Robinson to return to the host's chair.
Towards the end of his life, Robert Robinson's health was not good enough for him to participate, despite the show relocating to London on occasion to facilitate his continuing contributions. 2007 saw Peter Snow taking up the mantle, along with a few other minor changes: contestants introduced themselves rather than having the host greet them, and were referred to by their first names rather than Robinson's traditional "Mr Jones/Mrs Smith". Also, a production team set the questions rather than one individual, as Kevin Ashman was unable to travel to Manchester regularly. Robinson returned for the 2008 series, but was again absent in 2009, with Russell Davies standing in. In August 2010, Robinson announced that he would not be returning, allowing Davies to officially step up to the the role of host. Robinson died in August 2011, and a tribute was paid prior to that autumn's first show.
Champions
Regular Series
Those listed for 1954-1967 are winners of the Brain of Britain segment of What Do You Know?
1954
Martin Dakin
1972
A. Lawrence
1990
Jim Eccleson
2008-9
Geoff Thomas
1955
Arthur Maddocks
1973
Glyn Court
1991
Chris Wright
2009-10
Ian Bayley
1956
Anthony Carr [1]
1974
Roger Pritchard
1992
Mike Billson
2010-11
Iwan Thomas
1957
Rosemary Watson
1975
Winifred Lawson
1993
Geoffrey Colton
2011-12
Ray Ward
1958
David Keys
1976
Thomas Dyer
1994
Ian Wynn-Mackenzie
2012-13
Barry Simmons
1959
Dr Reginald Webster
1977
Martin Gostelow
1995
Ian Kinloch
2013-14
Mark Grant
1960
Patrick Bowing
1978
James Nesbitt
1996
Kevin Ashman
1961
Irene Thomas
1979
Arthur Gerard
1997
Daphne Fowler
1962
Henry Button
1980
Tim Paxton
1998
Guy Herbert
1963
Ian Barton
1981
Peter Barlow
1999
Leslie Duncalf
1964
Ian Gillies
1982
John Pusey
2000
Mike Smith-Rawnsley
1965
Robert Crampsey
1983
Sue Marshall
2001
Tom Corfe
1966
Richard Best
1984
Peter Bates
2002
Dr David Jones
1967
Lt. Cmdr. Loring
1985
Richard Fife
2003
David Stedman
1968
Ralph Raby
1986
Stephen Gore
2004
Alan Bennett
1969
T. D. Thomson
1987
Ian Sutton
2005
Christopher Hughes
1970
Ian Matheson
1988
Paul Monaghan
2006
Pat Gibson
1971
Fred Morgan
1989
Barbara Thompson
2007
Mark Bytheway
[1] At 18-years-old, the youngest ever winner.
Brain of Brains
| | |
| --- | --- |
| 1956 | Anthony Carr |
| 1959 | Unknown |
| 1962 | Irene Thomas |
| 1965 | Ian Gillies |
| 1968 | Unknown |
| 1971 | Unknown |
| 1974 | Roger Pritchard |
| 1977 | Tom Dyer |
| 1980 | James Nesbitt |
| 1983 | Peter Barlow |
| 1986 | Richard Fife |
| 1989 | Glen Binnie [1] |
| 1992 | Mike Billson |
| 1995 | Geoffrey Colton |
| 1998 | Kevin Ashman |
| 2001 | Leslie Duncalf |
| 2004 | Alan Bennett |
| 2008 | Mark Bytheway |
| 2011 | Ian Bayley |
[1] Mr Binnie finished second to Miss Thompson in the 1989 final, and took her place when she was unavailable to record the Brain of Brains competition.
Top Brain
| | |
| --- | --- |
| 1962 | Anthony Carr |
| 1971 | Ian Gillies |
| 1980 | Roger Pritchard |
| 1989 | Peter Barlow |
| 1998 | Kevin Ashman |
| 2008 | Mark Bytheway |
(The assistance of Quizplayers in this section is acknowledged.)
Catchphrase
"Aaaah." (and other slightly pained cries, as Robert Robinson fills while the adjudicator considers an answer.)
Theme music
Various versions of "Rondo", including that by the fabulously named Waldo de los Rios.
Trivia
The record score on a programme final is 35, although there have been higher scores in earlier rounds.
Former producer Richard Edis explained the show's appeal, "When the audience hear a question to which they know the answer, they feel warm. When they know and the competitors don't, they're positively incandescent."
Merchandise
A Brain of Britain quiz book was published in 1986.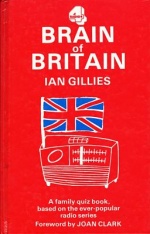 See also
Feedback