Celebrity Game Night
Line 44:
Line 44:

A localised version of ''Hollywood Game Night'', created by actor/producer Sean Hayes and producer Todd Milliner for NBC in 2013. To the best of our knowledge, the American version hasn't aired over here.

A localised version of ''Hollywood Game Night'', created by actor/producer Sean Hayes and producer Todd Milliner for NBC in 2013. To the best of our knowledge, the American version hasn't aired over here.

+
+
+
+

== Web links ==

== Web links ==
---
Revision as of 13:25, 10 July 2020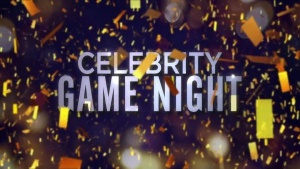 Host
Co-hosts
Team captains: Danny Baker and Susan Calman
Broadcast
Monkey for Channel 5, 29 December 2018 to present
Synopsis
Six different celebrities join team captains Danny Baker and Susan Calman to battle in head-to-head party games. Mime something without using your hands, or give clues to a television show in as few words as you can.
Two more celebs audition for
Crossroads.
A house band takes part in some of the games, playing popular tunes for the teams to mime, so that they can try and convey the title to their captain. Why mime? She's wearing noise-cancelling headphones and cannot hear anything going on.
The signature round is Popped Quiz. A large bowl of popcorn is in the middle of the table. Two nozzles stick out from opposite sides of the machine, one coloured red and one in black. The nozzles swivel around to the left and right. When it stops, someone will have the red nozzle pointing at them.
That person is to answer a this-or-that question. "People spend 1.3 years of their life doing what? Deciding what to watch on telly, or shopping?" Give the wrong answer, or no answer at all, and the machine will blast a jet of popcorn in their face. Get the question right, and the machine will blast a jet of popcorn to the person sitting opposite. A simple gimmick, and it might never get old.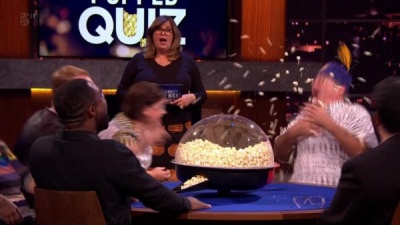 What sauce does Danny Baker put on his popcorn?
Celebrity Game Night is based on Hollywood Game Night on NBC, and it's almost been translated for a British television audience. Almost, but not quite. For starters, the show has an expansive and large set. Lisa's room is too large for the small houses this side of the Atlantic, and far too large for the view of central London we see out of the window.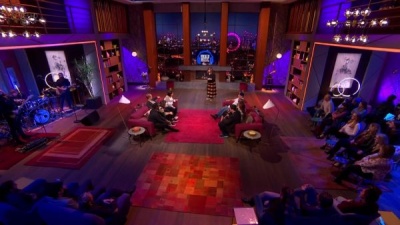 The expansive set.
While the rounds remain the same, the format differs - NBC's show involves members of the public playing alongside the celebrities, Channel 5's does not. The quiz rounds have been re-written, the trivia is localised, and all of the quintessentially American elements have been removed. Except for the bit where the celebrities sing with the band, before and after the commercial breaks.
Title music
Bob Knight and the Tamworth Four (Chris Hargreaves, James Knight, Luke Huggins, Matt Bramhall) are the house band, they play all music in the show.
Inventor
A localised version of Hollywood Game Night, created by actor/producer Sean Hayes and producer Todd Milliner for NBC in 2013. To the best of our knowledge, the American version hasn't aired over here.
Trivia
Channel 5 put out the first episode just before New Year's Eve 2018, when we can expect celebrities to get drunk. The second episode premiered 97 days later, in April 2019.
Web links
See also
Feedback