Dominik Diamond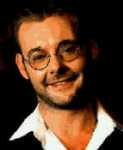 Biography
Dominik Diamond rose to fame as the suave host of Channel 4's Gamesmaster programme in 1992; he was also a staff writer for the teen pop bible Smash Hits. He took over from Ross King on Radio 5's Fantasy Football League, a light-hearted chat about football wrapped up in the original select-a-team game. Diamond succeeded Danny Baker as host of Sportscall, and helmsed its short-lived spin-off Newscall. An avid fan of Celtic, Diamond wrote for Four Four Two magazine and hosted Channel 5's sports show Turnstyle.
By the late 1990s, Dominik Diamond was almost everywhere on television. If he wasn't hosting Gamesmaster or Dominik Diamond Meets... on BBC Choice, he was turning up as a pundit on the innumerable list shows of the era. No edition of The Hundred Greatest Scottish Blokes or I Remember... Last Thursday Lunchtime would be complete without his opinions.
In the new millennium, Diamond has kept a slightly lower national profile. He's written for PC Zone and The Daily Star, hosted shows on Xfm Scotland and Talk 107 (both stations are now closed). His main television engagement was on Crucify Me (2006), when he considered taking part in a crucifixion scene.
Trivia
Diamond studied drama at Bristol University with comedians David Walliams and Simon Pegg.
Contact
Jo Gurnett Personal Management Ltd, No. 2 New King's Road, London SW6 4SA
Web links
Feedback