Gail Porter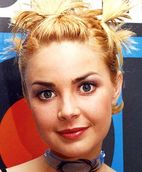 Biography
"Wee Gail Porter" (actually, she claims a height of 5'4", which isn't all that wee, really), got into TV the usual way as a researcher and runner, and made her on-screen debut in T.I.G.S.. Following a spell as reporter for Live & Kicking's show-within-a-show, Electric Circus, she got to host BBC Scotland's Fully Booked and later, Top of the Pops.
Trivia
She married Dan Hipgrave, then singer with the group Toploader, in August 2001 and afterwards was sometimes credited as Gail Hipgrave. They divorced in October 2006.
She has suffered from an extreme form of alopecia since 2004 and is now completely bald.
She has run in several marathons.
Contact
c/o Debi Allen Associates, 22 Torrington Place, London, WC1E 7HP
Web links
Debi Allen Associates' Gail Porter page
Feedback