Genius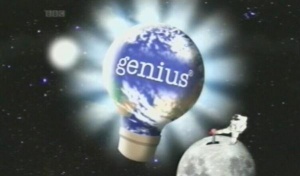 Host
Broadcast
BBC Radio 4, 27 October 2005 to 22 December 2008 (17 episodes in 3 series + 1 special)
BBC Two, 20 March 2009 to 31 October 2010 (12 episodes in 2 series)
Synopsis
Five members of the public pitch their genius ideas to make the world a better place - usually an invention or a new law - to a celebrity guest. After discussing the idea, and possibly trying it out for real, the celeb declares whether the idea is genius... or not.
Once all the ideas are pitched, the genius ideas go forward to an audience vote. Whoever gets the most applause is the winner of the "magnificent" Genius Trophy.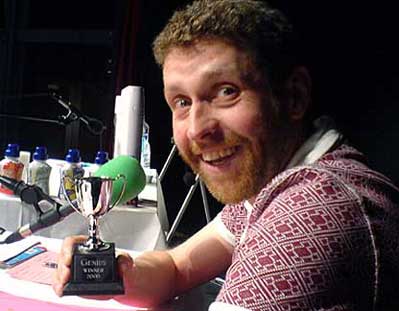 Dave Gorman with the magnificent Genius Trophy (radio version)
The TV version is basically the same, except with pictures. Also, in the last regular episode (to date) of the radio series, it was agreed that one contestant's suggestion that the celebrity guest pick the winner (rather than leaving it up to the audience), was genius - and accordingly, that's how the TV version does it. So you see, one man can make a difference.
The second TV series has a substantially different format, with would-be genii presenting their ideas from their seats in the studio audience and two guest judges to decide on whether the ideas are genius or not (if they disagree, Gorman has the deciding vote). They get through more ideas in half an hour, but at the cost of fewer set-piece demonstrations. Also, there's no overall winner and no trophies.
Catchphrases
"Genius... or not?"
Inventor
Ali Crockatt and David Scott
Theme music
Composed by "Grandmaster Gareth" (Gareth Jones) and performed by Misty's Big Adventure. You can hear it on their MySpace page.
Trivia
Here's producer Simon Nicholls, interviewed in Broadcast about transferring the show to TV:
During pre-production, we filmed a night of workshopping at The Drill Hall Theatre. We threw the existing format up in the air and tried out doing the show in all sorts of different visual ways (with Dave standing, with Dave sitting). We also experimented with different endings to the show. One had the audience singing us out with The Genius Song. I'm relieved to say that this will never be shown on either terrestrial, or indeed, extra-terrestrial, television. One thing we worked out is, for the first time since the mighty Blankety Blank, we have the contestants disappear from the set on a revolve. It adds a visual punch and, crucially, it looks funny. It's a clear example of us beefing up the radio format and adding a new joke. At least I hope it is.
Web links
Wikipedia entry (Radio version)
British Comedy Guide entry (Radio version)
British Comedy Guide entry (TV version)
The show publicised the hashtag #genius.
Opening titles from the BBC Motion Graphics Archive
See also
Feedback