Globo Loco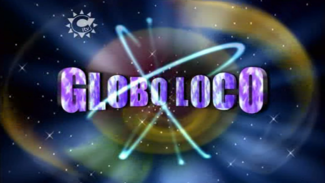 Host
Co-host
"Dad" (Peter Cocks); "Father Jasen" (Jasen Grindrod); "Nurse Angela" (Angela Parker); "Keith the Croc" (Keith Cotton)
Broadcast
The Foundation for ITV1, 16 May 2003 to 5 August 2004 (23 episodes in 1 series)
Synopsis
Highly stylised kids show which seems to be pitched as the presentation of Banzai with the ideas of You Bet!.
Two teams of kids bet on the outcome of mad and crazy stunts. If they bet correctly than Dad gives them a nice prize from the back of the van - they don't have to share as it's one each. Whichever team predicts the most stunts correctly goes through to the final round where they must throw potatoes to break some TV screens whilst sitting on a spinning sofa. For more prizes.
Catchphrases
"Each!"
Theme music
Connect / ZPM
Trivia
There was only ever two series of Globo Loco made. However, it was nominated three times at the Children's Baftas for Best Kids Entertainment Show.
Web links
Videos

An episode from the first series.
Feedback