I've Got a Secret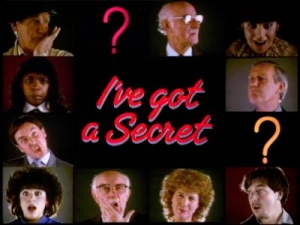 Host
Ben Lyon (1950s)
Tom O'Connor (1984-8)
Broadcast
Associated-Rediffusion for ITV, 5 January to ? 1956
BBC1, 24 October 1984 to 30 November 1988 (31 episodes in 3 series)
Synopsis
Panel of celebs are goaded on by O'Connor to try and identify an obscure claim to fame that a member of the public has. A clue was given at the start to get them going in the right direction, and there was a "look away now" moment if you didn't want to know the answer.
Similar to What's My Line?, the panellists had 30 seconds each to question the contestants - during the 1980s version anyway. In the original 1950s version, the contestant won a crisp pound note each time the questioning passed from one panellist to another, up to a maximum of eight pounds (i.e. twice round the panel).
The forerunner to this show had been Top Secret, hosted by Barry Took.
Key moments
One guest was the man who acted as a telegraph operator during WWII, and became the first person in Britain to know that the Germans had surrendered. He also later appeared on Tell the Truth.
Barry Cryer appeared as a celebrity guest in one edition: his secret was that he was squashing grapes with his feet while being questioned.
Inventor
Based on a 1950s US game show, an early entry in the Mark Goodson-Bill Todman canon, though actually invented by Allen Sherman (of "Hello Muddah, Hello Fadduh" novelty hit fame).
Web links
Opening titles from the BBC Motion Graphics Archive
See also
Feedback