Jigsaw (1)
Line 11:
Line 11:

[[Sylvester McCoy]] and David Rappaport

[[Sylvester McCoy]] and David Rappaport

+
+

Julia Binstead

Julia Binstead
---
Revision as of 16:44, 27 August 2006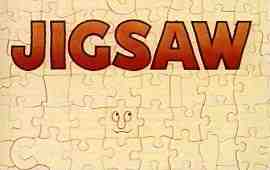 Host
Howard Stableford (final series)
Co-hosts
Sylvester McCoy and David Rappaport
Wilf Lunn
Julia Binstead
Broadcast
16 July 1979 - 15 June 1984 (49 programmes)
Synopsis
Viewer participation competition where the object each week to identify a six-letter word.
Each letter would be identified via a sketch of some variety. At the end of the programme, Mr Noseybonk (a man wearing a mask with a very, very long nose) would run around a park or some such location looking at different objects - the first letters of these prominent objects being the answer to the write-in competition.
Other characters included the O-Men (Sylvester McCoy and David Rappaport), Biggum the giant - all you ever saw of him was his sandal - and Pterry the pterodactyl.
Reprised to an extent with See it, Saw it.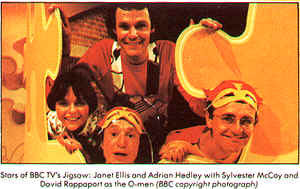 The cast of Jigsaw
Inventor
Devised by Clive Doig.
Theme music
A music clip is available from the TV Cream site, and also from the Vintage TV themes site.
Web links
Pictures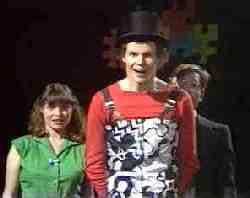 Picture 1
- Janet Ellis and Adrian Hedley.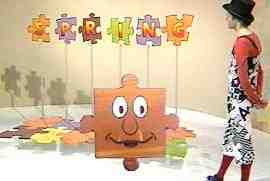 Picture 2
- Jig (foreground) reveals the six-letter word.
Feedback