Jon & Lucy's Odd Couples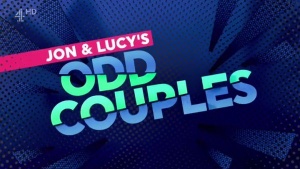 Hosts
Jon Richardson and Lucy Beaumont
Co-host
Charlene Douglas
Broadcast
King of Sunshine for Channel 4, 13 January 2023 to present
Synopsis
Jon Richardson and Lucy Beaumont - comedians, hosts of Meet the Richardsons, a married couple - invite other long-term couples to an awayday. They're given tasks to test their relationship, and the result helps to make this programme. Results of the tests, and other activities, take place in a studio.
Each show has variations on a theme. The main attraction is a polygraph test, measuring changes in heartrate and blood pressure; the show believes a fiction that this device can detect when someone is lying. We see polygraphs twice in the show. Between, there's a "bring in an item to symbolise your relationship" interlude, a practical test filmed on the awayday, a creative challenge, and something that's built to the precise guests that week.
Odd Couples has a style. The guest couples spend most of the awayday with dressing gowns over their clothes. Jon and Lucy join in all the activities, because a good host wouldn't ask their guests to do anything they wouldn't.
There's a tone in the humour as well: maudlin, bleak, the format emphasises a couple gently bickering. There are no rows, but there's very little clear celebration of coupledom. And nor are there many laughs. Sure, the studio audience sounds like they have a whale of a time, but this doesn't really match with what we see on screen.
It is a contest, Jon declares a winner of each round, and there are lots of points in the final play with the polygraph. The winning couple take home something utterly useless, a bespoke prize associated with something mentioned earlier on the show.
Charlene Douglas, the therapist from Married at First Sight, is on the awayday and in the studio with insight and advice. She's barely involved after the first activity.
Title music
Medina Sound, credited as "Composer".
Trivia
Went through a lot of working titles: Perfect Couples when the show was first announced, and Couples Therapy until quite close to transmission - indeed, the show was previewed in Radio Times and TV Times under that name.
The series may be based on a skit from Meet the Richardsons, where they piloted "Couples Therapy with the Richardsons" on Channel 4. Art imitates life imitates art imitates life, or something.
The Comedy Awards went out on 17 February 2023, in the slot Odd Couples had been using. With the much more popular Gogglebox back the following week, the final episode of Odd Couples vanished into a Channel 4 time machine, eventually coming out on 20 October.
Web links
See also
Feedback