Lightning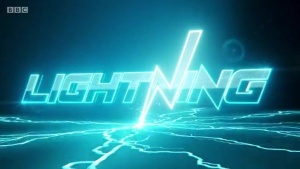 Host
Broadcast
Nice One Productions and Fizz for BBC Two, 25 January 2021 to 22 April 2022 (55 episodes in 2 series)
Synopsis
A varied teatime quiz against the clock.
Before the first broadcast, the BBC press office told us:
With dramatic lightning and a thundering soundtrack, Lightning will combine quick-fire questions with physical trials bringing a new pace and tone to the teatime quiz slot on BBC Two.
The idea is very simple. Don't be caught in the light when the round ends.
One of the players is picked at random to start the show. Zoe asks them a trivia question. In round 1, the contestant needs to give one correct answer in order to nominate another contestant. Whoever they nominate gets a question, and as soon as they give a right answer, they nominate someone else. And so on, and so on.
Lightning is a timed event, and after two minutes, lightning strikes. Someone's podium turns from greeny-blue to red, and they're out of the game. Zoe commiserates with the loser, has a quick chat about their life and today's game, then bids farewell.
Round 2 is a bit longer, a full two-and-a-half minutes. The requirement to nominate also increases, to two correct answers. Players have no chance to stall tactically, Zoe will push them for an answer and if necessary move on to the next question. Nor do players see any sort of clock telling how long is left in the round. Again, whoever's got the light when time expires is eliminated.
For round 3, they mix it up a little more. Zoe gives three clues, short enough to display on screen, together they answer a "who am I?" question in the style of Going for Gold. Like that daytime institution, players come back every day until the end of the week, only the daily winner is set free to get on with their life. After 2½ minutes, someone else is eliminated to come back tomorrow.
Round 4 is simple this-or-that questions. "Which is more concentrated: eau de cologne or eau de toilette?" If you don't know, just guess. Get the right answer, and you've to come forward and do a stunt.
Other challenges: bounce a ball into the cylinder; pick up a ball and put it into a target cylinder using long tongs; move a metal loop along a buzzwire; roll a ball along a plank into a hole; form a stack of plastic blocks with one hand while holding the platform with the other. All of them simple to watch, quick to do, but frustratingly easy to go wrong.
Only once a player has completed this physical challenge can they nominate someone else. And, after two-and-a-half minutes, lightning strikes once more.
A chess clock showdown is almost inevitable for the final two players. One minute each, the advantage of starting second goes to whoever's given the more correct answers today (tie-break: fewer wrong answers). To pass play, the contestant must give the right answer and spell it. Whoever's one-minute timer runs out first is the loser.
The daily winner tries to win some money. They've two minutes to get out and come back again; they must shout to stop the clock before turning round and heading for home. One step out and back wins £200, then it's £300, £500, £750, £1000, £1250, £1500, £2000, and nine steps out and back will win the top prize of £3000.
A tense finish is guaranteed: even if our finalist starts badly, they know they can cut their expectations, and return from £500 in 20 seconds. The jackpot is possible, but rightly difficult - players can hear eighteen questions in two minutes, and the questions are written to encourage interruptions. Most successful players come back with £1000 or so.
Zoe Lyons hosts the programme, with a silken charm and genuine warmth. Lightning learned from the failure of other quiz chicken shows such as Beat the Clock, by making each round something different. The physical challenge is particularly welcome, very few other shows combine quiz and physical achievement in this way.
A crying shame, then, that they dispatched with that round for the second series - preferring 'complete the statement' questions. That second series proved to be the last: ratings had never been better than "good", and Channel 5's version of Eggheads split the live quizzing viewing audience between two great shows.
Catchphrases
"If you stay out of the light, you'll be alright."
"Lightning has struck, so it is goodbye."
Inventor
Games developed by Laura Conlon, Natalie Jennings, and Art Sejdiu.
Theme music
Music composed by Marc Sylvan.
Trivia
Filmed in Northern Ireland with support from Northern Ireland Screen.
Aired at 6.30, immediately after the sedate and charming and hugely popular House of Games (3) with Richard Osman. The third week aired after Lyons' appearances on the show.
Five contestants from Lightning stayed in touch, and appeared on Tenable a few months later with the apposite name "The Game Show Must Go On". One of these five was Alison "Pooee" Pitman, who had won £160,000 on Greed in 2001.
The second series had its scheduling messed about with; its fifth episode was run off to 3.30 on Saturday owing to obstinate athletics. The fifteenth episode was displaced by the World Cup's inability to pull out balls in a timely manner, and rescheduled to 5.50 on Sunday.
Web links
See also
Feedback