Oci Oci Oci!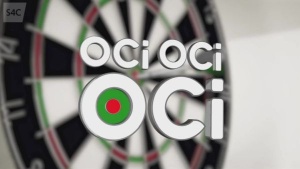 Synopsis
A darts quiz, played by teams of four from a pub or club. Two of them throw darts, the others know something.
Two of the team are quizzers, they'll answer questions on the buzzers. When a team's given three correct answers, their darts players get control of the board, and can run up the score. In later rounds, the darts player picks a target - with the option to pass it to the other team.
For the final, there's a time limit on the questions, and each point scored on the darts board translates to £1. A further £180 can be won if the darts player hits a random number on the board. The prize is doubled if one of the darts players hits a specified double on the dart board.
The show might benefit from a little more darts, as the passages of quiz questions can drag on. The atmosphere is relaxed and convivial - the darts players drink their beer, S4C stars Eleri and Ifan are at home in the crowd. It's great for the post-pub slot on warm summer Saturday evenings.
Web links
See also
Feedback