Pen/Campwyr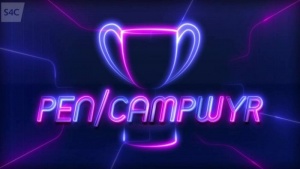 Host
Jason Mohammad
Broadcast
Nimble Productions for S4C, 26 December 2022 to present
Synopsis
A call for contestants summed up the show:
Do you have the ability to beat some of Wales' greatest sporting champions?
A new entertainment series that combines sporting trivia and physical games. But these aren't traditional sporting challenges but virtual games including Golf, Cycling, Rowing, Rugby and more! If you've got great sporting trivia & skills and would like the chance to win up to £1,000 then this is the show for you.
We're looking for competitors of all ages so if you fancy some fun and would like to put a team of 3 together from your members, committee, friends or family then please get in touch. The ability to speak Welsh is essential.
We very quickly meet the team, then it's straight into a round of questions. All questions are this or that, presented as "Who was the manager of the Welsh football team at Euro 2018 – Rob Page or Rob Brydon?" Questions are asked in turn, up the line then back to the start.
There's a timer on these questions, though we don't get a clock on screen or any way to measure the time. One point for each question the team gets right, it's converted into an advantage for the next challenge.
Ah, the challenges. Pen/Campwyr's defining feature, and perhaps its weakest point. Cycling, on stationary bikes, with the contender given a head start against a sports star. Rowing, on stationary boats, with the contender given a head start against a sports star. Football and rugby penalty kicks. Hitting a golf ball. The challenge ends if the contender reaches the finish before the sports star. Should the contender be caught, there's money for each zone (or kick, or golf shot) won.
Sadly, the sports element doesn't make great television. Progress is shown through bars at the bottom of the screen, we're either watching the bars or we're watching the exertions of two people in a very dark studio.
After three rounds of questions, three sports events, and (we hope) £1500 in the cash stash, the two best players at the questions face off in the final. They have 90 seconds of quickfire this-or-that questions, one point for a correct answer, one point off for an error. Whoever's got the more points after 90 seconds wins the pot, which they'll probably split with the team or give to the sports club they all represent.
The series launched with the inevitable celebrity special, Scott Quinnell (rugby), Jack Quick (from Pobl y Cwm), and Heledd Anna (S4C regular) all against Tash Harding (football). Tash returned in the civilian series, alongside James Hook (rugby) and huw Jack Brassington (endurance athlete).
Trivia
The show's name is a pun on "pencampwyr", the Welsh for "champions".
Web links
See also
Pen Campau, a 2000s sports challenge for children.
Feedback