Quiz is Anfield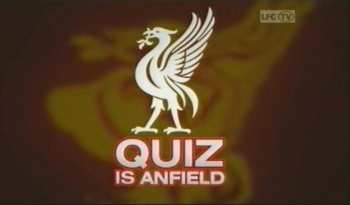 Host
Matt Critchley
Broadcast
LFC TV, 22 February 2009 to present
Synopsis
On a channel dedicated to Liverpool FC, we would expect to find repeats of recent and not-so-recent Liverpool matches, some chitter-chatter about the side, previews of upcoming matches, tactical discussion with the manager, and relatively uncritical pieces on the club's current and former players. We don't particularly expect to find a quiz show.
Let's get one thing straight: the budget for Quiz is Anfield is not large. Indeed, if donated to the transfer kitty, it would probably only purchase the toenail clippings of a halfway-decent defender. After a title sequence in which signs change from normal football stadium contents to questions, we see the presenter and three contestants sat in a darkened room. Everyone remains in their seats for the duration of the match. There will be no standing up and cheering, there will be no queue for the pie stand, there won't even be any moving from one seat to another. Like well-behaved fans at the stadium, they all sit down and remain seated. The host introduces each contender, and has a brief chat with each of them.
In turn, each contender plays round one, two minutes of questions about Liverpool FC. Time is marked by the outside of a clock slowly turning from green to red, and the score is in the middle of this display. The questions tend slightly to the recent - the last ten years particularly, and there's very little before the Second World War - but this is the same for everyone, and doesn't really affect the game. Answers are only correct if a person's forename and surname is given - "Crouch" would be marked wrong, for it's not clear whether the contestant means contemporary England star "Peter Crouch" or 1996 youth team prospect "Kev Crouch".
After the break, round two invites players to pick from a selection of nine categories. It's not exactly clear if the contestants have been given advance notice of these topics, or if they come to them cold. Whoever scored the most in the first round gets to pick one of the special subjects, the next player chooses from the remaining eight, and whoever is in last place still has sevn topics to choose from. Before each round of questions, there are some clips from the archive - it's not enough for the show to talk about Liverpool, they also have to show some footage of Crouch in action.
Again, there are two minutes of quizzing for each contestant, and the person with the highest score over the two rounds wins out. If there's a tie at any stage, it's broken by the person who gave the fewer or fewest incorrect answers; passes do not count towards this total.
The game itself is derivative, most obviously of Mastermind - there are two two-minute rounds, one on a topic chosen by the contestant - though there is no Big Black Chair, everyone remains in their assigned seat throughout. We reckon that Counterpoint has also inspired this show - each edition has three contestants, of whom only the winner progresses, and there's a choice of specialist subjects for the leader part-way through. It does take a certain amount of skill to read questions off pieces of card at speed, and host Matt Critchley does his job very well, but isn't given the room to stamp his authority over the format.
As we mentioned earlier, the programme has a very small budget. This actually works in its favour: the deliberate minimalism creates an intense atmosphere, one that would be absent if the show had flashy graphics and gaudy sets.
Champion
2009: Andy Dunlop
The prize was a trophy, and a trip to one of Liverpool's away games in Europe the following season: possibilities included such exotic destinations as Kazan, Stavanger, or the inevitable quarter-final with Chelsea. In fact, Andy went to Budapest.
Feedback