Russell Brand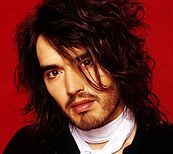 Biography
Stand-up comic and actor who studied at RADA (but was expelled toward the end of his course). After a number of minor acting roles including the inevitable bit-part in The Bill, he turned to full-time comedy, reaching the final of the Hackney Empire New Act of the Year competition in 2000. He came to greater prominence by hosting Big Brother's Big Mouth.
He has gone on to various TV and radio shows, including a Radio 2 programme from which he got the boot after making a controversial prank call to actor Andrew Sachs. He has also hosted various award ceremonies and revived his acting career with an acclaimed role in the film Forgetting Sarah Marshall.
His autobiography, My Booky Wook, was a bestseller, but attracted controversy - seemingly as much for the "childish" title (actually a reference to A Clockwork Orange) as for the frequently hard-to-stomach tales of debauchery within.
He was accused of rape, sexual assault and emotional abuse in September 2023.
Web links
Feedback