Spelling Bee (1)
Line 2:
Line 2:

== Host ==

== Host ==

-

Freddie Grisewood

+

Freddie Grisewood

== Broadcast ==

== Broadcast ==

-

BBC Regional Programme, 30 January 1938-?

+

BBC Regional, 30 January 1938 -

-

BBC Television, 31 May to 10 July 1938 (3 programmes)

+

BBC Television, 31 May to 1938 (programmes)

</div>

</div>

Line 14:
Line 14:

== Synopsis ==

== Synopsis ==

-

Probably one of the most boring games ever, but nevertheless it was the first TV game show, transmitted live from Alexandra Palace on 31 May 1938.

+

one of the , was the first game show, transmitted live from Alexandra Palace on 31 May 1938.

-

Freddie Grisewood would invite people to spell a series of words in the usual spelling bee fashion. Err.... that's it.

+

to spell a in the .

+

 

+

. .

+

 

+

. . '

+

 

+

.

<div class="image"><IMG src="/atoz/programmes/s/spelling_bee/spelling bee.jpg" alt="spelling bee.jpg" width="230" height="198">

<div class="image"><IMG src="/atoz/programmes/s/spelling_bee/spelling bee.jpg" alt="spelling bee.jpg" width="230" height="198">

Line 25:
Line 31:

Grisewood was the narrator of several films including (with David Dimbleby) ''The Victory Parade'' from 1946 and such gems as ''How the Motor Car Engine Works''.

Grisewood was the narrator of several films including (with David Dimbleby) ''The Victory Parade'' from 1946 and such gems as ''How the Motor Car Engine Works''.

+
+
+
+
+
+
+
+
+
+
+
+
+
+
+
+
+
+
+
+
+
+
+
+
+
+
+
+
+
+
+
+
+
+
+
+
+
+
+
+
+
+
+
+
+
+
+
+
+
+
+
+
+
+
+
+

[[Category:Panel Game]]

[[Category:Panel Game]]

[[Category:Spelling]]

[[Category:Spelling]]
---
Revision as of 18:44, 7 February 2007
Host
Freddie Grisewood and others
Broadcast
BBC Regional, National, Scottish, and Western Programmes, 30 January 1938 - 7 March 1939 (16 programmes)
BBC Television, 31 May to 1 September 1938 (5 programmes)
Synopsis
Not exactly the glitziest show ever made, and at fifteen minutes one of the shortest. Nevertheless, Spelling Bee was the first ever television game show, transmitted live from Alexandra Palace at 10pm on 31 May 1938.
The Bee phenomenon began in January 1938, when the BBC linked with the National Broadcasting Company (now NBC) for the first of two US - UK spelling matches. In this 45-minute show, contestants were given 30 seconds to spell their word, with any error marked by a bell. The player directly opposite could correct the error for a bonus point. The initial episode was a match between students at Harvard and those from Oxford; a re-match in March was the first game show to feature members of the public.
This programme was a remarkable success, attracting favourable comment from many listeners. Inspired by this success, the BBC staged a domestic programme in March 1938, the first home-grown entertainment programme that we might reasonably deem a game show.
By the autumn of 1938, a dozen episodes of practice had enabled the BBC to refine the format into a tighter half-hour show. Two teams of six were given words to spell in three rounds, with errors not passed across to the opposite team. This wasn't a particularly promising spectacle for television, which branched out into such diverse fare as General Knowledge Bee, Tactile Bee, and Musical Bee.
The concept of the Bee caught the imagination of the country preparing for war, but the cultural phenomenon ran out of steam when war looked increasingly inevitable. The last Spelling Bee on national radio went out in January 1939, barely a year after the first episode; the Scottish service brought the curtain down on the idea.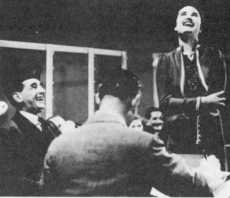 Freddie Grisewood (in the headmaster's costume on the far left) challenges a young lady to spell a word.
Trivia
Grisewood was the narrator of several films including (with David Dimbleby) The Victory Parade from 1946 and such gems as How the Motor Car Engine Works.
Broadcast details
30 January 1938 (Regional Programme) - Transatlantic Spelling Bee
A co-production with the National Broadcasting Company.
USA: Arthur Racine, Arthur Cantor, Malcolm Perkins, Robert Amory, S. E. Turetzky, Arnold W. G. Kean (all of Harvard University); Elaine Fraser, Norma Nasmyth (of Radcliffe College)
England: Prince Obolensky, Conrad Cherry, John Irwin, Lord Oxford and Asquith, John Witty, Peter Wood, Penelope Knox, Miranda Tallents (of Oxford University).
Hosts: Paul Wing (USA), Thomas Woodroofe (England)
The US team won by 28 points to 24.
6 March (Regional Programme) - Transatlantic Spelling Bee
Great Britain: Miss Fabia Drake (actress), Miss Margaret Baynes (secretary to a women's employment bureau), Mr. Howard Marshall (broadcaster), Mr. D. A. J. Buxton (a company director), Master J. E. Killick (schoolboy, Latimer Upper), Mr. Bernard Darwin (sportsman), Lt-Col J. H. Gettins (services), Sir John Squire (writer)
USA: Miss Sara Haden (actress), Miss Helen Ashmun (secretary), Mr. Linton Wells (broadcaster), Mr. C. N. Thomas (investment banker), Herbert S. Bailey, Junior (schoolboy), Mr. Wayne Sabin (Davis Cup player), Col. Robert Olds (services), Mr. Carl Carmer (writer)
Hosts: Paul Wing and Thomas Woodroofe.
The Great Britain team won by 37 points to 27.
20 March (National Programme)
Under Twenty: Miss Winifred Barnes (West), Mr. Roy Henderson (Northern Ireland), Mr. Livesey Jones (Wales), Miss Marjorie Logan (Scotland), Mr. Harry Shore (North), Mr. A. G. Shepherd (Midland), Mr. Michael West (London)
Over Forty: Captain Francis Dakyns (West), Mr. Wilson Guy (Northen Ireland), Miss Cathy Carr (Wales), Mr. George Harvey (Scotland), Mrs. Florence Hopper (North), Mr. W. B. Thompson (Midland), Mr. G. J. Loftus (London).
Host: F. H. Grisewood.
The Over Forty team won this first domestic edition by 37 points to 24.
Further radio editions
3 April (National) - Women v Men. Women won by 24 points to 18.
8 April (Scottish) - Edinburgh v Glasgow v Aberdeen.
1 May (Regional) - BBC v Listeners, hosted by Freddie Grisewood and S. P. B. Mais. Adjudicator for this programme was Sir Denison Ross. The Listeners won by 25 points to 22.
12 June (National) - Dublin v London. Hosts: Eric Boden (Dublin), Thomas Woodrooffe (London). Adjudicator: James Stephens.
21 July (Regional) - A dialect spelling bee between the North and West of England.
9 October (Regional) - Employers v Secretaries; businessmen compete against their own secretaries.
23 October (Regional) - Listeners v Television Viewers, hosted by H. G. Selfridge, Junior.
6 November (Regional) - Journalists v Dons. The Dons won by 17 points to 11.
20 November (Regional) - Under Sixteen v Over Sixty
31 December (Western) - Sporting Spelling Bee. Hosts: Jim Braby (Bristol), John Dalgleish (Plymouth)
8 January 1939 (National) - Secretaries v Employers
20 January (Regional) - A musical spelling bee with Billy Bennett, assisted by Sandy Macpherson at the B.B.C. Theatre Organ.
7 March (Scottish) Inter-City Spelling Bee - Edinburgh v Glasgow v Aberdeen.
Television editions
31 May 1938. The competitors for this auspicious broadcast are lost in the mists of time.
18 June - Television Spelling Bee Number 2 - Artists v Viewers
10 July - Television Spelling Bee Number 3 - Regular Viewers v Television Artists. Adjudicator: E. Powys Mathers; spelling master F. H. Grisewood; presented by Mary Adams.
7 August - Television Spelling Bee Number 4 - Regular Viewers v Television Musicians.
1 September - Inter-Schools Spelling Bee, from the Radiolympia exhibition. Simultaneously broadcast on the National Programme and the Television Programme.
Feedback