Take Off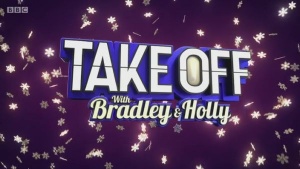 Synopsis
A family entertainment show, where there are special guests, contests for prizes, and anything could happen. Bradley Walsh and Holly Willoughby host.
The team want to fly 26 people to Lapland for Christmas. To fill their plane (literally mocked up on the studio gallery), Bradley Walsh and Holly Willoughby play some games. Some of them were familiar ideas wrapped in tinsel. Re-pack your suitcase so it fits to an arbitrary target, remember and reproduce a sequence of lights, a traditional buzzer quiz.
Others were more inventive: Holly and Bradley visit a family at home and set them tasks. Star guest Jamie Cullum sings songs to describe classic Christmas films, and there's an "awwww" moment as Holly surprises a charity worker with tickets.
The strength of Take Off was its stars, Bradley and Holly are familiar faces (though rarely on the BBC) doing what they do best. They knew when to make something of the "plane to Lapland" theme, and when to put it in the background to let each segment shine on its own.
Take Off is clearly from the same well as Saturday Night Takeaway, a light entertainment show we can dip in and out of through the hour.
Trivia
Billed in some sources as Take Off with Bradley and Holly.
Just before the Covid-19 pandemic, Take Off was commissioned for a series. It is currently unclear whether or not this will be produced or not.
See also
Feedback