The All New Alphabet Game
Host
Broadcast
LWT for ITV, 1987 (as part of Night Network)
Synopsis
Very low budget show billed as a "new, hip spoof quiz" in the advance publicity. Parsons, now sans Sale of the Century, saw it as part of his comeback to television. Although it only lasted for a few months, it helped ITV's Night Network punch through to a different kind of audience.
In a kitsch pastiche of a typical quiz show, two teams of two celebrities (Linda Lusardi, David 'Kid' Jensen - that kind of thing) answer questions that are related to letters of the alphabet, kind of in the Blockbusters stylee except that it represented the first letter of the subject matter, not the answer. The 26 questions cards were marked with points values from 5 to 25, although there was no obvious correlation between the question difficulty and the points value. Teams began with 100 points and gained/lost that many points for correct/incorrect answers.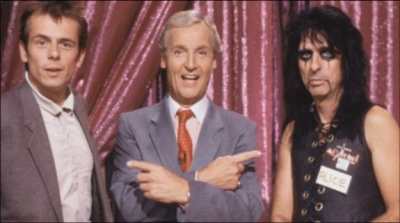 Parsons with Tom Watt and Alice Cooper
They could also gamble at one point to double their score, or throw questions over to the other team. Some questions had VT clips, leading to the intriguing juxaposition of Nicholas Parsons introducing Beastie Boys videos.
At a suitable juncture, one team was given a "45 Second Challenge" of quickfire questions but this was staggered, therefore making it harder to see which team would win until both teams had completed their Challenge.
Trivia
Alice Cooper appeared on the very first programme, whereupon he handed a snake to Parsons. Katie Boyle brought a small dog.
Astonishingly, although it appeared to be live the whole thing was actually played in on tape. However, a tight recording schedule of six shows a day meant that any flubs had to be covered by Parsons adlibbing madly rather than doing a retake.
The studio audience consisted of crowd noise, deliberately played in from tape. Quite often the director would play in a random noise - like a crowd of dogs barking - and Parsons would ad lib about beaming live from Crufts.
Nicholas Parsons named his game show character "Mr Jolly". Apparently there were fan clubs dedicated to him.
Feedback