The Big Quiz (2)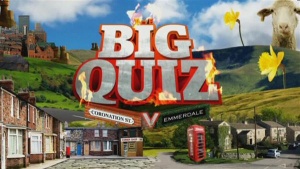 Host
Broadcast
ITV Studios for ITV1, 16 December 2011 to 7 January 2017 (see Trivia for details)
Synopsis
The loss of the British Comedy Awards to Channel 4 left a small hole in ITV's schedule. To fill it in 2011, Britain's Former Favourite Button aired a special entertainment about the ITV shows that people do watch, in a 9pm Friday slot that no-one watches. Except your intrepid UKGS researcher.
The concept is simple: get in some cast members from the exceedingly popular Coronation Street continuing drama, get in some cast members from the almost-as-popular Emmerdale series, and ask questions about the shows they work on. It's more than slightly derivative, it's ITV cross-promotion at its most utterly shameless, and we're admiring their chutzpah.
Not content with pilfering the name from a long-running radio feature, most of the rounds were familiar from other, more popular, programmes. The Picture Board and What Happened Next had nipped over from A Question of Sport. Naming your co-star from touch alone, that was on They Think it's All Over. Putting things in order from earliest to latest, we saw that on Accumulate!, and the host delivering a snarky monologue after each question was swiped from Have I Got News for You.
As we know from TV Burp, the most entertaining moments came when The Big Quiz started laughing at its shows, rather than with them. We were tickled by a montage of all the explosions seen on air since the beginning of the year. It turns out to be a rare week when Emmerdale doesn't have at least one thing going kaboom. Another round asked cast members to remember their lines from when they first appeared, with the inevitable cringeworthy results.
The Big Quiz was lightweight and undemanding fluff, and repeated almost endlessly (well, three times on ITV2) over the Christmas season. Such was its nature (cheap, and pulling in a few viewers, but mostly cheap) that further episodes were commissioned during 2012. After three years mouldering on an ITV shelf, the show went full circle with another Corrie - 'Dale episode for "Christmas 2015" (shown in the new year 2016).
Episode list
| | |
| --- | --- |
| 16 December 2011 | Coronation Street beat Emmerdale |
| 15 April 2012 | The Only Way Is Essex beat Benidorm |
| 26 July 2012 | Boys lost to Girls |
| 1 January 2016 | Coronation Street lost to Emmerdale |
| 7 January 2017 | Coronation Street beat Emmerdale |
Participants
16 December 2011

Jennie McAlpine, Malcolm Hebden, Patti Clare, Jack P Shepherd (Coronation Street)
Mark Charnock, Natalie Anderson, Danny Miller, Meg Johnson (Emmerdale)

15 April 2012

Joey Essex, Lauren Goodget, James Argent, Gemma Collins (The Only Way is Essex)
Jake Canuso, Crissy Rock, Janine Duvitski, Shelley Longworth (Benidorm)

26 July 2012

Paddy McGuinness, Joe Hart, Kriss Akabusi, Mark Foster (male sportspeople)
Charlotte Jackson, Amy Williams, Karen Pickering, Louise Hazel (female sportspeople)

1 January 2016

Michael Le Vell, Sue Cleaver, Jack P Shepherd, Brooke Vincent (Coronation Street)
Charlotte Bellamy, Mark Charnock, Samantha Giles, Liam Fox (Emmerdale)

7 January 2017

Jack P Shepherd, Catherine Tyldesley, Dolly Rose Campbell, Daniel Brocklebank (Coronation Street)
Mark Charnock, Natalie J Robb, Chris Bisson, Matthew Wolfenden (Emmerdale)
Inventor
No inventor was credited on this show.
Theme music
The first edition used library music throughout. For the second show, the budget actually ran to a theme tune, composed by Paul Farrer.
Feedback