The National Lottery Big 7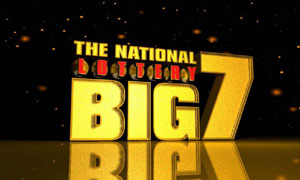 Synopsis
One-off "extravaganza" combining a specially devised game show with the 2007 National Lottery Awards. Wohoo! In between the awards for obscure community projects in remote locations was a half-decent quiz.
The quiz involved seven celebrities sitting in desks in a row. The first celebrity is asked to pick from a screen of 49 lottery balls, each one hiding a bonus or penalty. It could be a cash instant win, a question which wins cash if answered correctly (or ends their turn if wrong), a "Move On" ball to move on to the next contestant, or an "Out" to knock that person out of the rest of the round. If a "Big 7" comes up, a big money question is asked, not to the celebrity, but towards one of the "Big 7" - a panel of seven former BBC quiz winners. Play continues until a klaxon is heard, and the next round resumes with the next player in turn.
After three rounds, the money won is totalled up and forms the evening's prize fund for charity. In the next phase, the player who contributed the most money to the pot gets the highest numbered lottery ball from that night's draw, and so on down the line. Celebrities then buzz in to answer general knowledge questions. If they're right, they can swap their ball for one of their opponents'. After the clock runs out, the player holding the lowest-numbered ball is knocked out. This is repeated until two players are left.
The final round is a straight penalty shoot-out, best of seven questions (i.e. first to 4). The winner gets to choose the charity which gets the night's prize fund. The other celebs get £1000 each for their cause.
Champion
Danny Wallace, who trounced Eamonn Holmes in the final despite Holmes leading all the way.
See also
Feedback