The Quizeum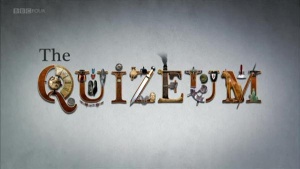 Host
Co-hosts
Regular panelists: Janina Ramirez, Lars Tharp, Kate Williams
Broadcast
Modern Television and BBC Cymru Wales for BBC Four, 25 March to 25 December 2015 (15 episodes in 2 series + 1 special)
Synopsis
Two teams are taken around the country's greatest museums to play games and take challenges inspired by the wonders around them. These panelists are often experts, such as Kate Williams or Janina Ramirez, but have occasionally included other people, such as Hardeep Singh Kohli and Laurence Llewelyn-Bowen.
Filmed in the actual museum, The Quizeum asks experts to look at objects in the collection, and tell us something about the item. What was it used for? Where does it come from? When was it made, how was it made?
Yep, this programme spends half-an-hour talking about the most interesting objects in a museum. There are ways to break up the show - one round is a Call My Bluff contest, picking between two unlikely attributions, and another round sends the teams on a Treasure Hunt quest to locate an object from a written clue.
As a quiz, it's weak: Griff Rhys Jones awards points at random, and there's no proper competition between the sides. This isn't fatal, early series of The Book Quiz were just as louche with the points, and far more watchable than the stern quiz.
Mostly, The Quizeum is half-an-hour of art historians enthusing about these old relics. The consensus was that they were a bit too enthusiastic, the pace never lets up and - unlike Antiques Roadshow - we viewers never get a moment to contemplate the art on display.
Continuity between episodes was provided by permutations of regular panelists Janina Ramirez, Lars Tharp and Kate Williams with other guests. Rather strangely, the programme was recommissioned in short order for a second series in the same year, but the somewhat self-satisfied tone never caught the audience's affections in the same way as QI.
Inventor
Griff Rhys Jones, credited as "The Quizeum Curator".
Web links
See also
Codex, which played games inspired by the artefacts rather than discussing them in detail.
Feedback