The Singer Takes it All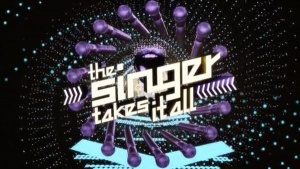 Host
Co-host
Brenda Edwards (as Lips)
Broadcast
Initial & Remarkable Television (Endemol companies) for Channel 4, 1 to 22 August 2014 (4 episodes in 1 series)
Synopsis
Oh no, not another singing show.
But this one is different! No studio judges, just people at home pressing thumbs-up and thumbs-down. An exercise in true democracy, as not mediated by Simon Cowell.
Channel 4's press release promised "budding singers will perform live on a thoroughly unique 18m long moving stage while, using the ground-breaking app, armchair judges at home will be handed the reins to rate performances a 'hit' or a 'miss' and see the results play out just seconds later."
And that's what happened. Votes in the app determined who would make the studio performance. The viewers got to vote them a "hit" or a "miss", and the singer moved forwards or backwards depending on the vote.
When the singer reaches the front of the stage, they stop, gold lights glow, and dry ice fires. The longest stay in this Gold Zone gets to perform again for money. (£1000 for reaching the Gold Zone, and £200 for staying there. The top prize is £15,000 and the winner comes back next week.)
Of course, should the singer reach the back of the stage, they'll disappear out the back and never be seen again.
Alan Carr hosted the programme in his usual flamboyant style. He had guests to bounce off, though they added little - singers didn't give technical advice, comedians didn't get to be very funny.
It's rare for Channel 4 to make a live entertainment programme, and we reckon there were a couple of ulterior motives. One was to disrupt the end of Channel 5's Big Brother series, but ratings figures (1.2m for the premiere, dropping to 600,000 for the last episode) said this probably didn't happen.
The other was to get in before Rising Star, a format bought by ITV for broadcast in early 2015. Critics in the USA have called that show "generic, inept", and "joyless". We couldn't use any of these adjectives about The Singer Takes it All; the programme was polished to Endemol's usual standards, and we cared about the result in each edition.
Theme music
Yellow Boat Music
Trivia
The interactive app was built by Chunk, using live-voting technology developed by Tectonic Interactive.
Web links
An audio demonstration of the show using Iphone and voiceover (8 minute audio presentation)
See also
Feedback