Trak Trix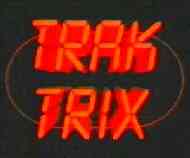 Host
Elaine Kemball and Steve Hurrell
Broadcast
RPM Productions for Channel 4, 27 July to 28 September 1984 (10 episodes in 1 series)
Synopsis
Competitive "street sports" series for school teams (three children on a team) featuring go-karting, roller skating, BMX, "sports disco", something called "Over and Under" and most exciting of all... boules! Regional heats leading up to two semis and a final. For the last episode in the series, the champions competed against experts in the various sports featured.
Champions
King Henry VIII School, Abergavenny.
Theme music
Specially composed by Vince Clarke. Yes, the one from Depeche Mode, etc.
Trivia
Jonathan Ross was a researcher on the show.
In England, Scotland and Northern Ireland, the show aired on Friday evenings at 6pm. In Wales, S4C aired it on Sunday afternoons, some sixteen days after the rest of the UK.
Feedback