Ultimate Traveller
Host
Voiceover: Alex Zane
Broadcast
Studio Lambert for Channel 4, 7 February to 28 March 2010 (8 episodes in 1 series)
Synopsis
Starting in the Indonesian capital Jakarta, six young Brits travel across the country's various islands. During their travels, the six (who actually became five towards the end of the series due to a contestant withdrawing) as well as completing a weekly task, must organise all of their own food, accommodation, and transport from a personal allowance of just £12 per day.
Each week sees the group split into two groups of three who will travel together, before meeting up again at the end of the week for a group meeting. At this meeting, the group decide who will travel with whom during the following week. In addition, they must decide, by casting individual votes, who they think was the previous week's "best traveller". The last week of the series sees the group travel together for the first time, before one final vote at the final group meeting sees the title of "Ultimate Traveller" conferred upon one of the group, who receives the £10,000 prize.
Champion
Nathan
Trivia
The show aired as part of T4's weekend strand.
Web links
Pictures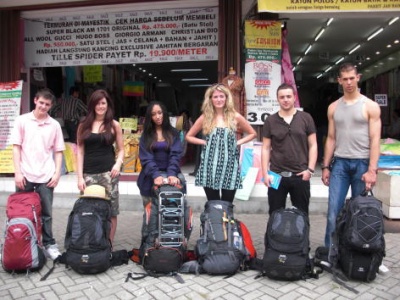 The ultimate traveller. Also pictured: the penultimate traveller, the antepenultimate traveller, the preantepenultimate traveller...
Feedback